Posted on: 26 Nov 2021 | Updated on : 26 Nov 2021
Merchant information
(15 Reviews)
Blk 147 Bishan Street 11 S(570147)
91259516
Ad information
Price is for ONE bottle in 1 quart packing.
Please visit www.e-shoppinghouse.com for more of our products.
Due to unpredictable stock movement, certain items may be out of stock, kindly check the stock availability with us before heading over.
Please note that all purchases are strictly BY APPOINTMENT only.
Pickup timings:
Monday to Thursday: 9am to 9.30pm

Friday: 9am to 6pm (after 6pm to be pre-arranged)

Saturday: 9am to 6pm

Sundays and PHs: CLOSED
Pickup location:
BLK 147 BISHAN STREET 11 S(570147)
*Delivery and installation at buyer's own cost.
NOTE:
We may not be able to entertain walk-in customers. We will not be responsible if you walk-in without an appointment and we are unable to meet you or should you need to wait longer than expected.

Prices are not negotiable and are correct at the time of posting.

We reserve the right to amend the price based on the circumstances and the final price will be confirmed when order is placed.
Ad information
Price is for ONE bottle in 1 quart packing.
Merchant information
(15 Reviews)
Blk 147 Bishan Street 11 S(570147)

91259516
Posted on: 26 Nov 2021 | Updated on : 26 Nov 2021
Features & specs
Mobil 1 0W40 is an advanced full synthetic motor oil designed to keep your engine running like new by providing exceptional cleaning power, wear protection and overall performance.Mobil 1 0W-40, European Car Formula (NA) or Protection Formula (EU), meets or exceeds the requirements of leading industry and car manufacturers' standards required for newer modern gasoline and diesel powered automobile engines.

The Mobil 1 technology is race proven and the choice of NASCAR racing. Mobil 1 0W-40 is perfect for all types of vehicles and has the performance reserve to protect when conventional motor oils may not. Mobil 1 technology comes as standard equipment in many different performance vehicles.

Features
Active cleaning agents
Helps prevent deposits and sludge build-up to enable long and clean engine life.
Outstanding thermal and oxidation stability
Helps reduce oil aging allowing extended drain interval protection
Excellent low-temperature capabilities  
Quick cold-weather starting and ultra-fast protection
Helps extend engine life
High Viscosity Index
Excellent overall lubrication and wear protection performance for many driving styles and conditions, from mild to severe
Enhanced frictional properties
Aids fuel economy
 
Application
Mobil 1 0W40 is especially suitable for extreme conditions, where conventional oil often may not perform.
It is not recommended for two-cycle or aviation engines, unless specifically approved by the manufacturer.
Recommended for all types of modern vehicles, especially high-performance turbo-charged, supercharged gasoline and diesel multi-valve fuel injected engines found in passenger cars, SUVs, light vans and trucks.
Consumer Reviews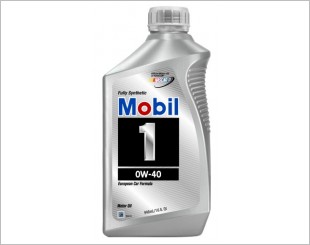 Mobil 1 0W40 is the oil that I normally use. It's factory filled oil for GTR35 so it's good enough for most cars. Have used the cheap Silver 1l bottles of European Formula from Giant and the more expensive 5l Gold bottle from spare parts shop. Somehow, the Gold felt smoother for longer although it's more expensive.
More items from this seller
Email Enquiry
This enquiry will be sent directly to the seller.
*
indicates compulsory field.