Liqui Moly 3 in 1 Engine Decarbonisation Package (Engine Flush Plus / Oil Additiv / Injection Cleaner)
$68
Posted on: 25 Sep 2021 | Updated on : 25 Sep 2021
Merchant information
(89 Reviews)
42 Toh Guan Road East #01-79 S(608583)
9am - 6pm (Mon - Sat) Closed on Sun & PHs
87783636 87786668
Ad information
Liqui Moly 3 in 1 Engine Decarbonisation Package
Liqui Moly 3 in 1 (Engine Flush Plus / Oil Additiv / Injection Cleaner)
All Models: $68
Improved your car performance by flushing away carbon in the engine and fuel line with Liqui Moly Engine Flush and Liqui Moly Fuel Injection Cleaner. Protect the Engine Piston and friction parts With Liqui Moly Oil additive
Please contact Alvin @ 87783636 for more information.
Ad information
Liqui Moly 3 in 1 Engine Decarbonisation Package
Liqui Moly 3 in 1 (Engine Flush Plus / Oil Additiv / Injection Cleaner)
All Models: $68
Improved your car performance by flushing away carbon in the engine and fuel line with Liqui Moly Engine Flush and Liqui Moly Fuel Injection Cleaner. Protect the Engine Piston and friction parts With Liqui Moly Oil additive
Please contact Alvin @ 87783636 for more information.
Merchant information
(89 Reviews)
42 Toh Guan Road East #01-79 S(608583)

9am - 6pm (Mon - Sat) Closed on Sun & PHs
87783636 / 87786668
Posted on: 25 Sep 2021 | Updated on : 25 Sep 2021
Features & specs
Colloidal solid lubricant suspension based on molybdenum sulfide (MoS2) in mineral oil. The product forms a high-load lubricating film on all rubbing and sliding surfaces. This in turn reduces friction, providing for smoother operation of assemblies and greater engine economy. Tested for turbochargers and catalytic converters.
Features
Mixable with all commercially available motor oils 
Stable even under high thermal and dynamic permanent loads 
No deposits and absolutely compatible with all commonly used filter systems
Reduces running-in and running wear 
Guarantees limp-home properties
Reduces oil and fuel consumption
Increases smooth operation
Consumer Reviews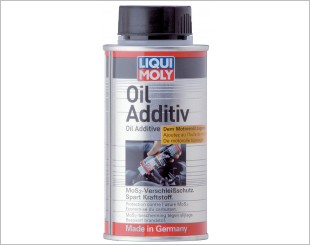 Won a free servicing package with Synthoil 5W40 and Oil Additiv, thanks to SgCarMart. Don't know if it's the oil or additive but it felt smoother than Mobil 1 0W40 that I normally use, which is already quite smooth.
Email Enquiry
This enquiry will be sent directly to the seller.
*
indicates compulsory field.