IROAD X9 2-Channel FHD+FHD WiFi Car Camera
$400
Posted on: 20 Nov 2021 | Updated on : 20 Nov 2021
Merchant information
(51 Reviews)
39 Woodlands Close #04-57 MEGA@Woodlands S(737856)
10am - 6.30pm (Mon - Sat) Closed on Sun & PHs
63845121 97451479
Ad information
CAMERA Front : SONY STARVIS 2.13M
Rear : SONY Exmor 2.0M
RESOLUTION Front & Rear: Full HD (1920 x 1080P)
FRAME Front & Rear: 30fps
DEGREES Front : 150º
Rear : 145º
CPU ARM Cortex-A7 MP Core Processor V3
X-VISION In parking mode, set automatically brightness 3 times more
WI-FI Smartphone playback/settings, Firmware automatic upgrade
ADAS LDWS(Lane departure warning system)
FCWS (Forward collusion warning system)
FVDW (Front Vehicle Departure Warning)
LBP Cut-off and booting voltage settings(Constant power)
G SENSOR Axis Accelerometer G-Sensor (3D, ±3G)
GPS External GPS Antenna ((In conjunction with Google Maps to check the location and speed)
CAPACITY Micro SD 4GB ~ 128GB (recommended type MLC Class10)
RECORDING MODES Normal(driving)mode, Event(impact)mode, Parking(Motion Detection) mode, Voice recording
AUDIO Speaker (effect sound for informing operational status and 34 kinds of voice guidance voice guidance supported),Microphone embedded
VIDEO H.264 / ADPCM
TEMPERATURE -30 ~ 80 º C (Storage temperature : -30 ~ 90 º C)
HUMIDITY 10 ~ 95%
ETC Security LED / Operation Status LED/ GPS Receiver LED
​​​​​​​
Call us now to find out more!
Infinity Werkz Pte Ltd
Contact: 63845121
Mobile: 97451479
25 Kaki Bukit Road 4
#06-66
KB@Synergy
S(417800)
Ad information
CAMERA Front : SONY STARVIS 2.13M
Rear : SONY Exmor 2.0M
RESOLUTION Front & Rear: Full HD (1920 x 1080P)
FRAME Front & Rear: 30fps
DEGREES Front : 150º
Rear : 145º
CPU ARM Cortex-A7 MP Core Processor V3
X-VISION In parking mode, set automatically brightness 3 times more
WI-FI Smartphone playback/settings, Firmware automatic upgrade
ADAS LDWS(Lane departure warning system)
FCWS (Forward collusion warning system)
FVDW (Front Vehicle Departure Warning)
LBP Cut-off and booting voltage settings(Constant power)
G SENSOR Axis Accelerometer G-Sensor (3D, ±3G)
GPS External GPS Antenna ((In conjunction with Google Maps to check the location and speed)
CAPACITY Micro SD 4GB ~ 128GB (recommended type MLC Class10)
RECORDING MODES Normal(driving)mode, Event(impact)mode, Parking(Motion Detection) mode, Voice recording
AUDIO Speaker (effect sound for informing operational status and 34 kinds of voice guidance voice guidance supported),Microphone embedded
VIDEO H.264 / ADPCM
TEMPERATURE -30 ~ 80 º C (Storage temperature : -30 ~ 90 º C)
HUMIDITY 10 ~ 95%
ETC Security LED / Operation Status LED/ GPS Receiver LED
​​​​​​​
Merchant information
(51 Reviews)
39 Woodlands Close #04-57MEGA@Woodlands S(737856)

10am - 6.30pm (Mon - Sat) Closed on Sun & PHs
63845121 / 97451479
Posted on: 20 Nov 2021 | Updated on : 20 Nov 2021
Features & specs
Features:
2CH Front & Rear: Full HD 1920x1080 | 30fps
ARM Cortex-A7 Processor V3
Front: SONY STARVIS Image Sensor, Rear: SONY EXMOR Image Sensor
ADAS (Advanced Driver Assistance Systems)
X-Vision (Intelligent Night Vision)
150 Degrees Wide Angle, Rear 145 Degrees Wide Angle
Wi-Fi Function: Live view, Playback, Settings, Update
Format Free & Auto Recovery System
Parking Recording (Motion Detect, Impact Recording)
Voice Guidance & Recording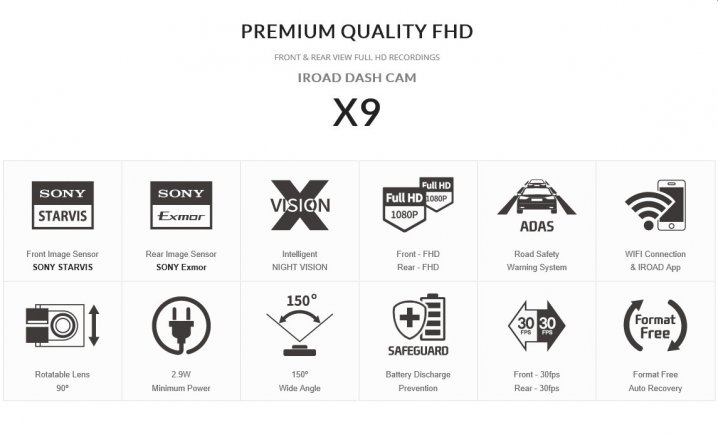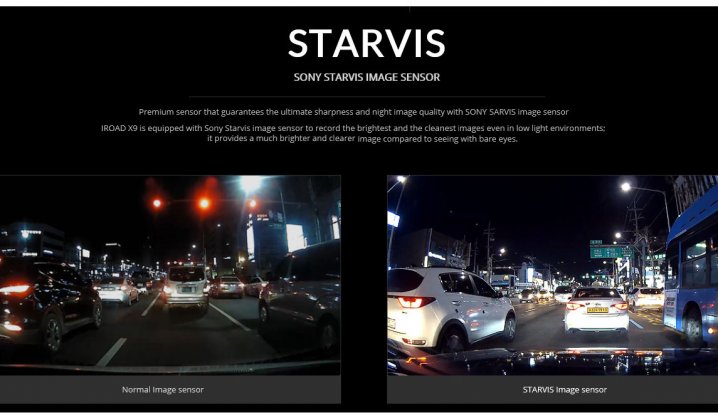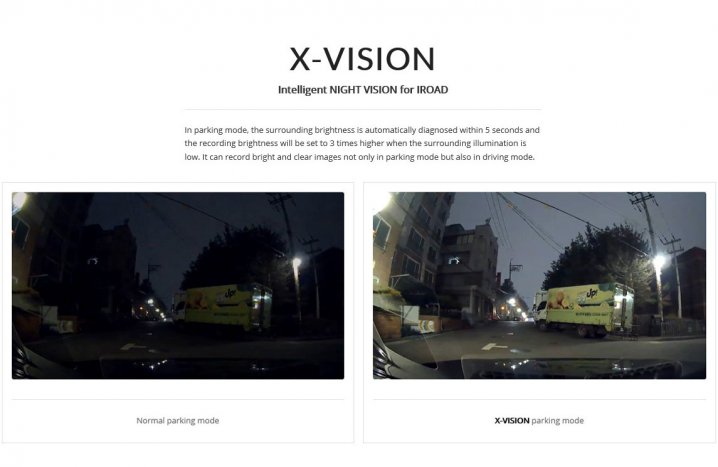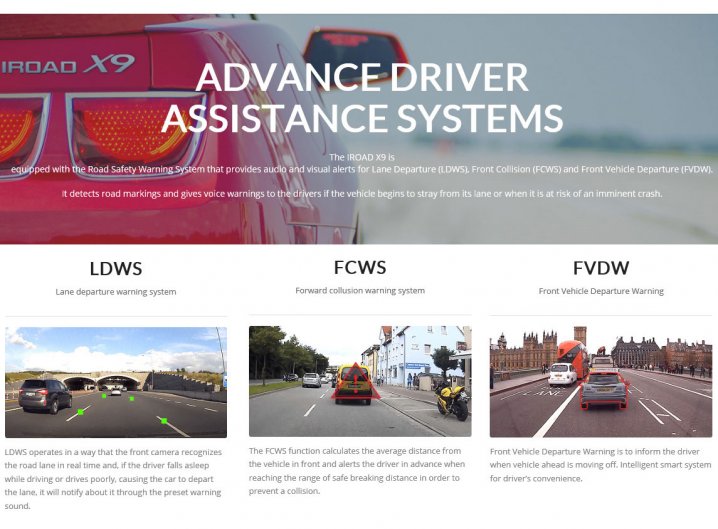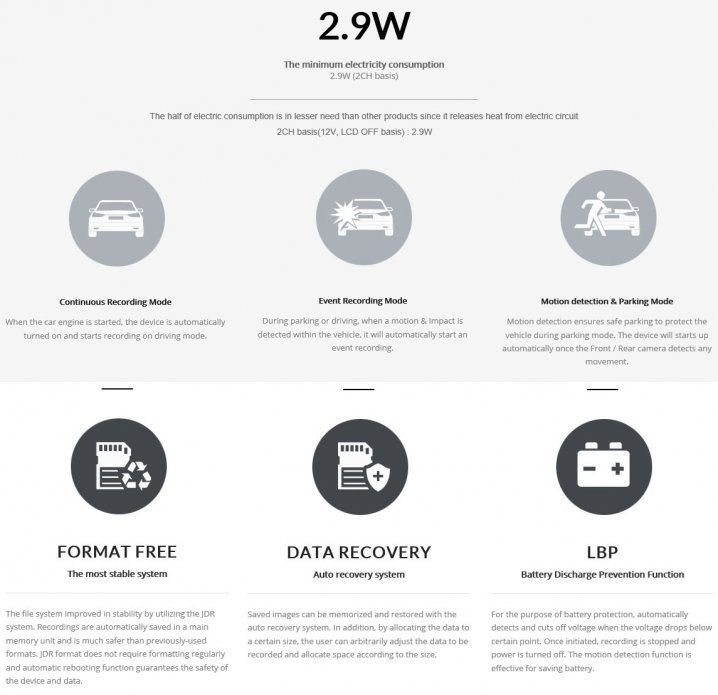 Consumer Reviews
N/A
There is no consumer review available. Be the first to
Rate it
!
More items from this seller
Toyota Fujitsu Ten CD-player
$180 – $250
Audi A4 / A5 / Q5 Retrofit Reverse Camera
$580
Audi A6 / Q5 / Q7 Retrofit Reverse Camera
$520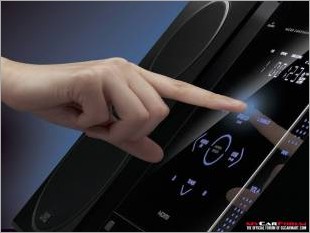 Lexus GS300 / LS460 DVD Touch Screen Panel Replacement
$450
BMW Navigation System With Camera
$520 – $1,100
Email Enquiry
This enquiry will be sent directly to the seller.
*
indicates compulsory field.