Michelin Pilot Super Sport 225/40/R19 Tyre
| | | | |
| --- | --- | --- | --- |
| Price | Width | Profile | Rim Size |
| $135 | 225 | 40 | 19" |
Condition
Excellent [5/5]
Posted on: 06 Jun 2021 | Updated on : 11 Jun 2021
Merchant information
(92 Reviews)
95 Kaki Bukit Avenue 1 Shun Li Industrial Park S(415982)
( 1 more outlet )
9am - 7pm (Mon - Sat) Closed on Sun & PHs
68412255 96622255
Ad information
Michelin PSS
Visit us
Yap Brothers Motorsports
32 Old Toh Tuck Rd
#01-09
I-Biz Centre
Beside Bukit Batok CNG Gas Station
Tel 66862255
Hp 96622255
What we have:
Good tyre at competitive price range from 12' to 25'
Looking for Japan rims? 
Well equipped for every needs of our customer
Mobil car engine oil servicing
JBT brake system
3D computer wheel alignment and more
Call us to find out more!
Ad information
Michelin PSS
Visit us
Yap Brothers Motorsports
32 Old Toh Tuck Rd
#01-09
I-Biz Centre
Beside Bukit Batok CNG Gas Station
Tel 66862255
Hp 96622255
Merchant information
(92 Reviews)
95 Kaki Bukit Avenue 1Shun Li Industrial Park S(415982)

32 Old Toh Tuck Road #01-09I.Biz Centre S(597658)

9am - 7pm (Mon - Sat) Closed on Sun & PHs
68412255 / 96622255
Posted on: 06 Jun 2021 | Updated on : 11 Jun 2021
Features & specs
Michelin Pilot Super Sport tyres are designed especially for high performance super sport cars and ultra high performance tuning.
Benefits:
Safety even in the most demanding conditions
3 meters shorter braking distance on wet roads1
Number 1 in dry handling2
The Fastest Tyre3
6 Guinness World records with the Koenisegg Agera R.
Developed with Porsche, BMW M and Ferrari 
Technologies coming from 13 consecutive victories at the 24 hours of Le Mans
(1) Test carried out by Michelin Technology Centre. Compared with MICHELIN Pilot Sport PS2.
(2) Tests carried out in 2010 by TüV SüD, compared to its 5 premium competitors (available on the market at the time).
(3) The fastest lap time on a dry track. Tests carried out in 2010 by TüV SüD, compared to its 5 premium competitors (available on the market at the time).
Technology:
The Twaron Belt, at a very high speed, the Twaron belt guarantees greater stability
Thanks to its variable tension, the belt grips the centre of the tread more tightly than the shoulders.
Centrifugal force is thus better controlled and forces are distributed more evenly.
Dual Compound Technology
A novel distribution of 2 different rubber compaounds between the right and the left-hand parts of the tread delivers maximum performance on both wet and dry road condition
Outer side: a novel carbon black-reinforced elastomer derived directly from the Le Mans 24 Hours race - this offers extreme endurance even under the tightest cornering.
Inner side: the latest generation of elastomers with exceptional wet grip to mould themselves to the slightest irregularities in the road surface and break the film of water.
Variable Contact Patch 2.0
Ensures optimum grip whether you're accelerating flat out in a straight line or cornering at high speed
When cornering, the shape of the contact patch changes, but the amount of rubber in contact with the road surface stays the same.
Forces and temperatures are distributed more evenly over the contact patch thanks to the latest digital simulation softwares used in the aeronautics and automobile industry.
Design
Michelin high performance tyres shared a design inspired by Michelin's competition heritage.
The Power of Pilot Super Sport
Experience the most exhilarating drive with the new Michelin Pilot Super Sport.
Available Sizes
225/45ZR18 95Y
245/40ZR18 97Y
245/45ZR18 100Y
265/40ZR18 101Y
235/35ZR19 91Y
245/35ZR19 93Y
265/35ZR19 98Y
255/35ZR19 96Y
265/30ZR19 93Y
275/30ZR19 96Y
295/30ZR19 100Y
305/30ZR19 102Y
295/30ZR20 101Y
255/35ZR20
275/35ZR20
Visit our website for more information: http://www.michelin.com.sg/
Consumer Reviews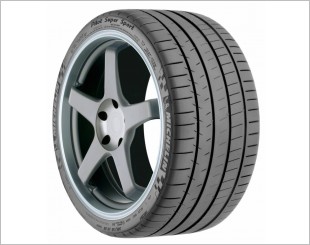 Bought 4 pieces of these 235/40/R18 tyres for my new rims. Noise wise not too bad, but the grip is excellent on both wet and dry roads. The price is on the high side but I do think tyres and brakes are the most important components of a car, so definitely worth the money.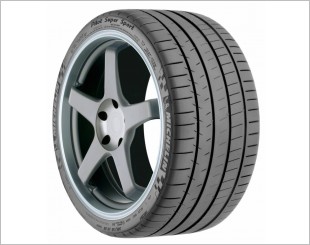 This tyre is more than just performance or comfort tyre, It consist the best of both performance and comfort, premium tyre. Tyre has very good gripping and also quiet and comfortable. It is expensive but worth for the quality I am getting. Definitely will stay on to this tyre so long i have the budget to do so.
More items from this seller
Email Enquiry
This enquiry will be sent directly to the seller.
*
indicates compulsory field.