Audio System R-10 SubWoofer
Posted on: 08 Jan 2020 | Updated on : 08 Jan 2020 | 9 views
Merchant information
(33 Reviews)
50 Bukit Batok Street 23 #02-21 Midview Building S(659578)
9am - 7pm (Mon - Sat) Closed on Sun & PHs
64251220 98155500
Ad information
*Note: Price stated based on per piece
250mm HIGH EFFICIENT Subwoofer
375/250 Watt




2 " Voice Coil, Higher Magnetic Magnetic System (HEM), Enhanced T-Joke Construction, Long Life Edge (LLE), Reinforced Dustcap, Stable Terminals, Multiple Ventilation System, HPPC Membrane (High Pressed Paper Cone), cast basket and PPTA Connex-Spider




woven-in strands, magnetic protection, pole




core hole Installation depth: 140 mm, installation Ø: 236 mm, external Ø: 266 mm




Impedance: 4 Ohm



Our Services
Audio system in car entertainment
Car air cinditioning servicing / maintenance and repair
Accessories retail
Security system
Car mats
Solar films and tinting
Car battery
Car recorder
Car power enhancement
Call us now or visit our website to know more!
Website:
http://www.designerice.sg/
Facebook:
https://www.facebook.com/DesignerICEEnterprise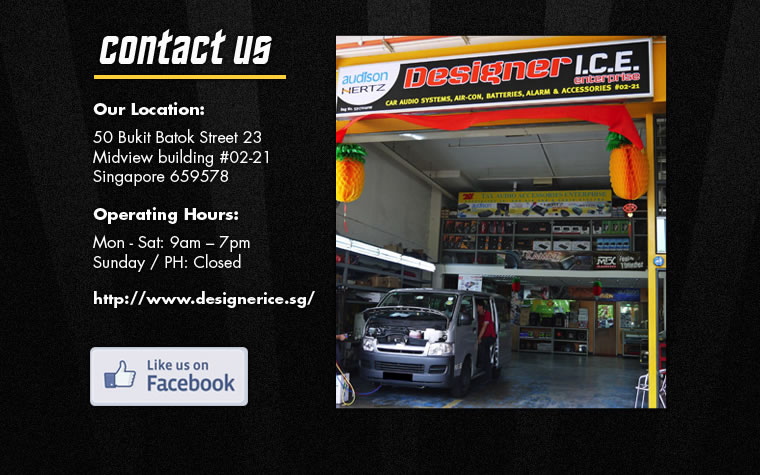 Ad information
*Note: Price stated based on per piece
250mm HIGH EFFICIENT Subwoofer
375/250 Watt




2 " Voice Coil, Higher Magnetic Magnetic System (HEM), Enhanced T-Joke Construction, Long Life Edge (LLE), Reinforced Dustcap, Stable Terminals, Multiple Ventilation System, HPPC Membrane (High Pressed Paper Cone), cast basket and PPTA Connex-Spider




woven-in strands, magnetic protection, pole




core hole Installation depth: 140 mm, installation Ø: 236 mm, external Ø: 266 mm




Impedance: 4 Ohm



Merchant information
(33 Reviews)
50 Bukit Batok Street 23 #02-21Midview Building S(659578)

9am - 7pm (Mon - Sat) Closed on Sun & PHs
64251220 / 98155500
Features & specs
In a car audio world Audio System Germany is a synonym of perfection and highest quality construction. Audio System is well known producer of speakers, subwoofers and amplifier in Europe. All products are designed and optimized in Germany. Most of professional car audio workshop in Poland use their excellent products. 
Speaker size : 10"/25cm
Subwoofer 4 ohm Continuous Power (RMS) :  250
Subwoofer impedance (ohm) :  4
Maximum Power (W) :  250
Mounting hole diameter (mm) :  236
Undercut diameter (mm) :  266
Subwoofer depth (mm) :  140
MAX magnet diameter (mm) :  145
Volume closed enclosure (liters) :  20
Volume bassreflex enclosure (liters) :  30
Consumer Reviews
N/A
There is no consumer review available. Be the first to
Rate it
!
More items from this seller
Email Enquiry
This enquiry will be sent directly to the seller.
*
indicates compulsory field.