Posted on: 23 Sep 2021 | Updated on : 21 Oct 2021
Merchant information
(15 Reviews)
Blk 147 Bishan Street 11 S(570147)
91259516
Ad information
Brand new wiper set for Mercedes Benz S-Class W222/V222 2014-onward.
Please visit www.e-shoppinghouse.com for more of our products.
Due to unpredictable stock movement, certain items may be out of stock, kindly check the stock availability with us before heading over.
Please note that all purchases are strictly BY APPOINTMENT only.
Pickup timings:
Monday to Thursday: 9am to 9.30pm

Friday: 9am to 6pm (after 6pm to be pre-arranged)

Saturday: 9am to 6pm

Sundays and PHs: CLOSED
Pickup location:
BLK 147 BISHAN STREET 11 S(570147)
*Delivery and installation at buyer's own cost.
NOTE:
We may not be able to entertain walk-in customers. We will not be responsible if you walk-in without an appointment and we are unable to meet you or should you need to wait longer than expected.

Prices are not negotiable and are correct at the time of posting.

We reserve the right to amend the price based on the circumstances and the final price will be confirmed when order is placed.
Ad information
Brand new wiper set for Mercedes Benz S-Class W222/V222 2014-onward.
Merchant information
(15 Reviews)
Blk 147 Bishan Street 11 S(570147)

91259516
Posted on: 23 Sep 2021 | Updated on : 21 Oct 2021
Features & specs
Bosch Aerotwin redefines innovation with a design combining optimal wiping efficiency with maximum convenience.
Features & Specs:
High-tech spring strip and aerodynamically optimized profile for perfect wiping over the full area
Reduced surface area minimizes wind noise
Straight forward wiper blade replacement thanks to pre-assembled vehicle-specific Original adapter
Integrated aerodynamic spoiler
Dual precision-tensioned steel springs deliver uniform pressure distribution for top performance
Specially coated dual rubber compound for smooth, quiet operation and a clean, consistent wipe
Fewer problems with insects and stubborn dirt
Vehicle-specific pre mounted, OE-equivalent adapter for easy installation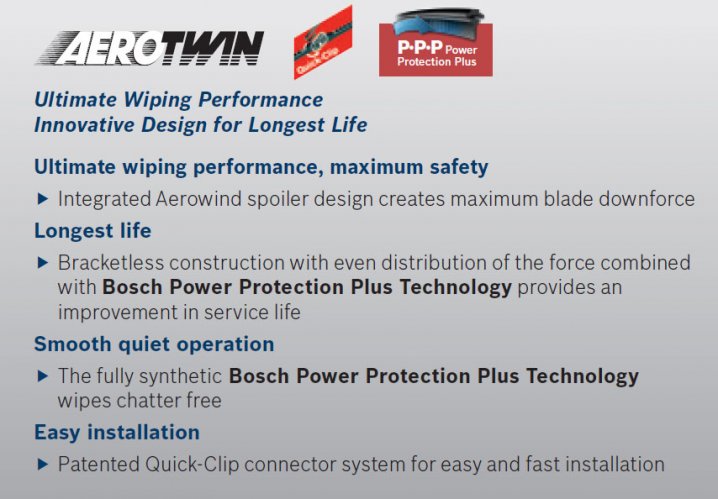 Superbly effective, even at high speeds and under critical conditions
Evodium flex rails custom-designed for ideal performance in each individual vehicular application
Balanced force distribution and optimal aerodynamics to clear every portion of the swept range with unexcelled efficiency
Enhanced convenience
Minimum wiper-induced wind noise thanks to reduction in aerodynamically exposed surface area
Improved winter performance, with no ice formation on joints and metal frames
Innovative Multi-Clip connection for ultimate ease in blade replacement – covers four different wiper arm types, used by major car brands like BMW, Citroen, Fiat, Ford, Mazda, Mercedes Benz, Opel, Peugeot, Renault, Volvo, VW
Innovative design from Bosch
The perfect marriage of form and function
Elegant and extremely planar styling replaces joints and frame braces
Integral aerodynamic spoiler
Extended service life
Even distribution of application force inhibits uneven wear
This balance also enhances resistance to insects and stubborn dirt
Tried and tested Twin dual-component technology for wiper blades
Consumer Reviews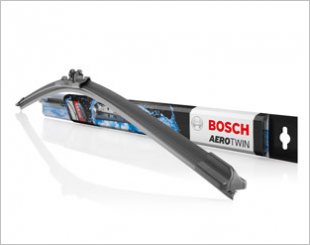 Website's information is very clear and precise in helping me to choose my car model. Items were well packed and shipment is very fast. Quality is good and an enjoyable experience on the purchase. Strongly recommended to those searching for the product. - David Heng, Owner of Honda Vezel Hybrid SKD28--D
Reviewed by Mobile Reviewer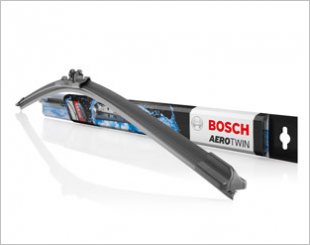 Bosch Aero twin my go-to for Windshield Wipers. I've tried other wipers but Bosch still works the best! - Wei Ying, Owner of Kia Cerato SJX66--A
Reviewed by Mobile Reviewer
More items from this seller
Dad Emblem
$15
Original Oil Filter (MZ690115)
$8
Email Enquiry
This enquiry will be sent directly to the seller.
*
indicates compulsory field.