Pioneer AVH-Z2150BT 6.2" Full-HD Apple CarPlay Bluetooth Multimedia Player
Posted on: 21 May 2021 | Updated on : 09 Jun 2021
Merchant information
(143 Reviews)
159 Sin Ming Road #01-09 Amtech Building S(575625)
9am - 6pm (Mon - Sat) 10am - 3pm (Sun) Closed on PHs
64555031 92269222
Ad information
Product Features
Display Screen Size/Aspect Ratio 16:9
Touchscreen 6.2" WVGA
Clear Type Resistive (800 x 480)
LED Backlight
Display Off Mode
Color Customization 5 Display colors, 112 Key Colors Display
Customization Dimmer Settings (ON/OFF)
Brightness Control
Home Screen Shortcuts Customization
24-Bit True Colour
Smartphone Integration
Apple CarPlay​​​​​​​ (iPhone 5 or later)
Siri Eyes Free
USB Direct Control for iPod/iPhone
USB Direct Control for Android smartphone
Spotify connectivity (dedicated AV source)
AppRadio Mode
Dual Bluetooth
Hands-Free Profile (HFP)
Audio/Video Remote Control Profile (AVRCP)
(1.6) Audio Streaming (A2DP)
Secure Simple Pairing (SSP)
Sound Retriever Air
5 x Phone Memory Pairing
Tuner & Sources
AM/FM Tuner
24 Presets
Best Station Memory (BSM)
Local Seek Tuning
RDS
Supertuner IIID
Digital Media Playback CD/CD-R/RW
MP3 Audio Playback Via DVD/CD/USB
WMA Audio Playback Via DVD/CD/USB
AAC Audio Playback Via DVD/CD/USB
WAV Audio Playback Via USB
FLAC Audio Playback Via USB
DVD/DVD-R/RW/DVD-Video Playback
MPEG-2 Video Playback Via USB
MPEG-4 Video Playback Via DVD/XCD/USB
AVI/DivX Video Playback DivX via DVD/CD/USB
WMV Video Playback Via USB
JPEG Photo Slideshow Viewer Via USB
Full-HD Playback from USB
AUDIO RCA Preouts 3 Hi-Volt (4v) (Front, Rear, Subwoofer)
Built-in Amplifier MOSFET 50W x 4 MIXTRAX
Built-in Bluetooth Auto EQ (CD-MC20 required)
Customizable Graphic Equalizer 13-Band D/A Converter 24-Bit Time Alignment (CD-MC20 required) Auto Subwoofer Control
Listening Position Selector
Advanced Sound Retriever
Specialised Audio Parts 3-Way Network Mode
Expandability USB Connection
SD/SDHC Memory Card Slot
AUX Input Rear Camera Input (Single)
Parking Assist Guidelines
Wired Remote Input
Composite Video Output
Composite AV Input Audio, Video USB Direct Control for iPod/iPhone
Learning Steering Wheel Control
We provide a range of services such as:
Car Audio Installation
Car Audio Customisation
Car Audio Tuning
Car Security System Installation
SoundProofing
Call us or visit our website to find out more!
Website:
http://www.autoimage.com.sg/
Facebook:
https://www.facebook.com/autoimage.sg/info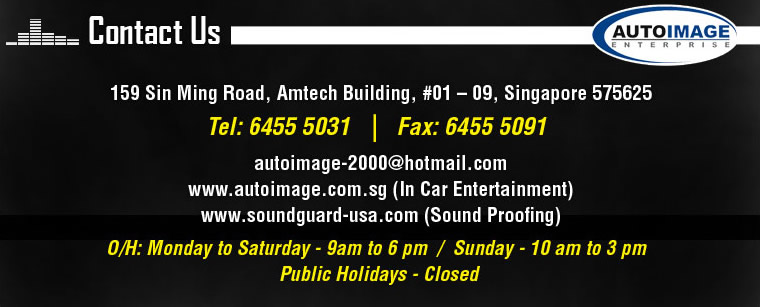 Ad information
Product Features
Display Screen Size/Aspect Ratio 16:9
Touchscreen 6.2" WVGA
Clear Type Resistive (800 x 480)
LED Backlight
Display Off Mode
Color Customization 5 Display colors, 112 Key Colors Display
Customization Dimmer Settings (ON/OFF)
Brightness Control
Home Screen Shortcuts Customization
24-Bit True Colour
Smartphone Integration
Apple CarPlay​​​​​​​ (iPhone 5 or later)
Siri Eyes Free
USB Direct Control for iPod/iPhone
USB Direct Control for Android smartphone
Spotify connectivity (dedicated AV source)
AppRadio Mode
Dual Bluetooth
Hands-Free Profile (HFP)
Audio/Video Remote Control Profile (AVRCP)
(1.6) Audio Streaming (A2DP)
Secure Simple Pairing (SSP)
Sound Retriever Air
5 x Phone Memory Pairing
Tuner & Sources
AM/FM Tuner
24 Presets
Best Station Memory (BSM)
Local Seek Tuning
RDS
Supertuner IIID
Digital Media Playback CD/CD-R/RW
MP3 Audio Playback Via DVD/CD/USB
WMA Audio Playback Via DVD/CD/USB
AAC Audio Playback Via DVD/CD/USB
WAV Audio Playback Via USB
FLAC Audio Playback Via USB
DVD/DVD-R/RW/DVD-Video Playback
MPEG-2 Video Playback Via USB
MPEG-4 Video Playback Via DVD/XCD/USB
AVI/DivX Video Playback DivX via DVD/CD/USB
WMV Video Playback Via USB
JPEG Photo Slideshow Viewer Via USB
Full-HD Playback from USB
AUDIO RCA Preouts 3 Hi-Volt (4v) (Front, Rear, Subwoofer)
Built-in Amplifier MOSFET 50W x 4 MIXTRAX
Built-in Bluetooth Auto EQ (CD-MC20 required)
Customizable Graphic Equalizer 13-Band D/A Converter 24-Bit Time Alignment (CD-MC20 required) Auto Subwoofer Control
Listening Position Selector
Advanced Sound Retriever
Specialised Audio Parts 3-Way Network Mode
Expandability USB Connection
SD/SDHC Memory Card Slot
AUX Input Rear Camera Input (Single)
Parking Assist Guidelines
Wired Remote Input
Composite Video Output
Composite AV Input Audio, Video USB Direct Control for iPod/iPhone
Learning Steering Wheel Control
Merchant information
(143 Reviews)
159 Sin Ming Road #01-09Amtech Building S(575625)

9am - 6pm (Mon - Sat) 10am - 3pm (Sun) Closed on PHs
64555031 / 92269222
Posted on: 21 May 2021 | Updated on : 09 Jun 2021
Email Enquiry
This enquiry will be sent directly to the seller.
*
indicates compulsory field.