Bendix General CT (Mazda Demio)
$70
Posted on: 08 May 2020 | Updated on : 08 May 2020 | 9 views
Merchant information
(11 Reviews)
Blk 147 Bishan Street 11 S(570147)
91259516
Ad information
Product model: DB1941 GCT
Good for street use
Patented Titanium Stripe provides immediate braking effect upon installation
Bedding-in not required
Price is for one set, left and right side.
Installation and delivery not included.
Contact us for other models.
Please visit
www.e-shoppinghouse.com
for more of our products.
Due to unpredictable stock movement, certain items may be out of stock.
Best confirm stock availability before heading over.

Please note that all purchases are strictly BY APPOINTMENT only.
Pickup timings:
Monday to Thursday 9am to 9.30pm
Friday 9am to 6pm (after 6pm to be pre-arranged)
Saturday 9am to 6pm
Sundays and PHs CLOSED
Pickup location at
BLK 147 BISHAN STREET 11 S(570147).Delivery and installation at buyer's own cost.
We may not be able to entertain walk-in customers. We will not be responsible if you walk-in without appointment and we are unable to meet you or should you need to wait longer than expected.
Prices are not negotiable and are correct at the time of posting.
We reserve the right to amend the price based on the circumstances and the final price will be confirmed when order is placed.
Ad information
Product model: DB1941 GCT
Good for street use
Patented Titanium Stripe provides immediate braking effect upon installation
Bedding-in not required
Price is for one set, left and right side.
Installation and delivery not included.
Contact us for other models.
Merchant information
(11 Reviews)
Blk 147 Bishan Street 11 S(570147)

91259516
Posted on: 08 May 2020 | Updated on : 08 May 2020 | 9 views
Features & specs
Bendix General CT is sure stopping with added NVH control straight out of the box.
Manufactured using a premium grade ceramic formulation for superior noise, vibration and harshness (NVH) control, Ceramic Technology gives you sure stopping, meaning you can brake with confidence. Bendix General CT are specifically suited for general surburban, city and freeway driving. It has raised the standard in every day driving, whether it's around town or on the open road.
General CT brake pads are quieter, cleaner and deliver a consistent pedal feel all day long. In addition, General CT extends rotor life by leaving a special coating or film on the rotor surface.
The key to excellent braking is matching the driving style and vehicle with the right brake pad formulation. There is nothing more important than your vehicle being able to stop on-time. 
Bendix brake pads are designed and manufactured by experts in braking system to exceed the standard of safe and smooth braking performance needs of today's driving. You can select and fit the right Bendix brake pad for virtually every application with absolute confidence. Whatever the driving style, Bendix has the answer.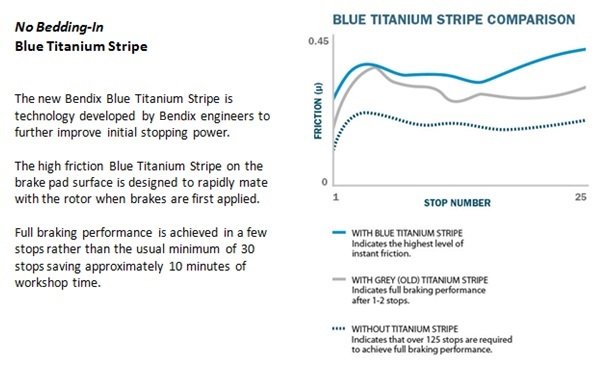 Hybrid Fusion Technology 
The Advanced Integrated Braking Performance - Hybrid Fusion Technology is an innovative combination of Bendix braking science and engineering that allows us to create integrated braking solutions for different driving styles.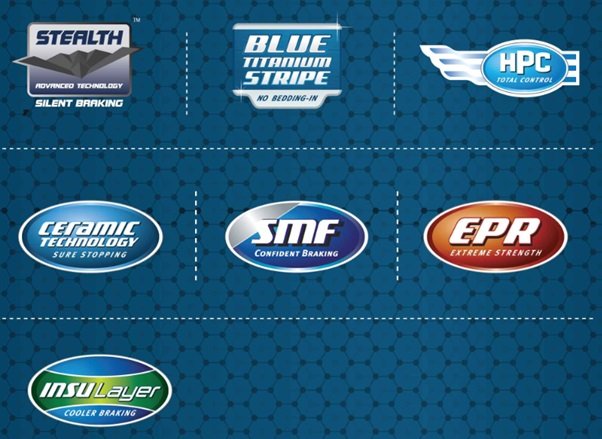 No other brake pad range merges such leading technologies to deliver such advanced integrated braking performance.
This advanced technology means:+
OE stopping power with quieter braking and smoother performance
Improved wear life of brake pads and rotors
Improved environmental protection by using more organic materials
Improved green friction and reduced brake fade
+
Not applicable to all references.
Consumer Reviews
Bought a pair of Bendix CT brake pads at a really reasonable price recently and had it fixed up onto my front wheels. Braking power is significantly increased. Feel much safer after changing to this new set of Bendix brake pads.
More items from this seller
Similar Items
FujiAce Brake Pad & Rotor
$80 - $280
Bendix Brake Pad
$80 - $150
Bendix General CT Brake Pad
$70 - $80
Remsa Brake Pad
$100 - $140
Email Enquiry
This enquiry will be sent directly to the seller.
*
indicates compulsory field.