IRoad 2-Ch FHD 1080P Car Recording Camera w/ Wifi For Smartphone Access/Update
IROAD X5 Full HD 2-CH Car Camera With Wifi
$300
IRoad 2-Ch FHD 1080P Car Recording Camera w/ Wifi For Smartphone Access/Update
Posted on: 20 Nov 2020 | Updated on : 20 Nov 2020
Merchant information
(78 Reviews)
5 Kaki Bukit Road 1 #03-05 Eunos Technolink S(415936)
9.30am - 6pm (Mon - Sat) Closed on Sun & PH
61008800 91778788
Ad information
iroad x5 with 16gbs sd cards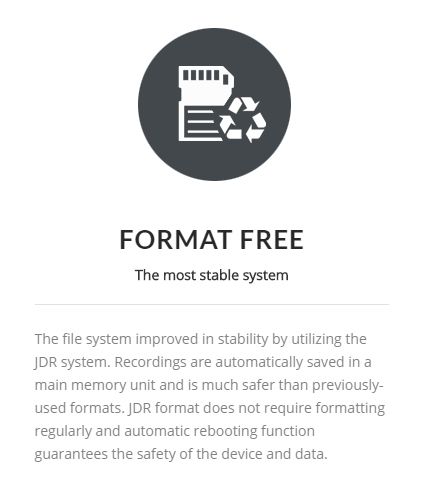 Contact Us:

Tel : 6100 8800
H/P : 91778788
Address : Blk 5 Kaki Bukit Road 1 #03-05 Eunos Technolink (S)415936
Email:sales@ace1auto.com.sg
Website : www.ace1auto.com.sg

Business Hours:

Monday To Saturday: 9.30am to 7pm
Sunday / Public Holiday: Rest


All are welcome to drive up to our showroom (3rd Level).

Feel free to call us for a no obligation quotation. Subject to 7% GST.

Local Dealers / Overseas enquires are welcome!

Please join us on Facebook https://www.facebook.com/Ace-1-Auto-Accessories-251672118204575/
 
Please quote "SGCARMART" to enjoy the promotion price!  
 

Ad information
iroad x5 with 16gbs sd cards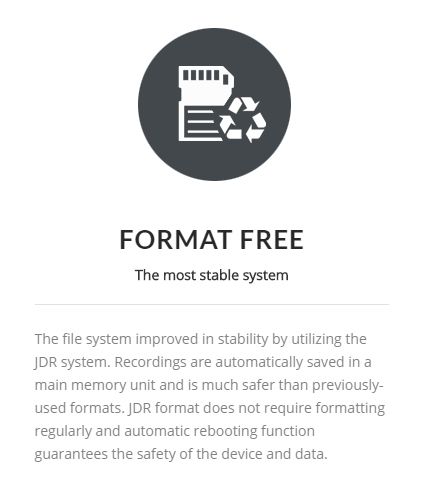 Merchant information
(78 Reviews)
5 Kaki Bukit Road 1 #03-05Eunos Technolink S(415936)

9.30am - 6pm (Mon - Sat) Closed on Sun & PH
61008800 / 91778788
Posted on: 20 Nov 2020 | Updated on : 20 Nov 2020
Features & specs
Features:
Camera: 2.0Mega Pixel Image Sensor
Resolution: Front & Rear: Full HD (1920 x 1080P)
Frame: Front & Rear: 30fps
Degrees: 140°
CPU: ARM Cortex-A7 MP Core Processor V3
WI-FI: Smartphone playback/settings, Firmware automatic upgrade
ADAS:

- LDWS (Lane departure warning system)

- FCWS (Forward collusion warning system)

- FVDW (Front Vehicle Departure Warning)

LBP: Cut-off and booting voltage settings (Constant power)
G Sensor: Axis Accelerometer G-Sensor (3D, ±3G)
GPS: External GPS Antenna (In conjunction with Google Maps to check the location and speed)
Capacity: Micro SD 8GB ~ 256GB (recommended type MLC Class 10)
Recording Modes: Normal (driving) mode, Event (impact) mode, Parking (Motion Detection) mode, Voice recording
Audio: Spearker (effect sound for informing operational status and 34 kinds of voice guidance supported), Microphone embedded
Video: H.264 / ADPCM
Temperature: -30 ~ 75°C (Storage temperature: -30 ~ 90°C)
Humidity: 10 ~ 95%
ETC: Security LED / Operation Status LED / GPS Receiver LED
PC Viewer: Windows Xp, VISTA, Win7, Win8 (32Bit ~ 64Bit support)
Application: IROAD App (Android 5.0, iOS 9.0 or higher version)

High Definition Video Quality - IROAD Dash Cam X5
Front & Rear ALL FULL HD



FHD+FHD - High Definition Video Quality
CMOS Image Sensors allow constant FHD 1080p Front and FHD 1080p Rear recording during both daytime and nighttime along with a 140-degree wide angle lens view. This will minimize blind spots to assure recording of all events without fail.
Night Vision - Nighttime Picture Quality Correction
Videos recorded by dash cam in a low light environment such as dark alleyway or underground parking lot can pose difficulties when you try to accurately identify information from the image.
IROAD NIGHT VISION employs the new ISP (Image Signal Processing) technology and the real-time image processing function to brighter images than our earlier models when recorded under nighttime parking mode.


Equipped with the Road Safety Warning System that provides audio and visual alerts for Lane Departure (LDWS), Front Collision (FCWS) and Front Vehicle Departure (FVDW). It detects road markings and gives voice warning to the drivers if the vehicle begins to stray from its lane or when it is at risk of an imminent crash.


2.6W - The minimum electricity consumption
The half of electric consumption is in lesser need than other products since it releases heat from electric circuit 2 CH basis (12V): 2.6W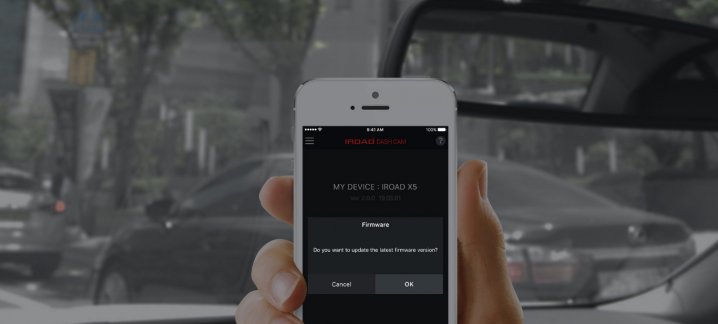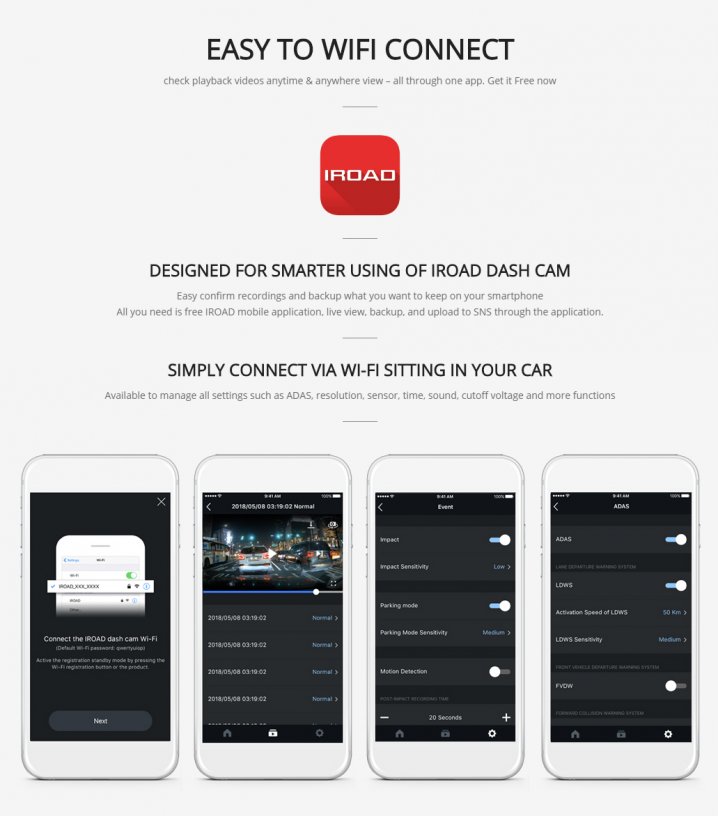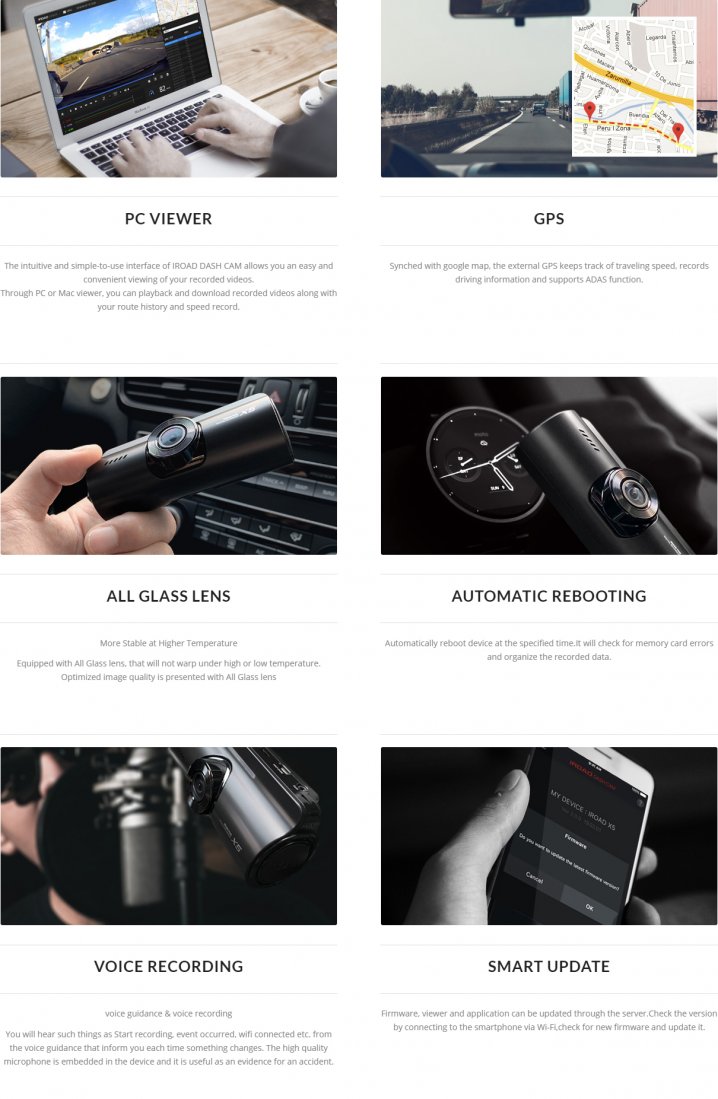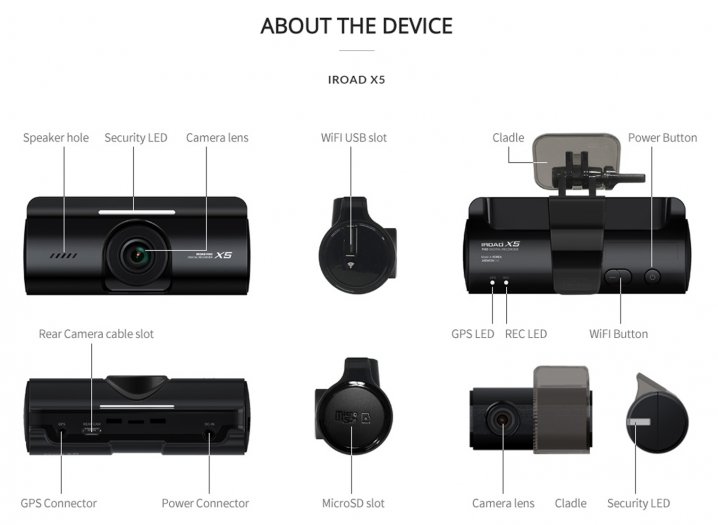 Consumer Reviews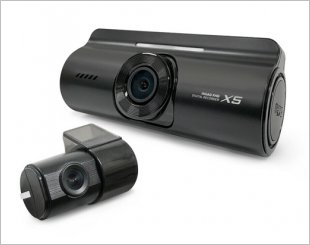 Been using this review for about 2 months. Working fine. Good and sharp images. Easy to use. - Ben, Owner of Mazda 6 SLP2--L
Reviewed by Mobile Reviewer
More items from this seller
Email Enquiry
This enquiry will be sent directly to the seller.
*
indicates compulsory field.