Posted on: 25 Sep 2019 | Updated on : 25 Sep 2019 | 11 views
Merchant information
(25 Reviews)
19 Lok Yang Way Stamford Tyres Megamarts - Jurong S(628635)
( 14 more outlet )
9am - 7pm (Mon - Sat) 10.30am - 3.30pm (Sun & PHs)
62623355
Ad information
Quick wax refreshes the appearance of automobiles

Contains carnauba wax produces a deep, glossy shine

Apply wet or dry

Mist-on/wipe-off application for convenience

Treat an entire vehicle in just a few minutes

Prices are subjected to changes.
You can also check out other items at
Stamford E-Store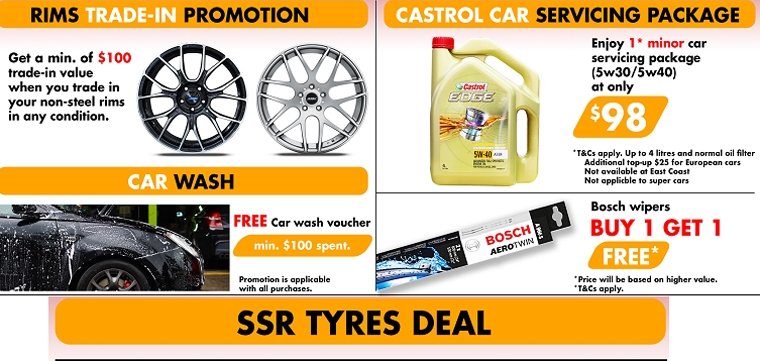 Ad information
Quick wax refreshes the appearance of automobiles

Contains carnauba wax produces a deep, glossy shine

Apply wet or dry

Mist-on/wipe-off application for convenience

Treat an entire vehicle in just a few minutes

Merchant information
(25 Reviews)
19 Lok Yang WayStamford Tyres Megamarts - Jurong S(628635)

50 Bukit Batok Street 23 #02-19 Midview Building S(659578)

9am - 7pm (Mon - Sat) 10.30am - 3.30pm (Sun & PHs)
62623355
Features & specs
3M Quick Wax Spray Detailer is a spray-on carnauba wax that is a professional quality product that works great between your major wax jobs and is the ongoing maintenance product for keeping your vehicle looking freshly waxed.
The specially designed trigger offers an easy-to-apply, mist-on-wipe off treatment that can be used on a wet or dry vehicle. The Quick wax can be used daily, weekly or monthly to keep that clean look in the event your car runs through a quick rain storm or sprinkler, or is hit by bird droppings, or exposed to other outside contaminants that can mess up the shinny, newly waxed look that you want your car to have every day.
Simply spray the product on the affected area and wipe dry with a 3M Microfiber Detail Cloth, 39016, to rejuvenate that mirror finish. The clear coat safe, no build-up formula can easily remove grime, dirt and other harmful contaminants without scratching the glossy finish on your car's paint job. It is recommended to use on the car's painted surface, glass, plastic, wheels and tyres.
Contains protective Carnauba Wax
Apply wet or dry
Mist-on-wipe-off application Treat an entire vehicle in just a few minutes
Available on Qoo10sg and Lazadasg
Consumer Reviews
Had my car paint work done with 3M Paint protection, with addition to applying this 3M quick wax on top of the coating, the whole car stayed clean and dust free throughout the week even though it rained for the past few days.
More items from this seller
Email Enquiry
This enquiry will be sent directly to the seller.
*
indicates compulsory field.