Yokohama BluEarth-A AE50 19" Tyre
| | | | |
| --- | --- | --- | --- |
| Price | Width | Profile | Rim Size |
| - | 225 | 45 | 19" |
Posted on: 09 Jul 2019 | Updated on : 08 Aug 2019 | 253 views
Merchant information
(24 Reviews)
2 Yishun Industrial Street 1 #01-03 Northpoint Bizhub S(768159)
9am - 7pm (Mon - Sat) Closed on Sun & PHs
63393193 86686222
Ad information
Brand New
Yokohama BlueEarth AE50
Nett Price (Cash/Nets)
Price include installation, balancing, tube valve and trade in
For Further Enquiries, Please call:
LeeSheng or Charmaine @ 8668-6222, or 6339-3193 (office line)
Or you may drop by and visit us personally:
2, Yishun Industrial Street 1,
#01-03 (Spore) 768159
Northpoint Bizhub (Opposite Northland Secondary School & Old Yishun ITE)
Ad information
Brand New
Yokohama BlueEarth AE50
Nett Price (Cash/Nets)
Price include installation, balancing, tube valve and trade in
Merchant information
(24 Reviews)
2 Yishun Industrial Street 1 #01-03Northpoint Bizhub S(768159)

9am - 7pm (Mon - Sat) Closed on Sun & PHs
63393193 / 86686222
Posted on: 09 Jul 2019 | Updated on : 08 Aug 2019 | 253 views
Features & specs
The Yokohama BluEarth AE50 is a Premium Touring Summer tyre designed to be fitted to Passenger Cars. 
Fuel-efficient tyres with higher safety performance 

- Stop in front of two cars (vs. EP400) 

Multiple performance

- Stable maneuverability for heavy passenger cars

- Fuel Saving, Wet GRIP and Long, mileage are improved to the best balance

Provide friendliness for environment and human/society

- Reduce Pass by noise (external noise)
Suitable for drivers having heavy passenger cars, pursuing safety and total balance.
Features
Customised nano BLEND compound

- Increase orange oil and adopt double silica. To derive the performance of various polymers and compounding agents to find the best balance of fuel saving, wet grip and long mileage.

Powerful Asymmetric, New Silent Design

- Adopt tread pattern and construction suitable for heavy passenger cars and reduce the weight simultaneously.

- New Silent Design keeping silence after wearing.

Aerodynamics

- Not only to reduce rolling resistance of tyre itself, but also we aim to reduce the fuel consumption of tyre on the car.

Adopt dimple side design and profile to reduce air resistance.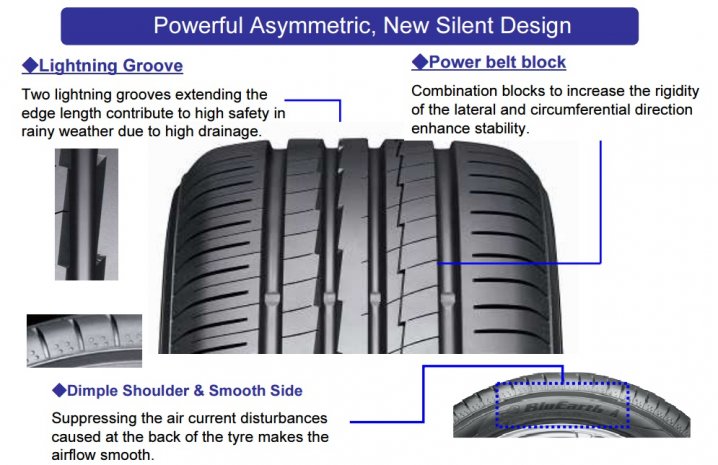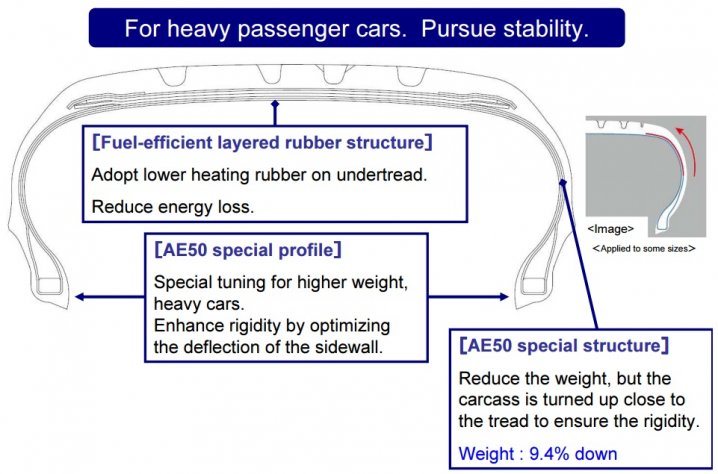 Consumer Reviews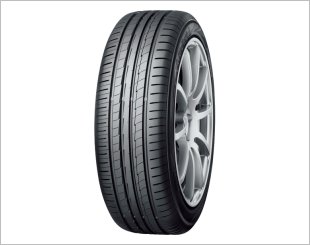 I often travel to Malaysia and at times in a last minutes decision . As such, I require a set of reliable tyres for my MPV. The road holding & handling is upmost important to me as driving in MY, one would experience dry weather in certain area along the highway and wet weather in another during the course of long hours driving. The other is of course low noise which my passengers able to take some nap along the way As such, investment in a good set of tyres like Yokohama BluEarth-A AE50 is very important to me.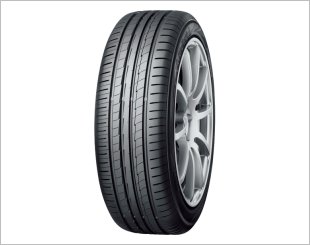 Got a small 14 inch set and have used this tyres close to 40k mileage. I don't really drive my car very hard and I don't aspire to win every race at the stop lights. But this tyres has performed very well for the time I've had them. Tyre wear for me has been excellent, my workshop Uncle commented it still looks new when he checked at 30k. Compared to my old Yoko A drive, these guys are more comfortable, quieter, and most importantly they do well in the wet. But then again as I said, I don't go touge or anything. Would recommend to those on a Budget. I did a lot of research on eco tyres (don't buy these thinking they are performance tyres hor) before I bought them and to me, it was the best value prop for all the technology and R&D that went into it. After 2.5 years parking in hot sun everyday, no signs of drying and cracking...Maybe their orange oil thingy does work?
More items from this seller
Email Enquiry
This enquiry will be sent directly to the seller.
*
indicates compulsory field.