Kumho Ecsta LE Sport KU39 235/40/R18 Tyre
| | | | |
| --- | --- | --- | --- |
| Price | Width | Profile | Rim Size |
| $70 | 235 | 40 | 18" |
Condition
Excellent [5/5]
Posted on: 29 Oct 2020 | Updated on : 28 Nov 2020
Merchant information
(81 Reviews)
95 Kaki Bukit Avenue 1 Shun Li Industrial Park S(415982)
( 1 more outlet )
9am - 7pm (Mon - Sat) Closed on Sun & PHs
68412255 96622255
Ad information
Kumho Ecsta LE Sport 
235/40/18 Available 
Visit us 
Yap Brothers Motorsport
32 Old Toh Tuck Rd, #01-09
I -Biz Centre
Beside Bukit Batok CNG Gas Station 
Singapore 
Tel 66862255
Hp 96622255
Working hours 
Monday-Saturday 
9am-7pm
Close On Sunday & PH
What we have:
Good tyre at competitive price range from 12' to 25'
Looking for Japan rims?
Well equipped for every needs of our customer
Mobil car engine oil servicing
JBT brake system
3D computer wheel alignment and more
Call us to find out more!
Ad information
Kumho Ecsta LE Sport 
235/40/18 Available 
Visit us 
Yap Brothers Motorsport
32 Old Toh Tuck Rd, #01-09
I -Biz Centre
Beside Bukit Batok CNG Gas Station 
Singapore 
Tel 66862255
Hp 96622255
Working hours 
Monday-Saturday 
9am-7pm
Close On Sunday & PH
Merchant information
(81 Reviews)
95 Kaki Bukit Avenue 1Shun Li Industrial Park S(415982)

32 Old Toh Tuck Road #01-09I.Biz Centre S(597658)

9am - 7pm (Mon - Sat) Closed on Sun & PHs
68412255 / 96622255
Posted on: 29 Oct 2020 | Updated on : 28 Nov 2020
Features & specs
The Ecsta LE Sport is Kumho's Max Performance Summer tyre developed for the drivers of sports cars, sporty coupes and performance sedans who want dynamic handling performance on dry and wet roads. The Ecsta LE Sport offers a sophisticated European-inspired design that delivers a blend of ride comfort and cockpit quietness. Like all summer tires, it is not intended to be driven in near-freezing temperatures, through snow or on ice.
The Ecsta LE Sport molds a High Grip Performance Resin enhanced tread compound into an asymmetric design that features wide outboard shoulder blocks to deliver dry road cornering grip while continuous center ribs provide high speed stability. Wide circumferential tread grooves, notches and slots promote water evacuation for hydroplaning resistance and wet grip.
The tyre's internal structure features twin steel belts reinforced with spirally wound jointless nylon to provide responsive handling, stable cornering and high-speed durability. The Ecsta LE Sport's Lyocell cord reinforced casing offers more strength and dimensional stability than polyester or rayon across a range of temperatures.
Features
Asymmetric Design provides superb water evacuation for optimal driving on both wet and dry road conditions.
Solid center rib provides continuous contact with the road enhancing straightline stability and steering response.
Variable tread block design reduces road noise for improved ride comfort and overall driving pleasure.
Optimized footprint shape provides stable driving performance and even wear for life of tyre.
Available Sizes
205/55R16
205/45R17
215/40R17
215/45R17
215/50R17
225/45R17
235/45R17
245/40R17
255/40R17
225/35R18
225/40R18
225/45R18
235/40R18
235/45R18
245/35R18
245/40R18
245/45R18
255/35R18
255/40R18
255/45R18
265/35R18
265/40R18
275/35R18
285/35R18
215/35R19
225/35R19
225/40R19
235/35R19
245/45R19
255/35R19
295/30R19
245/40R20
Consumer Reviews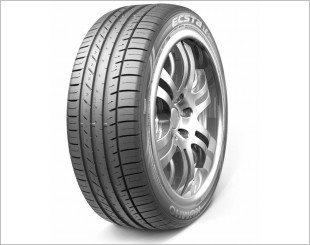 Great tires for cruising on NSHW. Very low tyre roar. Soak up the bumps, if any. Great braking ability in both wet and dry conditions. A dog dashed out, I was at 40km/h and had around 4 or 5 metres. Braked successfully. It is not a racing tyre despite its "Sports" name as there's some body roll at corners. Heard it wears down fast too but I'm only 3000 km on it, so can't be sure. Installed it at Pitstop Tyres Upper Thomson at good price. Recommended.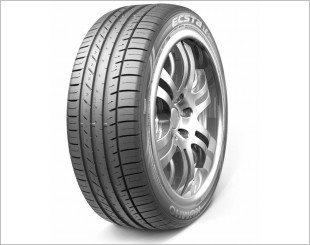 Excellent wet grip, even awesome dry grip. Its a great, safe, sticky and predictable set of tyres that I would recommend to almost anyone! Going through trecherous bends would be made easy with these Kumho Ecsta LE Sport, with stiff sidewalls to ensure minimum wobbling while cornering. What some of my friends comment was that these tyres feel to slow and lethargic due to its really sticky effect with the tarmac. The advanced technology - Tuned Performance Indicators, were something really cool. Continental made these tyres almost so foolproof! I just love how these Continental ExtremeContact DW works.
More items from this seller
Email Enquiry
This enquiry will be sent directly to the seller.
*
indicates compulsory field.