Continental Eco Contact 5 205/55/R16 Tyre
| | | | |
| --- | --- | --- | --- |
| Price | Width | Profile | Rim Size |
| $100 | 205 | 55 | 16" |
Posted on: 23 May 2023 | Updated on : 23 May 2023
Merchant information
(92 Reviews)
Blk 3015 Ubi Road 1 #01-262 S(408704)
( 1 more outlet )
9am - 7pm (Mon - Sat) 9am - 4pm (Sun)
96246263 96603227 97531328 81269760
Ad information
Continental Eco Contact 5 16" Tyre
Size: 205/55/16
Origin: Europe
Inclusive of Installation
Nitrogen Insertion
4 Wheel Balancing
Stainless Steel Valve Change
Call us @ 96246263 for the best quote!
Kim Hoe & Co Pte Ltd
Ubi Road 1 Blk, 3015
#01-260/262/266
Singapore 408704
Ad information
Continental Eco Contact 5 16" Tyre
Size: 205/55/16
Origin: Europe
Inclusive of Installation
Nitrogen Insertion
4 Wheel Balancing
Stainless Steel Valve Change
Call us @ 96246263 for the best quote!
Kim Hoe & Co Pte Ltd
Ubi Road 1 Blk, 3015
#01-260/262/266
Singapore 408704
Merchant information
(92 Reviews)
Posted on: 23 May 2023 | Updated on : 23 May 2023
Features & specs
Combining short braking distances on wet and dry roads with low rolling resistance has in the past always been considered extremely problematic. Europe's leading tye manufacturer Continental has now launched a product which resolves this problem with apparent ease - the new ContiEcoContact 5. The tyre engineers did, however, have to tread new ground in terms of all the tyre elements involved - casing, compound, tyre contour and tread pattern design - in order to achieve the high level of progress.

The main target conflicts when reducing rolling resistance relate to the safety-relevant characteristics of a tyre. This means that the conflict between rolling resistance and handling can be influenced via the design, whilst the tyre compound can assist in the problem area of low rolling resistance and short braking distances in the wet; changing the tyre contour allows mileage performance to be enhanced, and the tread pattern can have a positive effect on braking characteristics in the wet. The sum total of the potential improvements helps the new tyre to achieve a considerably better overall performance with even more balanced driving characteristics. The engineers at Continental therefore focused on all these areas in order to meet the high requirements made on the new tyre for compact cars and large saloons.

The new ContiEcoContact 5 is being produced for 14"-16" rims and is approved for speeds of up to 300 km/h (187 mph).

Features
Optimised rolling resistance for reduced fuel consumption
High braking safety and short braking distances on wet roads
Best handling on wet and dry roads
Optimised rolling resistance for reduced fuel consumption
The ContiEcoContact 5 was developed in close co-operation with Europe's leading car manufacturers. This is an entyrely new tyre concept aimed specifically at motorists who drive longer distances, but also at those who are very mindful of both fuel consumption and the environment. The challenge was to reduce rolling resistance on the tyre and, at the same time, ensure a high level of safety during braking. This required a completely new approach to all four components of the tyre: design, contour, compound and tread pattern. The result was reduced CO2 emissions and lower fuel consumption, while still delivering excellent braking performance.
High braking safety and short braking distances on wet roads

The combination of special additives and optimised tread lug edges makes for improved grip in the wet, leading to short, safe braking distances on wet roads. Moreover, functionalised polymer chains firmly linked to the silica mean lower rolling resistance. Extra-thin sipes reduce tread deformation, thereby also minimising energy loss.
Consumer Reviews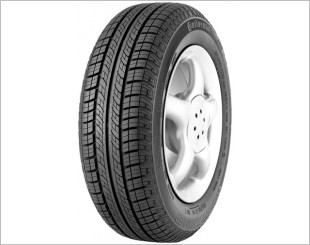 Tyres met all my requirements, comfort significantly improved, water discharge perfectly, turns and cornering felt secure. Driving on them is a real fun and pleasure and most importantly safe. Recommended!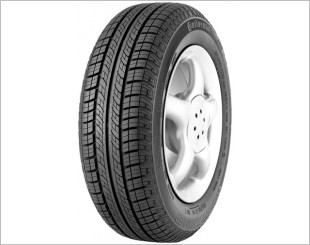 Used a set of Continental ContiEcoContact 5 tyres before. Noisy from first moment I got them. Bumping begins at 75kph, gets progressively worse with speed. It wanders when at high speeds, and this, personally, feels unsafe. It takes corners very weakly, with a lot of roll when turning at high speeds. For a thousand bucks, I should not even notice I have tires rolling under me. Instead, I have to grit my teeth every time I commute. Would not recommend for those that drive efficiently, for that I meant at high speeds that are of a safe driving. These tyres are for those who loves cruising through the highway at around 70kph. My theory on it is that it 'forces' you to slow down and cruise, hence saving fuel.
More items from this seller
2-Tone Concave 18" Rims
$788
Silver Multi-Spoke Replica 18" Rims
$868
Email Enquiry
This enquiry will be sent directly to the seller.
*
indicates compulsory field.