Goodyear EfficientGrip Performance 17" Tyre
| | | | |
| --- | --- | --- | --- |
| Price | Width | Profile | Rim Size |
| $152 | 225 | 50 | 17" |
Posted on: 10 Oct 2019 | Updated on : 10 Oct 2019 | 18 views
Merchant information
(91 Reviews)
Blk 3015 Ubi Road 1 #01-262 S(408704)
9am - 7pm (Mon - Sat) 9am - 4pm (Sun)
96246263 / 96603227 / 97531328 / 81269760
Ad information
Goodyear Efficient Grip Performance 17" Tyre
Size: 225/50/17

Origin: Europe

Inclusive of Installation

Nitrogen Insertion

4 Wheel Balancing

Stainless Steel Valve Change

Call us @ 96246263 for the best quote!
Kim Hoe & Co Pte Ltd
Ubi Road 1 Blk, 3015
#01-260/262/266
Singapore 408704
Ad information
Goodyear Efficient Grip Performance 17" Tyre
Size: 225/50/17

Origin: Europe

Inclusive of Installation

Nitrogen Insertion

4 Wheel Balancing

Stainless Steel Valve Change

Call us @ 96246263 for the best quote!
Kim Hoe & Co Pte Ltd
Ubi Road 1 Blk, 3015
#01-260/262/266
Singapore 408704
Merchant information
(91 Reviews)
Blk 3015 Ubi Road 1 #01-262 S(408704)

9am - 7pm (Mon - Sat) 9am - 4pm (Sun)
96246263 / 96603227 / 97531328 / 81269760
Features & specs
Features:

1. A-rated wet grip
Rated A for wet grip performance, the highest rating awarded under EU regulations.

2.Shorter braking distances for driving confidence
ActiveBraking Technology increases contact between the tyre and the road surface for shorter braking distances – up to two metres (8%) shorter on wet roads and 3% shorter in the dry.

3. Improved wet braking and lower rolling resistance
WearControl Technology ensures an optimal balance between wet grip and low rolling resistance for the life of the tyre.

4. Lower fuel consumption
We use FuelSaving Technology to create a new base compound that reduces the tyre's energy dissipation. Rolling resistance is reduced by 18% meaning improved fuel efficiency and lower driving costs for you.
Consumer Reviews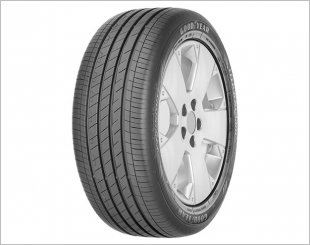 Original set of CSC5 wearing out and quite noisy. Size 205/50/17 was not common. Headache.... Chance upon Goodyear Efficient Grip Performance review. It is marketed as quiet and lower fuel consumption. Called a workshop and size was available. Good and prompt service. After installation, I was surprised by the quietness. Letting go of the throttle, the car just cruised along. I believe it will save on fuel in the long run.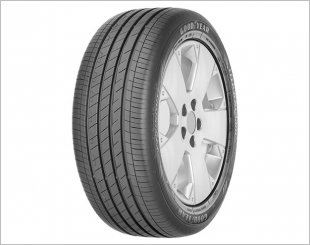 I had the Efficient Grip Performance (ROF) on my ride for ~5.5 months (16,500Km), and here are a quick review. Noise: Low noise level as compared to my previous CPC2 Contiseal (when new) - 225/50R17 Firmness: Probably because of the reinforced side wall, the firmness is now just nice for my 1.8 tons MPV Handling: No problem with hitting corner at high speed (can do 80Km/h on some slip road with sharper bend) Braking Performance: Considering that this is more of a comfort than performance tyre, I would say that it offer very good braking performance both in Dry and Wet conditions Weight and FC: I personally find the tyre marginally heavier than my previous CPC2, and same can be felt when moving off from standstill, and FC is marginally lower (by 0.2 Km/L over the past few months)
More items from this seller
Email Enquiry
This enquiry will be sent directly to the seller.
*
indicates compulsory field.