Bridgestone Dueler HP Sport 235/50/R19 Tyres
| | | | |
| --- | --- | --- | --- |
| Price | Width | Profile | Rim Size |
| $185 | 235 | 50 | 19" |
Condition
Excellent [5/5]
Posted on: 14 Jan 2020 | Updated on : 16 Jan 2020 | 2 views
Merchant information
(40 Reviews)
95 Kaki Bukit Avenue 1 Shun Li Industrial Park S(415982)
( 1 more outlet )
9am - 7pm (Mon - Sat) Closed on Sun & PHs
68412255 96622255
Ad information
Tyres On Offer Sale
Bridgestone Dueler HP Sport
Visit us
Yap Brothers Motorsport
32 Old Toh Tuck Rd, #01-09
I-Biz Centre
Beside Bukit Batok CNG Gas Station
Tel 66862255
Hp 96622255
Working hours
Monday-Saturday
9am-7pm
Close On Sunday & PHs
What we have:
Good tyre at competitive price range from 12' to 25'
Looking for Japan rims?
Well equipped for every needs of our customer
Mobil car engine oil servicing
JBT brake system
3D computer wheel alignment and more
Call us to find out more!
Ad information
Tyres On Offer Sale
Bridgestone Dueler HP Sport
Visit us
Yap Brothers Motorsport
32 Old Toh Tuck Rd, #01-09
I-Biz Centre
Beside Bukit Batok CNG Gas Station
Tel 66862255
Hp 96622255
Working hours
Monday-Saturday
9am-7pm
Close On Sunday & PHs
Merchant information
(40 Reviews)
95 Kaki Bukit Avenue 1Shun Li Industrial Park S(415982)

32 Old Toh Tuck Road #01-09I.Biz Centre S(597658)

9am - 7pm (Mon - Sat) Closed on Sun & PHs
68412255 / 96622255
Features & specs
The Bridgestone Dueler range has now been expanded to include the Dueler HP Sport tyre. The Dueler HP Sport is primarily designed to deliver outstanding handling and grip for high performance 4WD Vehicles.
Designed with a high silica tread compound, the Dueler HP Sport also offers class leading wet performance and steering response as well as a head-turning sidewall design.
Benefits
Tyre designed to reduce noise.
Superior performance characteristics combining handling, cornering and braking.
High level of steering response
Exceptional handling in hazardous, wet conditions.
Asymmetrical tyres have a tread pattern that is different from one side to another offering a balance for dry and wet grip
Runflat Technology increases the tyre's rigidity and heat resistance so that the tyre can support weight while rotating in a deflated state.
Consumer Reviews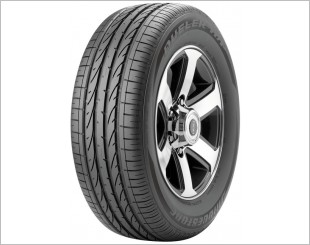 These tyres came as OE on my ride. The first set lasted 42k and had quite a bit of mileage left, but after repairing a couple of punctures I decided to change. Due to lack of alternatives, I got another set of Duelers at Arrow Tyre. With regular rotation and pumping of air, I am happy to report that they lasted 62k before I changed them. At that point, there were still enough drainage gaps but the shoulders were wearing out quite a bit. Throughout the lifespan, these gave good steering feel, reasonable comfort and were quiet enough for me.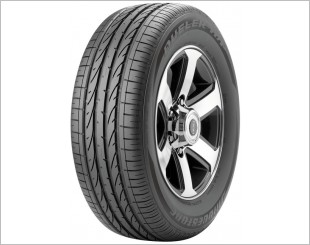 Bought a set of Bridgestone Dueler H/P Sport, so far I am very pleased with them. The ride is excellent, very positive feel on the road, quiet, smooth and excellent handling. Too early to report on the economy factor but otherwise very pleased with these.
More items from this seller
Similar Items
Bridgestone Dueler H/P Sport 265/50/R19 Tyre
$305 - $345
Bridgestone Dueler H/P Sport 265/50/R19 Tyre
$335 - $375
Email Enquiry
This enquiry will be sent directly to the seller.
*
indicates compulsory field.