Michelin Latitude Tour HP 235/55/R18 Tyre
| | | | |
| --- | --- | --- | --- |
| Price | Width | Profile | Rim Size |
| $100 | 235 | 55 | 18" |
Condition
Excellent [5/5]
Posted on: 05 Jan 2020 | Updated on : 16 Jan 2020 | 5 views
Merchant information
(40 Reviews)
95 Kaki Bukit Avenue 1 Shun Li Industrial Park S(415982)
( 1 more outlet )
9am - 7pm (Mon - Sat) Closed on Sun & PHs
68412255 96622255
Ad information
Michelin Latitude Tour HP
Visit us
Yap Brothers Motorsport
32 Old Toh Tuck Rd, #01-09
I-Biz Centre
Beside Bukit Batok CNG Gas Station 

Tel 66862255
Hp 96622255
Working hours
Monday-Saturday 
9am-7pm
Close On Sunday & PHs
What we have:
Good tyre at competitive price range from 12' to 25'
Looking for Japan rims?
Well equipped for every needs of our customer
Mobil car engine oil servicing
JBT brake system
3D computer wheel alignment and more
Call us to find out more!
Ad information
Michelin Latitude Tour HP
Visit us
Yap Brothers Motorsport
32 Old Toh Tuck Rd, #01-09
I-Biz Centre
Beside Bukit Batok CNG Gas Station 

Tel 66862255
Hp 96622255
Working hours
Monday-Saturday 
9am-7pm
Close On Sunday & PHs
Merchant information
(40 Reviews)
95 Kaki Bukit Avenue 1Shun Li Industrial Park S(415982)

32 Old Toh Tuck Road #01-09I.Biz Centre S(597658)

9am - 7pm (Mon - Sat) Closed on Sun & PHs
68412255 / 96622255
Features & specs
Michelin Latitude Tour HP tyres for on road SUVs gives you maximum comfort, and it lasts longer.
Benefits:
Maximum Comfort
5% improvement in acoustic and vibration comfort compared to reference tyre1
Lasts Longer
20% better in longevity compared to reference tyre1
Safety Guaranteed
5% extra grip on wet roads compared to reference tyre1
(1) Based on internal tests, compared to Michelin Energy MXV4+, reference tyre of the BMW X5. 
Technology:
Comfort and Mileage
Thanks to combination of suppleness and rigidity. Rigid tread pattern, with a supple construction gives even pressure distribution in the contact patch and long mileage.
Safety in Wet and Dry
Thanks to Interlocking StabiliGrip sipes - StabiliGrip self-locking sipes give safety in the wet without compromising the performance in dry conditions.
Available Sizes
215/65HR16
215/70HR16
265/70HR16
215/60HR17
235/65VR17
265/65HR17
235/55VR18
Visit our website for more information: http://www.michelin.com.sg/
Consumer Reviews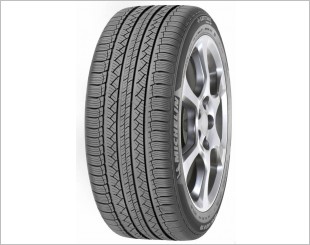 Was using another SUV tyre previously and it was comfortable but I keep having 1 issue, flat tyres due to nail. Happened a few time already. Maybe just my luck so decided to give a change to try this. I feel that this is also good and I find the fuel consumption seems better that last time though not the very big significant difference. Handling wise seems more firm and i haven't been having nail puncture since. Reliable i would say.
More items from this seller
Email Enquiry
This enquiry will be sent directly to the seller.
*
indicates compulsory field.