Amaron Hi Life Pro Din55 Car Battery
Posted on: 09 Jan 2020 | Updated on : 12 Jan 2020 | 65 views
Merchant information
(1 Reviews)
2 Yishun Industrial Street 1 #03-06 North Point Bizhub S(768159)
11am - 8pm (Mon - Sun) Closed on PH
62620911 84997511
Merchant information
(1 Reviews)
2 Yishun Industrial Street 1 #03-06North Point Bizhub S(768159)

11am - 8pm (Mon - Sun) Closed on PH
62620911 / 84997511
Features & specs
The Amaron PRO series are the ultimate OEM replacement for late model DIN and European spec passenger and commercial vehicles and are the most widely sold car battery in India. The Pro series integrate Amaron's premium SILVEN X technology for ultra low-corrosion and maintenance free operation as well as BIC vents for enhanced safety . Oversized inter cell welds also help to provide superior cranking power.
Features
9 different types of batteries with varying outputs to suit the needs of your vehicle
Zero Maintenance - High heat technology, premium silver alloys (SILVEN X) for a low-corrosion and no top-ups experience.
Highest Cranking Power - Largest Inter Cell Welds, 19mm Lugs.
Consumer Reviews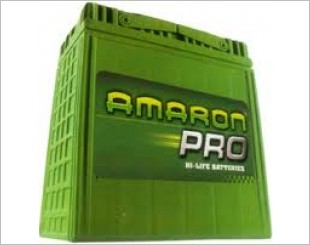 Changed to this in my previous Jazz. Cranking was good. Battery life was pretty decent as well. For its price it's worth it.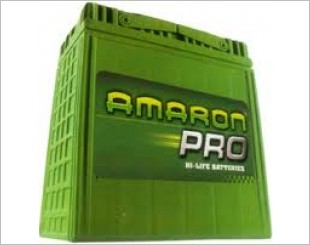 Time to replace my car battery. Today, I think all of us will opt for maintenance free battery. I assume no one will not go for it. Performance wise seems similar. But one thing I can be sure is the it is now easier to start my car.
More items from this seller
Similar Items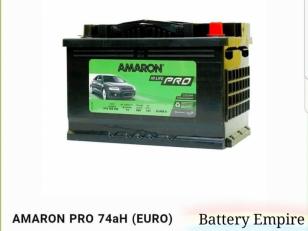 Amaron Pro Din74
$195
Amaron Battery
$90 - $190
Amaron Battery
$80 - $120
Amaron Battery
$100 - $180
Email Enquiry
This enquiry will be sent directly to the seller.
*
indicates compulsory field.