Bridgestone Potenza Adrenalin RE003 225/45/R17 Tyre
| | | | |
| --- | --- | --- | --- |
| Price | Width | Profile | Rim Size |
| - | 225 | 45 | 17" |
Condition
Excellent [5/5]
Posted on: 07 Oct 2021 | Updated on : 11 Nov 2021
Merchant information
(96 Reviews)
95 Kaki Bukit Avenue 1 Shun Li Industrial Park S(415982)
9am - 7pm (Mon - Sat) Closed on Sun & PHs
68412255 96622255
Ad information
Bridgestone Potenza Adrenalin RE003 Tires On Offer Sale 
225/45/17 Available 
Visit us 
Yap Brothers Motorsport
32 Old Toh Tuck Rd, #01-09
I -Biz Centre
Beside Bukit Batok CNG Gas Station 
Singapore 
Tel 66862255
Hp 96622255
Working hours 
Monday-Saturday 
9am-7pm
Close On Sunday & PH
What we have:
Good tyre at competitive price range from 12' to 25'
Looking for Japan rims? 
Well equipped for every needs of our customer
Mobil car engine oil servicing
JBT brake system
3D computer wheel alignment and more
Call us to find out more!
Ad information
Bridgestone Potenza Adrenalin RE003 Tires On Offer Sale 
225/45/17 Available 
Visit us 
Yap Brothers Motorsport
32 Old Toh Tuck Rd, #01-09
I -Biz Centre
Beside Bukit Batok CNG Gas Station 
Singapore 
Tel 66862255
Hp 96622255
Working hours 
Monday-Saturday 
9am-7pm
Close On Sunday & PH
Merchant information
(96 Reviews)
95 Kaki Bukit Avenue 1Shun Li Industrial Park S(415982)

9am - 7pm (Mon - Sat) Closed on Sun & PHs
68412255 / 96622255
Posted on: 07 Oct 2021 | Updated on : 11 Nov 2021
Features & specs
Designed to deliver precision handling and maximum control, Adrenalin RE003 is built with the optimal mix of powerful traction, handling stability and quick initial response on dry roads, while boasting sure handling and braking on wet roads. Compared to the previous generation's product, RE002, the new tyre offers sharp responsive turn-in, direct steering feel, and greater cornering stability without compromising on comfort.
Dry-Handling Performance
1.    Wide Center Rib
Rib is designed at inside of the tyre centreline for precise handling and cornering performance
2.    Curve Grove-Wall Enforcement
Enabled rigid tyre center rib against lateral force and offers precise cornering performance.
3.    Connection Block
Shortened lug grooves offer highly rigid shoulder blocks. Powerful traction and upgraded handling stability are led by new construction especially in dry cornering.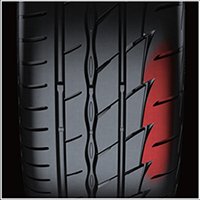 4.    Triple & Half Groove
It is a combination of three main and sporty half grooves. This construction offers optimised overall rigidity and quick initial response. In addition, more even road contact surface of RE003 (see bottom) provides better cornering, braking in wet conditions and even less irregular wear.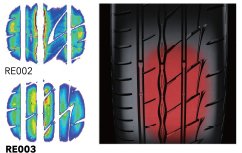 Wet-Handling Performance
5.    Silica-Based Compound
It is the new improved compound by maintaining dry handling and even better wet handling.
6.    Pulse Groove
It is a waved groove design, technology through motorsports tyre development, adopted for better drainage and anti-hydroplaning performance.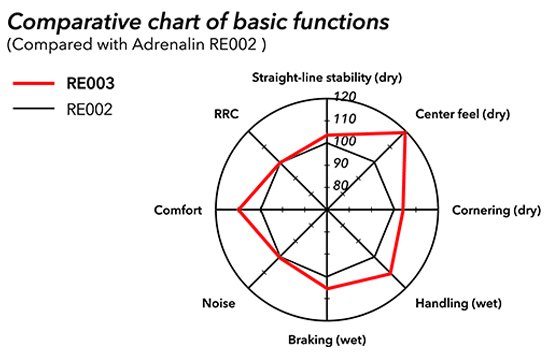 Available Sizes
195/50 R15
205/55 R15
195/55 R15
195/60 R15
205/45 R16
225/50 R16
205/50 R16
225/55 R16
215/55 R16
205/55 R16
195/55 R16
215/60 R16
245/40 R17
215/40 R17
205/40 R17
245/45 R17
235/45 R17
225/45 R17
215/45 R17
205/45 R17
225/50 R17
215/50 R17
205/50 R17
225/55 R17
215/55 R17
265/35 R18
255/35 R18
255/40 R18
245/40 R18
235/40 R18
225/40 R18
255/45 R18
245/45 R18
235/45 R18
225/45 R18
215/45 R18
235/50 R18
275/35 R19
245/35 R19
235/35 R19
245/40 R19
275/30 R20
245/35 R20
Note: Some sizes are available on indent basis only and are subject to availability.
Consumer Reviews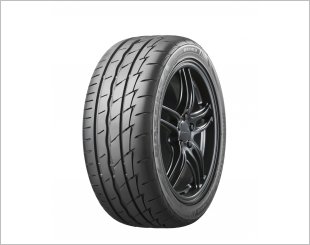 RE003 have good grip during dry and wet road conditions.Noise level is good,very comfortable to drive with.Price is affordable.Will try RE004 next went tyre wears off. - Zain Rahmat, Owner of Toyota Sienta SLJ89--E
Reviewed by Mobile Reviewer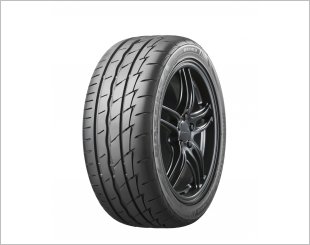 Potenza RE003 is a nice tyre with good grip on wet and dry road. Though the noise can be more after a period of time. But it still works great on any surfaces. - Tan Shao Wei, Owner of Kia Cerato SKB68--J
Reviewed by Mobile Reviewer
Email Enquiry
This enquiry will be sent directly to the seller.
*
indicates compulsory field.