Bridgestone Potenza RE050A RunOnFlat 225/40/R18 Tyre
| | | | |
| --- | --- | --- | --- |
| Price | Width | Profile | Rim Size |
| $90 | 225 | 40 | 18" |
Condition
Excellent [5/5]
Posted on: 14 Feb 2020 | Updated on : 24 Feb 2020 | 178 views
Merchant information
(40 Reviews)
95 Kaki Bukit Avenue 1 Shun Li Industrial Park S(415982)
( 1 more outlet )
9am - 7pm (Mon - Sat) Closed on Sun & PHs
68412255 96622255
Ad information
Bridgestone Potenza RE050A 
Visit us
Yap Brothers Motorsport
32 Old Toh Tuck Rd, #01-09
I-Biz Centre
Beside Bukit Batok CNG Gas Station 

Tel 66862255
Hp 96622255

Working hours 
Monday-Saturday 
9am-7pm
Close On Sunday & PH
What we have:
Good tyre at competitive price range from 12' to 25'
Looking for Japan rims?
Well equipped for every needs of our customer
Mobil car engine oil servicing
JBT brake system
3D computer wheel alignment and more
Call us to find out more!
Ad information
Bridgestone Potenza RE050A 
Visit us
Yap Brothers Motorsport
32 Old Toh Tuck Rd, #01-09
I-Biz Centre
Beside Bukit Batok CNG Gas Station 

Tel 66862255
Hp 96622255

Working hours 
Monday-Saturday 
9am-7pm
Close On Sunday & PH
Merchant information
(40 Reviews)
95 Kaki Bukit Avenue 1Shun Li Industrial Park S(415982)

32 Old Toh Tuck Road #01-09I.Biz Centre S(597658)

9am - 7pm (Mon - Sat) Closed on Sun & PHs
68412255 / 96622255
Features & specs
The Bridgestone Potenza RE050A is a high-end summer tyre designed for use with high-performance vehicles such as sport cars. Its wide tread pattern design offers improved wet weather ride characteristics while its silica enhanced UNI-T design improves overall ride characteristics.
Meanwhile, the Potenza RE050A's smoother shape allows for reduced road noise.
The Potenza RE050A's wide tread pattern quickly evacuates water from the tyre, greatly reducing the possibility of hydroplaning even at somewhat faster speeds. Its silica enhanced UNI-T design provides the Potenza RE050A with improved ride characteristics by way of rounder bead construction and a Carbon Black enhanced tread. Additionally, the Potenza RE050A's smoother shape reduces friction, resulting in reduced road noise and a more comfortable ride.
Features
Silica enhanced UNI-T design for improved performance
Wide tread pattern for improved wet-weather performance
Smoother shape allows for reduced road noise
Solid Circumferential Center Rib for increased response
Standard Limited Warranty
Platinum Pact Limited Warranty (3 year tread wear protection)
Stabilised center blocks with tie bar rib for improved cornering
Available Sizes
Note: Some sizes are available on indent basis only and are subject to availability.
Consumer Reviews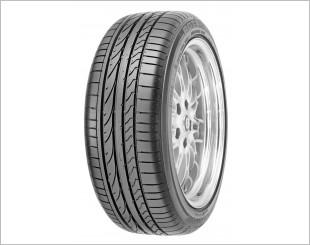 These are really excellent tyres. Great grip, quiet and low rolling resistance so add to the economy of the car. Their price is high but I think good value for what they are.
More items from this seller
Email Enquiry
This enquiry will be sent directly to the seller.
*
indicates compulsory field.