Sony XM-2100GTX 2-Ch Amplifier
Condition
Excellent [5/5]
Posted on: 20 Jul 2021 | Updated on : 20 Jul 2021
Merchant information
(281 Reviews)
159 Sin Ming Road #01-09 Amtech Building S(575625)
9am - 6pm (Mon - Sat) 10am - 3pm (Sun) Closed on PHs
64555031 92269222
Ad information
Sony XM-2100GTX

2-channel car amplifier
100 watts RMS x 2 at 4 ohms (125 watts RMS x 2 at 2 ohms)
250 watts RMS x 1 at 4 ohms (4-ohm stable in bridged mode)
low-pass crossover (50-300 Hz, 12 dB/octave)
variable bass boost (0-10 dB at 40 Hz)
MOSFET power supply and output stages
Tri-way capable (Tri-Way crossover required)
CEA-2006 compliant
preamp- and speaker-level inputs
preamp outputs
gold-plated connectors
fuse rating: 25A x 2
8-gauge power and ground leads and a 50-amp fuse recommended — wiring and hardware not included with amplifier
13"W x 2-3/16"H x 8-15/16"D
We provide a range of services such as:
Car Audio Installation
Car Audio Customisation
Car Audio Tuning
Car Security System Installation
SoundProofing
Call us or visit our website to find out more!
Website:
http://www.autoimage.com.sg/
Facebook:
https://www.facebook.com/autoimage.sg/info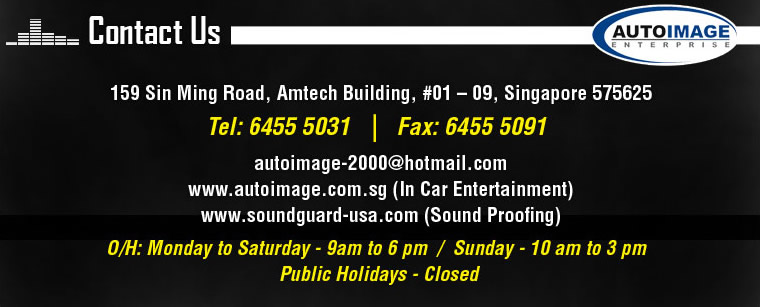 Ad information
Sony XM-2100GTX

2-channel car amplifier
100 watts RMS x 2 at 4 ohms (125 watts RMS x 2 at 2 ohms)
250 watts RMS x 1 at 4 ohms (4-ohm stable in bridged mode)
low-pass crossover (50-300 Hz, 12 dB/octave)
variable bass boost (0-10 dB at 40 Hz)
MOSFET power supply and output stages
Tri-way capable (Tri-Way crossover required)
CEA-2006 compliant
preamp- and speaker-level inputs
preamp outputs
gold-plated connectors
fuse rating: 25A x 2
8-gauge power and ground leads and a 50-amp fuse recommended — wiring and hardware not included with amplifier
13"W x 2-3/16"H x 8-15/16"D
Merchant information
(281 Reviews)
159 Sin Ming Road #01-09Amtech Building S(575625)

9am - 6pm (Mon - Sat) 10am - 3pm (Sun) Closed on PHs
64555031 / 92269222
Posted on: 20 Jul 2021 | Updated on : 20 Jul 2021
Email Enquiry
This enquiry will be sent directly to the seller.
*
indicates compulsory field.