Marbella KR X Front+Back QHD QHD 2K 1440P WiFi Low Power Consumption 2 Channel Car Camera
$340 – $380
Posted on: 22 Nov 2021 | Updated on : 22 Nov 2021
Merchant information
(121 Reviews)
Blk 530A Jurong West Avenue 1 S(641530)
88663777
Ad information
Features
QHD 2K 1440P
Wi-Fi Connection
48 Hours Parking Mode
Low Power Consumption
Dual Battery Discharge Prevention
Thermal Protection
.AVI FAT Format Free Technology
Time Lapse Parking Mode
Call Uncle Wong @ 88663777 for more info.​
FB Car Audio
Contact: 88663777
Blk 530A Jurong West Avenue 1
S(641530)
Ad information
Features
QHD 2K 1440P
Wi-Fi Connection
48 Hours Parking Mode
Low Power Consumption
Dual Battery Discharge Prevention
Thermal Protection
.AVI FAT Format Free Technology
Time Lapse Parking Mode
Call Uncle Wong @ 88663777 for more info.​
Merchant information
(121 Reviews)
Blk 530A Jurong West Avenue 1 S(641530)

88663777
Posted on: 22 Nov 2021 | Updated on : 22 Nov 2021
Features & specs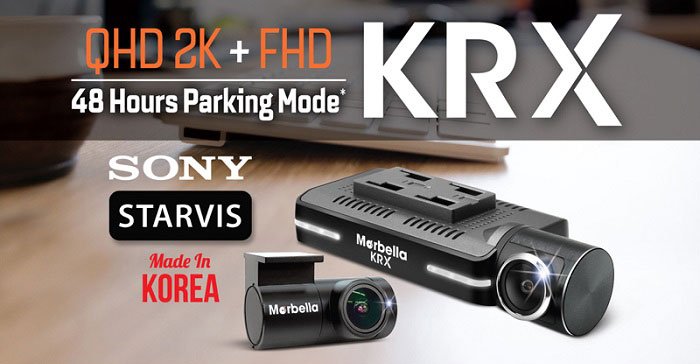 Marbella KR X
Marbella KR X is the latest generation dashcam launched in Q3 2021. This next-generation 2K dashcam offers a robust, top quality dual dash cam set up for the front and rear-facing coverage with its latest QHD 2K (2560 × 1440P) Sony STARIVS CMOS sensor capturing the critical accidental and incidental moments on the road while safeguarding your vehicle when it's parked.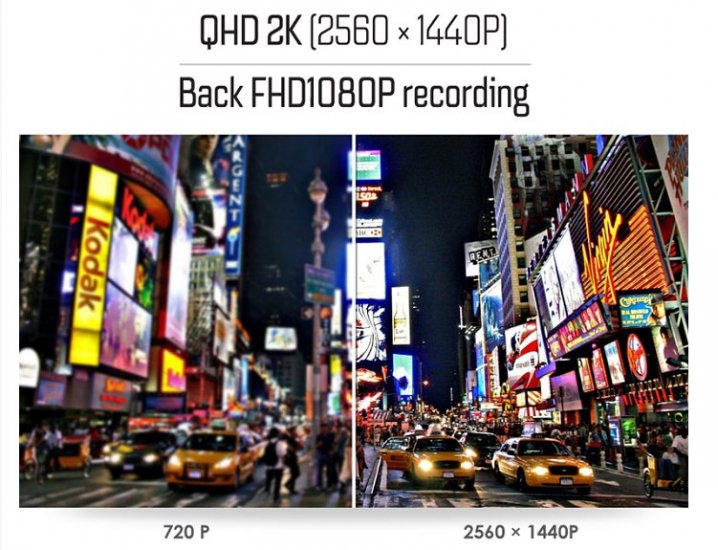 CMOS Image Sensors allow constant front view "2K" 1440p (2560x1440) Quad-HD recording and FHD 1080P rear view recording during both daytime and at night, along with a 150º/140º wide-angle recording. This will minimize blind spots to assure recording of all events in clearer video quality throughout day and night.
Marbella KR X emerged the latest format free technology AVI FAT format and now playing back on your smartphone or laptop couldn't be easier without a dedicated PC Viewer. Users will be able to play back the recorded videos with most of the compatible media players without downloading the dedicated PC Viewer.
When you switch your engine off, Marbella KR X will automatically turn on the Smart Time Lapse mode to capture parking surveillance mode up to 48 hours without a need of an external battery pack to ensure a long duration video turn into a full-frame video but translate to a shorter duration. This will be optimised and save more memory spaces on your memory card especially when you are away for a longer period of time. Important clips and images might get overwritten due to insufficient memory space during long continuous recordings, especially in standard parking recording mode which requires large memory for saving 30 fps video clips. The latest time Lapse function in the KR X records 5 fps which reduces the size of the video file. This allows video recordings in parking mode to continue up to 6 times longer.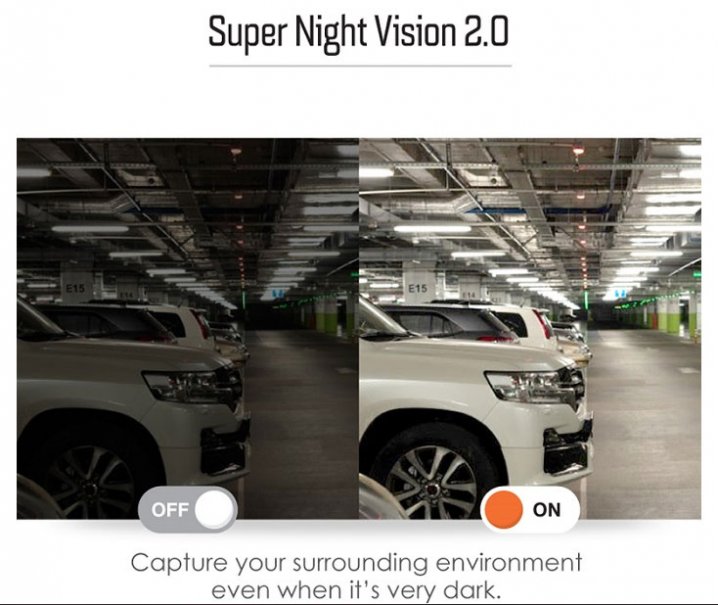 Marbella KR X produce immersive video quality especially under an extremely dark environment with its new Super Night Vision 2.0 and it will automatically activate once the surrounding light levels get low or when your car is parked at night, this super night vision technology would significantly enhance and improve the clarity in night vision.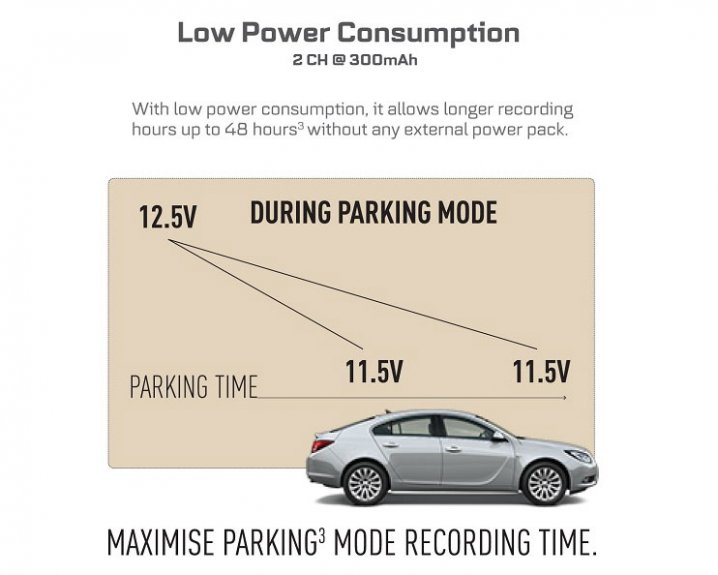 Another unique function adopted on Marbella KR X is the low energy power consumption during parking mode (QHD 2CH/300mAh/12V 3.6W) and that will allow power reduction by 20% and gives 3x longer video recording up to 48 hours under parking mode. When parking mode is activated, Marbella KR X will go into stand by (mode) and soon after a motion has been detected by built-in CMOS senor, Marbella KR X will wake up and start recording for the next 30 seconds to capture the movement. If there is an impact detected on your vehicle, the camera will capture 10 seconds before an impact on the memory card, along with the actual event itself.
Marbella KR X has embedded 5 different voltage cut-off functions (11.5V/11.7V/11.9V/12.V/12.3V) without installing any additional voltage cut-off device to prevent battery discharge overnight and it provides a 3-wire power cable as part of the standard accessories to ease your installation. There is also an option to switch off the parking mode or 5 different parking duration (6/12/24/36/48 hrs) configurations through the smartphone app.
It supports an external GPS logger which captures your historical travelled data such as location and speed to provide the most accurate information on your driving.
If the car DVD/2DIN player is compatible and with its optional AV-out wiring kit, you can now connect Marbella KR.
Front Camera
QHD1440P@30fps | 150º Wide Viewing Angle
5MP Sony STARVIS CMOS sensor (Super Night Vision Recording)
Rear Camera
Full HD1080P@30fps | 140º Wide Viewing Angle
2MP CMOS sensor
Specification:
Latest Sony Starvis IMX335 CMOS sensor

Built-in Wi-Fi (via IOS / Android)

Using high-quality Power Cable

Built-in with Super-Capacitor

Parking mode up to 48 hours

Stores file up to 256GB

Time-lapse recording during parking

Super night vision 2.0

*Parking mode duration subject to professional installation, the age of car battery and MicroSD card capacity.
Consumer Reviews
N/A
There is no consumer review available. Be the first to
Rate it
!
More items from this seller
Car Camera On Site Installation Service
$30 – $80
Email Enquiry
This enquiry will be sent directly to the seller.
*
indicates compulsory field.