Alpine IVA-W520E Multimedia Player
Condition
Very Good [4/5]
Posted on: 27 Jul 2020 | Updated on : 28 Jul 2020 | 73 views
Seller information
Boey KW
91519852
SMS only
Ad information
I have a used Alpine car entertainment unit, IVA-W520E DVD head deck for sale. It was previously installed in one of my car and is one of the top range in its field, especially this newer model. It comes with what you see in the pictures....a remote, a Bluetooth console, and the cables. It is a good buy for those looking for something cheap but better and solid car entertainment unit. I have a customized Honda Jazz front stereo panel for this unit, selling at $40 (please see my other post). I have another older Alpine unit model, IVA-502E selling at $220 with the iPod adaptor (but this is for the older model, think you can add a lightning connector), and comes with a remote (please see my other posting). Please whatsapp/sms me.

Product review: https://www.sgcarmart.com/products/overview.php?ID=4515
Ad information
I have a used Alpine car entertainment unit, IVA-W520E DVD head deck for sale. It was previously installed in one of my car and is one of the top range in its field, especially this newer model. It comes with what you see in the pictures....a remote, a Bluetooth console, and the cables. It is a good buy for those looking for something cheap but better and solid car entertainment unit. I have a customized Honda Jazz front stereo panel for this unit, selling at $40 (please see my other post). I have another older Alpine unit model, IVA-502E selling at $220 with the iPod adaptor (but this is for the older model, think you can add a lightning connector), and comes with a remote (please see my other posting). Please whatsapp/sms me.

Product review: https://www.sgcarmart.com/products/overview.php?ID=4515
Posted on: 27 Jul 2020 | Updated on : 28 Jul 2020 | 73 views
Features & specs
Alpine IVA-W520E comes with the effortless 7-inch LED touch screen control and BURR-BROWN 24-bit DAC. Delivers the clarity of high quality sound.
Features
The ultimate video and audio technology is combined into Alpine IVA-W520E
Alpine IVA-W520E Head Unit is a full featured 2Din DVD player solution comprising the latest mobile media features. With the modern design, Alpine IVA-W520E comes with the effortless 7-inch LED touch screen control and BURR-BROWN 24-bit DAC, deliver the clarity of the high quality sound without any distortion.
LED technology enhances the image quality of the normal LCD screen
LED technology significantly improves the screen image quality giving higher resolution, better contrast and color. The result is high image quality , more depth and realistic. Moreover, LED Design is thinner and less power consumption comparing to the normal screen. 
Sound Chip technology, BURR-BROWN 24 Bit
In the audio system, D/A Converter Chip are the main component defining the sound system's quality. Alpine has chosen the best-quality sound processer chip, BURR-BROWN 24 bit DAC for IVA-W520E, which provides best sound signals, high precision but minimized distortion. BURR-BROWN chip are well accepted and used by many well-known world leading brands 
Alpine IVA-W520E presents the full range of entertainment features including the USB connection for iPod, iPhone supporting iPod Video playback and a built-in DVD/CD/MP3/AAC/WMA player along with easy sound adjustment with IMPRINT Ready (Optional accessory).
Navigation and Bluetooth Hands-free System Upgradable
IVA-W520 E is also compatible with optional Navigation andBluetooth Hands-Free module to ensure your safety while driving.
Consumer Reviews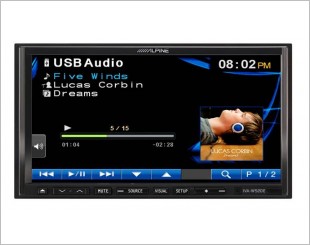 This HU came stock in my family's Vellfire. Quite easy to use.. does not lag. Colours are very nice also. Graphics superb.
More items from this seller
Console Compartment
$40
Console Compartment
$40
Email Enquiry
This enquiry will be sent directly to the seller.
*
indicates compulsory field.