Yokohama BluEarth-Es ES32 195/65/R15 Tyre
| | | | |
| --- | --- | --- | --- |
| Price | Width | Profile | Rim Size |
| $80 | 195 | 65 | 15" |
Posted on: 02 Jan 2021 | Updated on : 16 Jan 2021
Merchant information
(88 Reviews)
95 Kaki Bukit Avenue 1 Shun Li Industrial Park S(415982)
( 1 more outlet )
9am - 7pm (Mon - Sat) Closed on Sun & PHs
68412255 96622255
Ad information
Yokohama BluEarth ES32 Tyres On Offer Sale 
195/65/15 Available 4pcs 
255-45-20
GY EFFICIENT GRIP ROF *
$480 , 19 year
285-40-20
GY  EFFICIENT GRIP  ROF *
$650 , 19 year
What we have:
Good tyre at competitive price range from 12' to 25'
Looking for Japan rims?
Well equipped for every needs of our customer
Mobil car engine oil servicing
JBT brake system
3D computer wheel alignment and more
Call us to find out more!
Ad information
Yokohama BluEarth ES32 Tyres On Offer Sale 
195/65/15 Available 4pcs 
255-45-20
GY EFFICIENT GRIP ROF *
$480 , 19 year
285-40-20
GY  EFFICIENT GRIP  ROF *
$650 , 19 year
Merchant information
(88 Reviews)
95 Kaki Bukit Avenue 1Shun Li Industrial Park S(415982)

32 Old Toh Tuck Road #01-09I.Biz Centre S(597658)

9am - 7pm (Mon - Sat) Closed on Sun & PHs
68412255 / 96622255
Posted on: 02 Jan 2021 | Updated on : 16 Jan 2021
Features & specs
BluEarth-Es provides a well-balanced package of the four core performance traits of any tyre - wet grip, wear resistance, durability, and fuel efficiency. It features a new tread pattern with a wide, square, powerful profile that delivers stable driving performance and safe handling. BluEarth-Es uses Yokohama Rubber's proprietary nano BLEND compound comprising various materials, including orange oil, which creates an optimal balance of high fuel efficiency, superior wet grip performance, and wear resistance. The original orange oil makes the tyre's rubber more pliant, which results in an optimal contact area between tyre and road, thereby reducing uneven wear. 
Suitable for 
Compact cars
Small family cars
Benefits
Enhanced wet and dry grip

- The nano BLEND compound creates the best balance of fuel-saving performance, grip and wear resistance. The compound includes Orange Oil, which increases the contact surface and an agent to maintain flexibility.

 

Long tread life and improved durability

- High durability means more economical driving. The new profile creates a bold impression. The square, wide contact surface and even contact pressure ensure better resistance to wear. It also helps minimise uneven wear.

 

Enhanced fuel saving performance

- The nano BLEND compound achieves the contradictory goals of increasing grip and offering excellent fuel-saving performance.

 

Reliable driving with enhanced stability

- Simple, functional and powerful new tread design. Wet grip, durability, wear resistance and significantly reduced noise. It offers excellent results from all aspects.
Features
nano BLEND compound with Orange Oil
Powerful and comfortable tread design
Extra powerful profile
Contact pressure homogenisation and improvement of uneven wear
Consumer Reviews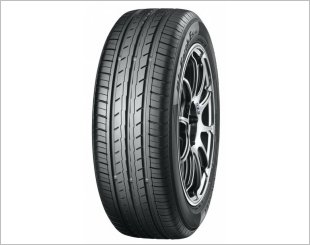 Got 4 pcs of ES32 tyres (195/55/15) 4 months back at a Msian workshop and have since done slightly over 10k kms on them. While the BluEarth series aren't synonymous with performance (that would be reserved for ADVAN), the ES32 has so far been a good all-round tyre for my needs.
More items from this seller
Email Enquiry
This enquiry will be sent directly to the seller.
*
indicates compulsory field.