Pioneer AVH-X8650BT DVD Player
Posted on: 01 Dec 2021 | Updated on : 01 Dec 2021
Merchant information
(56 Reviews)
50 Serangoon North Avenue 4 #01-27 First Centre S(555856)
11am - 8pm (Mon - Sun & PHs)
98447828
Ad information
BRAND NEW set of Pioneer AVH-8650BT Touch Screen Bluetooth DVD Player! (With 1 Year Warranty!!!)
Purchase Pioneer AVH-8650BT DVD Player + NEW HD Reverse Camera for only $820!!!

Purchase Pioneer AVH-8650BT DVD Player + Kenwood Reverse Camera for only

$860!!!



Cash & Carry!
For any enquiries, you may still contact us at 9844 7828 via WhatsApp (Preferred) / SMS or Call!

Ad information
BRAND NEW set of Pioneer AVH-8650BT Touch Screen Bluetooth DVD Player! (With 1 Year Warranty!!!)
Purchase Pioneer AVH-8650BT DVD Player + NEW HD Reverse Camera for only $820!!!

Purchase Pioneer AVH-8650BT DVD Player + Kenwood Reverse Camera for only

$860!!!



Cash & Carry!
Merchant information
(56 Reviews)
50 Serangoon North Avenue 4 #01-27First Centre S(555856)

11am - 8pm (Mon - Sun & PHs)
98447828
Posted on: 01 Dec 2021 | Updated on : 01 Dec 2021
Features & specs
The in-car entertainment experience perfected with true application connectivity on the road!
The AVH-X8650BT delivers access to an unbeatable range of compatible apps that can be controlled right from the dashboard through Pioneer's enhanced AppRadio Mode.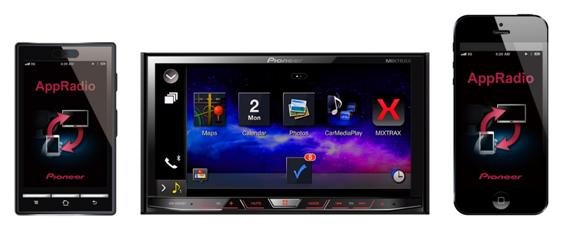 Pioneer Electronics AsiaCentre Pte. Ltd. – 3 April 2014 – Pioneer Electronics, a leader in aftermarket car electronics, today announced the launch of its newest flagship Multimedia receiver model – the AVH-X8650BT – along with an enhanced user interface. Packed with a host of connectivity features, drivers can look forward to experiencing true superior connectivity through AppRadio Mode, Pioneer's revolutionary app-control technology that allows users to directly access compatible mobile applications right from the car dashboard, without having to touch their smartphones. These include access to a wide range of popular navigation, music and social applications used today.
With improved compatibility, users can connect their latest smartphones running on Android platforms (2.3.6 and above for compatible Android phones) as well as Apple's latest iPhones (5S, 5C) and mobile operating system iOS7 to the new Pioneer AVH-X8650BT. Plus, with its 7-inch, wide screen, super slim borders and sleek touch control panel, in-car entertainment has never looked better.
"Pioneer remains committed to realising our vision of the 'Connected Car', and the launch of the AVH-X8650BT Multimedia receiver brings us yet another step closer to it," said Mr. Masayoshi Ishikubo, Senior General Manager of Pioneer Electronics AsiaCentre. "Smartphone penetration in the Asia-Pacific region is booming, our proprietary AppRadio Mode technology gives our consumers the power of true smartphone app connectivity in their cars. Through our AppRadio mode development centre, the global mobile community's choicest apps have been fully integrated into Pioneer's operating ecosystem to maximise compatibility, allowing both Android and Apple phone users to effectively take command of their favourite music, video, navigation or social media app at a touch of the finger, right from the dashboard," he added.
1. Embrace true Smartphone connectivity with AppRadio mode
Boasting the widest range of connectivity options in the market through AppRadio Mode, the AVH-X8650BT offers users the flexibility of easy set-up, all through a one-stop fuss-free menu. All compatible apps are optimised for Pioneer's enhanced user interface, making control from the screen much faster and more responsive compared to other app-mirroring connectivity options currently available in the market that might produce syncing and compatibility issues.
Pioneer's dedicated AppRadio Development Centre frequently works with 3rd party app developers to ensure a smooth seamless integration of their apps with its receivers, thus making true app connectivity a reality that is exclusive to their users.
The AVH-X8650BT also offers the latest Bluetooth specifications (AVRCP 1.4) for high quality audio streaming through the phone, and users with compatible phones can browse their music playlist directly via bluetooth. With twice the bandwidth (at 16KHz) due to an updated Hands-Free Profile (HFP 1.6), users can expect to enjoy clearer hands-free voice calls with better sound quality, and more responsive voice commands.
2. Extensive selection of navigation, music and social media apps at your fingertips
Over 30 compatible apps have been fully integrated with Pioneer's AppRadio Mode, giving users access to popular apps including Waze (social navigation), CarMediaPlayer (music) and Maxthon Mobile (web browser). At the simple touch or swipe of a finger, they get to view their social media updates, track their location on a map, and even stream their favourite videos right from the dashboard.
3. Delivering quality music and videos with extended audio capability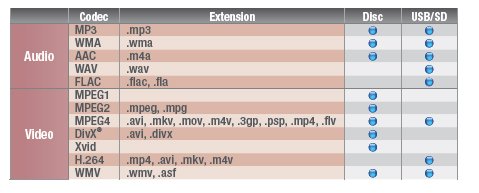 Extensive range of compatible file formats
The AVH-X8650BT boasts compatibility with the most number of audio and Full HD video codecs in the market to date. Users will never have to compromise on the quality of their favourite shows and songs again.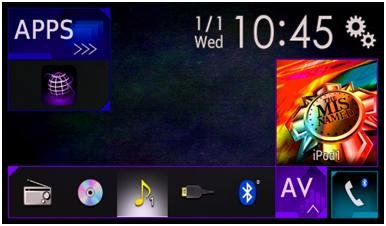 Auto-Time Alignment for all speakers
For impeccable sound from the driver's seat, the new time-alignment feature automatically estimates the delay from each speaker to the driver's position and adjusts the speaker output, so that sound from all speakers reaches the driver's ears in perfect sync.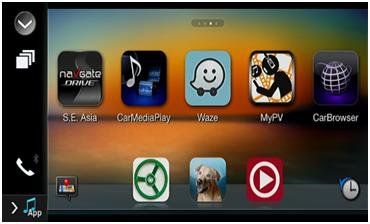 13-band intuitive graphic equaliser
Audiophiles will be glad to know that they can bring more flavour to their music with the newly updated 13-band graphic equaliser to suit the mood and genre of their best playlists. With the unique Advanced Touch slide operation feature, users simply drag a finger to change the EQ curve and audio characteristics of each song.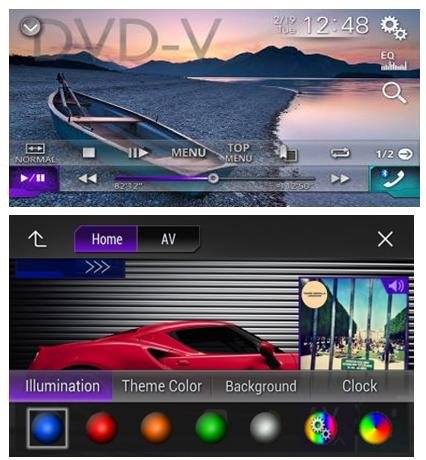 MIXTRAX improved with self-analysis
MIXTRAX, Pioneer's proprietary music-analysis and music-mixing technology is now even more accessible on AVH-X8650BT which allows users to analyse their music for MIXTRAX directly from the receiver itself. After analysing their music, users can now automatically organise them into playlists by genre, tempo, artist, mood and more with the MIXTRAX Link Gate function.
4. Intuitive GUIs and one-touch commands for an invigorating in-car experience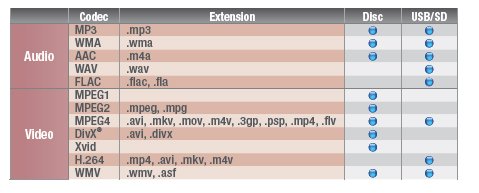 Easy-access home menu with large icons and app-to-home navigation with side control bar
With the AVH-X8650BT's new intuitive user interface, users get to customise their favourite functions on the home menu. Once a phone is connected, users can simply switch between apps and the main menu in a snap, right from the receiver! This safety feature helps keep the driver's eyes on the road.
5. Customisable cosmetic features to exude personality
Customisable screen background, illumination and theme settings
With added customisable features in the receiver, users can change their screens to whatever suits their mood or style. Users can also customise the background screen with their own images, simply through a USB connector.
The Pioneer AVH-X8650BT Multimedia Receiver is now available at Pioneer authorised dealers, at a retail price of S$1,199 (incl.GST).
For a full list of Pioneer Authorised Dealers, please visit the Pioneer Singapore website at www.pioneer.com.sg.
For more updates on these products, please visit the Pioneer Car Entertainment Facebook page at http://www.facebook.com/PioneerCarEntertainment
Consumer Reviews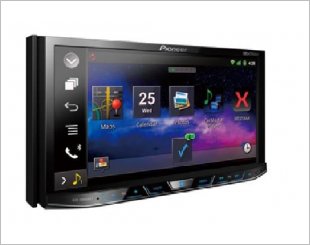 Got this HU fixed up last mth, functions are awesome for me. Initially the unit didn't work as well as now after the new integration of carplay but the next update of firmware solved the issue. Now I am getting quality sound for listening from my iphone and so with the carplay make life alot better. What i like the best would be the use of GPS, really like the double screen feature. On the HU it will show the "Map" and direction on how to go and on the phone it will show the step by step directional instruction. So basically if you see your screen and instruction is not very clear, refer to your phone for clearer text instructions. I also like that it does not lock down the navigation while on the move as sometimes there might be change of route and location so need to change while on the move. I am pretty much working well with siri so just ask siri to do the job will do. It takes time and practice to communicate with siri but once you get it right, its really simple and easy to do things like asking siri to help you message on the move and getting siri to change the location of navigation for you. I would say what i like best is the Carplay from this HU though initially when i got it, carplay was not even out yet. Appradio and other functions like bluetooth, nice quality display for videos and music playing all are superb too.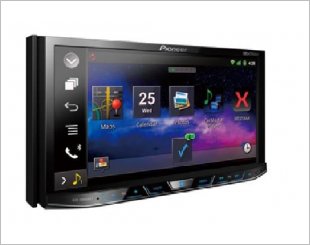 Being a music lover, this I must say is an impeccable player. To me, Pioneer has always been at the top of my list when it comes to DVD player and because I drive, I need good system in my car too. Pioneer AVH-X8650BT is user-friendly, having all the latest apps applicable just at my fingertips, and not forgetting of course, the quality of music delivered is amazing, and videos with extended audio cables/adapters. One you won't regret having in your car.
Email Enquiry
This enquiry will be sent directly to the seller.
*
indicates compulsory field.