Bridgestone Ecopia EP200 185/65/R14 Tyre
| | | | |
| --- | --- | --- | --- |
| Price | Width | Profile | Rim Size |
| $45 | 185 | 65 | 14" |
Condition
Excellent [5/5]
Posted on: 17 Jun 2021 | Updated on : 13 Jul 2021
Merchant information
(95 Reviews)
95 Kaki Bukit Avenue 1 Shun Li Industrial Park S(415982)
( 1 more outlet )
9am - 7pm (Mon - Sat) Closed on Sun & PHs
68412255 96622255
Ad information
Bridgestone Ecopia EP200 Tyres On Offer Sale 
185/65/14 Available 
Visit us 
Yap Brothers Motorsport
32 Old Toh Tuck Rd, #01-09
I -Biz Centre
Beside Bukit Batok CNG Gas Station 
Singapore 
Tel 66862255
Hp 96622255
Working hours 
Monday-Saturday 
9am-7pm
Close On Sunday & PH
What we have:
Good tyre at competitive price range from 12' to 25'
Looking for Japan rims? 
Well equipped for every needs of our customer
Mobil car engine oil servicing
JBT brake system
3D computer wheel alignment and more
Call us to find out more!
Ad information
Bridgestone Ecopia EP200 Tyres On Offer Sale 
185/65/14 Available 
Visit us 
Yap Brothers Motorsport
32 Old Toh Tuck Rd, #01-09
I -Biz Centre
Beside Bukit Batok CNG Gas Station 
Singapore 
Tel 66862255
Hp 96622255
Working hours 
Monday-Saturday 
9am-7pm
Close On Sunday & PH
Merchant information
(95 Reviews)
95 Kaki Bukit Avenue 1Shun Li Industrial Park S(415982)

32 Old Toh Tuck Road #01-09I.Biz Centre S(597658)

9am - 7pm (Mon - Sat) Closed on Sun & PHs
68412255 / 96622255
Posted on: 17 Jun 2021 | Updated on : 13 Jul 2021
Features & specs
High Performance goes green with the EP200. A lower rolling resistance, thanks to its unique compound and tread pattern means more fuel efficiency. EP200 also has a longer operational life and outstanding wet braking performance for a safe, sure-footed journey.
Go further on less energy using the breakthrough fuel-efficient tyre performance technologies of ECOPIA tyres. They are engineered for the eco-conscious and cost-conscious driver, delivering low rolling resistance and carbon emissions. Our ECOPIA line is designed to enhance fuel economy while delivering all season performance and a smooth ride. Explore our entire line of ECOPIA environmentally conscious, fuel efficient tyres for your car or hybrid.
Save More
The ECOPIA tyre is designed with fuel and environmental savings in mind. Because it has a lower rolling resistance than other tyres, ECOPIA achieves greater fuel efficiency, leading to greater cost savings, as well as lower CO2 emissions.
What is Rolling Resistance?
Rolling resistance refers to the amount of force required to roll a tyre forward. Reducing this resistance means that less fuel is used to create this movement.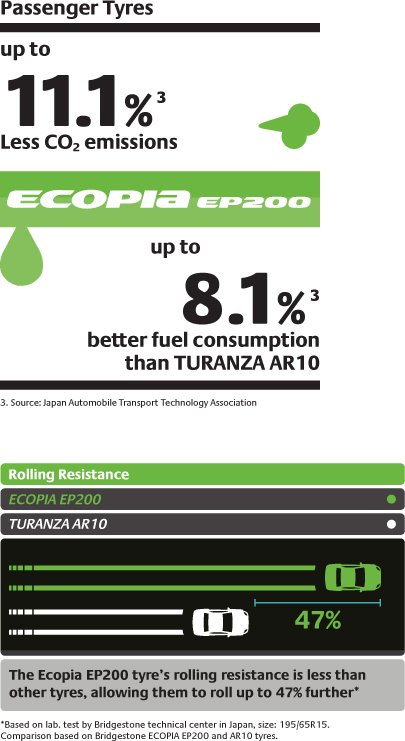 Go Further
The advanced technology of ECOPIA gives you smoother acceleration, a more stable driving experience and better wet braking performance. ECOPIA also has better wear resistance, going further with a longer life span.
Wet Braking Comparison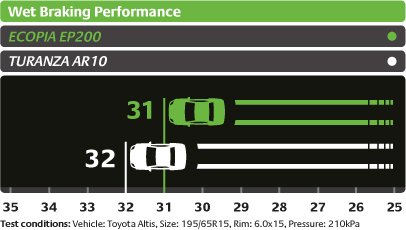 Product Comparison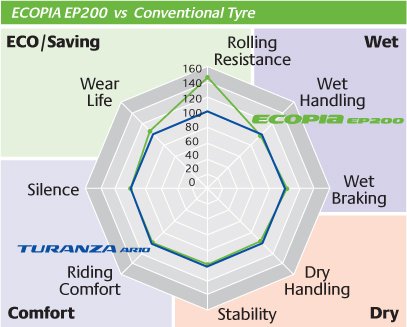 Bridgestone Ecopia Rolling Resistance (RRC) Tyres Video - Fuel Savings Efficiency
The concept of fuel efficiency revolves around many factors, and one that is often overshadowed is the choice of tyres. To move a vehicle, energy is required regardless of source, and the greater the resistance, the higher the amount of energy needed..
Available Sizes
175/65 R14
175/65 R15
175/70 R13
185/55 R15 
185/55 R16
185/60 R14
185/60 R15
185/65 R14
185/65 R15
185/70 R14
195/50 R15
195/55 R15
195/60 R15
195/65 R15 
195/65 R15 
195/70 R14
205/55 R16
205/55 R16
205/60 R15
205/60 R16
205/65 R15
205/65 R15
215/50 R17
215/55 R17
215/55 R17
215/60 R16
215/60 R16
215/65 R15
225/45 R17
225/45 R17
225/50 R17
225/55 R17
225/55 R17
225/60 R16
225/60 R16
Note: Some sizes are available on indent basis only and are subject to availability.
Consumer Reviews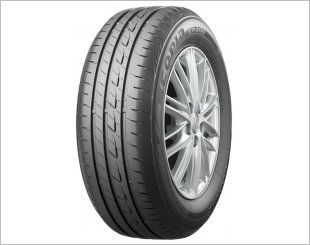 Very reliable tires, driving is smooth and not much noise from inside. The Tires had proven to improve my car fuel consumption.Will definitely go with the same BridgeStone Ecopia series tires for my next change! - Loi Chun Pang, Owner Honda City SJR64--J
Reviewed by Mobile Reviewer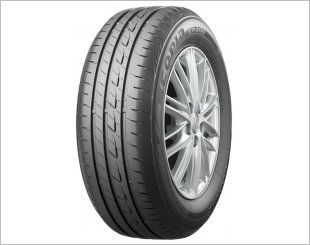 Saw a good deal online and proceed to drop by the tyre shop to do the change. P Good control and quite happy with the overall performance. Hope that the thread can last.
More items from this seller
Email Enquiry
This enquiry will be sent directly to the seller.
*
indicates compulsory field.