IROAD A4 1-Ch Full HD WiFi Car Camera
Posted on: 24 Jul 2021 | Updated on : 24 Jul 2021
Merchant information
(281 Reviews)
159 Sin Ming Road #01-09 Amtech Building S(575625)
9am - 6pm (Mon - Sat) 10am - 3pm (Sun) Closed on PHs
64555031 92269222
Ad information
Specification
1CH
FHD(1920x1080p) 30frame
CPU
ARM Cortex-A7 Processor V3S
Degrees
142° wide view(Wide angle lens embedded)
WIFI function
live screen
playback, settings
firmware automatic update
dedicated mobile phone app supported
Constant power
Built-in Battery prevention system(Uninterrupted recording function)
Format free
Image auto-recovery system
Manipulation prevention system
JDR file system
Recording modes
Automatic switch between normal
impact and parking (motion)mode
GPS/Voice
External GPS / 34 kind of voice guidance and high-quality voice recording
Electricity consumption
Low voltage design(2.9W-2CH basis)
LED
front and rear high luminance LED
Storage medium
Micro SD 4GB ~ 64GB (recommended type MLC Class10)
Viewer
IROAD WIFI Dedicated Viewer
App
IROAD App (Android & iOS)
We provide a range of services such as:
Car Audio Installation
Car Audio Customisation
Car Audio Tuning
Car Security System Installation
SoundProofing
Call us or visit our website to find out more!
Website:
http://www.autoimage.com.sg/
Facebook:
https://www.facebook.com/autoimage.sg/info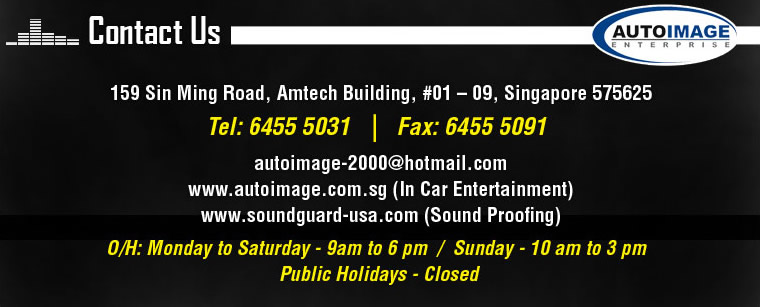 Ad information
Specification
1CH
FHD(1920x1080p) 30frame
CPU
ARM Cortex-A7 Processor V3S
Degrees
142° wide view(Wide angle lens embedded)
WIFI function
live screen
playback, settings
firmware automatic update
dedicated mobile phone app supported
Constant power
Built-in Battery prevention system(Uninterrupted recording function)
Format free
Image auto-recovery system
Manipulation prevention system
JDR file system
Recording modes
Automatic switch between normal
impact and parking (motion)mode
GPS/Voice
External GPS / 34 kind of voice guidance and high-quality voice recording
Electricity consumption
Low voltage design(2.9W-2CH basis)
LED
front and rear high luminance LED
Storage medium
Micro SD 4GB ~ 64GB (recommended type MLC Class10)
Viewer
IROAD WIFI Dedicated Viewer
App
IROAD App (Android & iOS)
Merchant information
(281 Reviews)
159 Sin Ming Road #01-09Amtech Building S(575625)

9am - 6pm (Mon - Sat) 10am - 3pm (Sun) Closed on PHs
64555031 / 92269222
Posted on: 24 Jul 2021 | Updated on : 24 Jul 2021
More items from this seller
Email Enquiry
This enquiry will be sent directly to the seller.
*
indicates compulsory field.