Dunlop SP Sport Maxx 050+ 225/40/R18 Tyre
| | | | |
| --- | --- | --- | --- |
| Price | Width | Profile | Rim Size |
| $80 | 225 | 40 | 18" |
Condition
Excellent [5/5]
Posted on: 08 Jan 2021 | Updated on : 20 Jan 2021
Merchant information
(89 Reviews)
95 Kaki Bukit Avenue 1 Shun Li Industrial Park S(415982)
( 1 more outlet )
9am - 7pm (Mon - Sat) Closed on Sun & PHs
68412255 96622255
Ad information
Dunlop Sport Maxx 050+ Tyres On Offer Sale 
225/40/18 Available 4pcs 
Visit us 
Yap Brothers Motorsport
32 Old Toh Tuck Rd, #01-09
I -Biz Centre
Beside Bukit Batok CNG Gas Station 
Singapore 
Tel 66862255
Hp 96622255
Working hours 
Monday-Saturday 
9am-7pm
Close On Sunday & PH
What we have:
Good tyre at competitive price range from 12' to 25'
Looking for Japan rims?
Well equipped for every needs of our customer
Mobil car engine oil servicing
JBT brake system
3D computer wheel alignment and more
Call us to find out more!
Ad information
Dunlop Sport Maxx 050+ Tyres On Offer Sale 
225/40/18 Available 4pcs 
Visit us 
Yap Brothers Motorsport
32 Old Toh Tuck Rd, #01-09
I -Biz Centre
Beside Bukit Batok CNG Gas Station 
Singapore 
Tel 66862255
Hp 96622255
Working hours 
Monday-Saturday 
9am-7pm
Close On Sunday & PH
Merchant information
(89 Reviews)
95 Kaki Bukit Avenue 1Shun Li Industrial Park S(415982)

32 Old Toh Tuck Road #01-09I.Biz Centre S(597658)

9am - 7pm (Mon - Sat) Closed on Sun & PHs
68412255 / 96622255
Posted on: 08 Jan 2021 | Updated on : 20 Jan 2021
Features & specs
Dunlop introduces its brand new sports tyre SP Sport Maxx 050+. The tyre is designed for excellent performance on dry and wet roads and stability at high speeds. It is a premium tyre that brings you a superior riding comfort and is an idea for high performance cars and compact SUVs.
The high-performance tread design supports maximum handling and performance in warm, dry conditions
A Hybrid Kevlar Nylon Band helps maintain the tyre's structure in order to balance high-speed performance, comfort and noise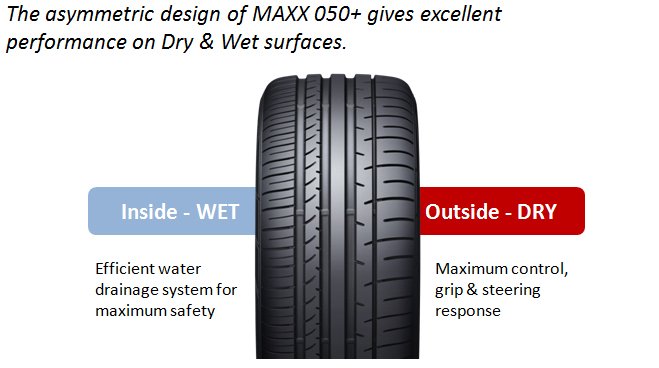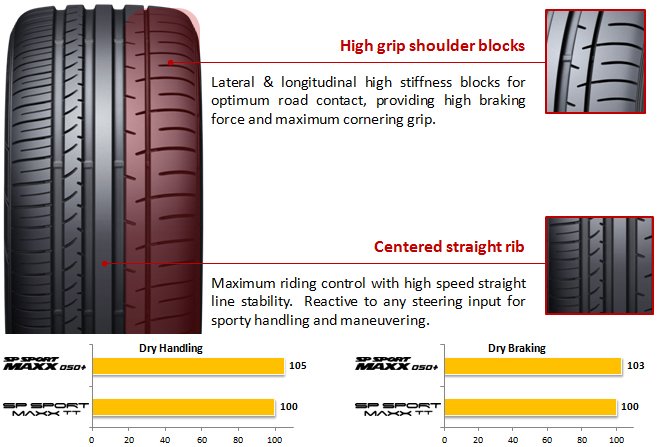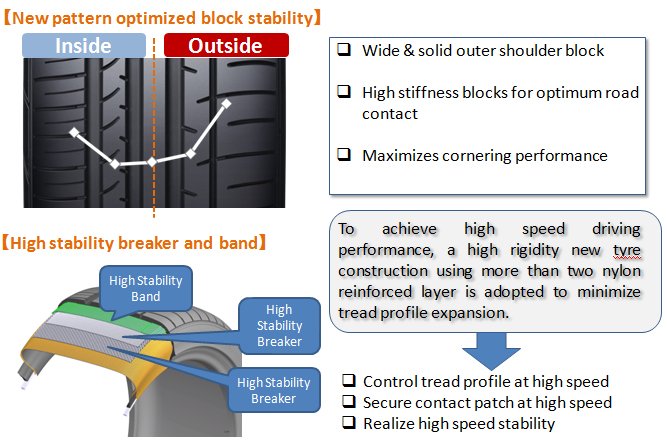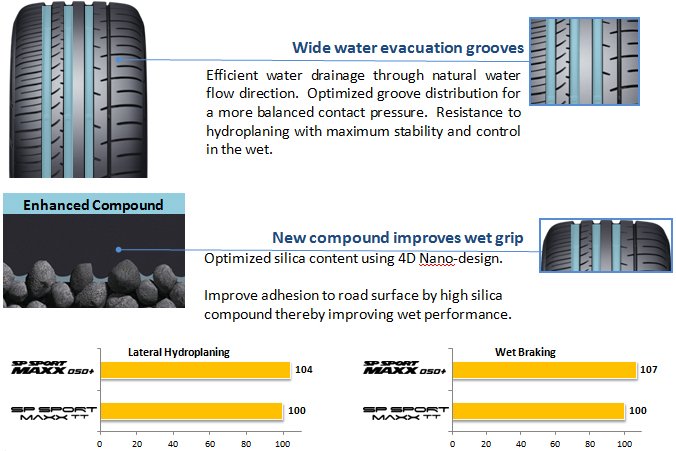 Consumer Reviews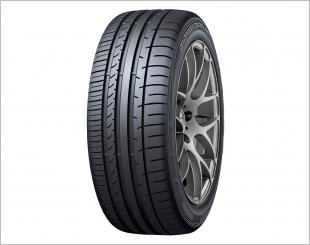 Used this set of tyres for approximately 20kkm and i would say the dry grip and water channeling is pretty good. No problem withstanding 440nm on my front wheel drive. Nothing to complain about.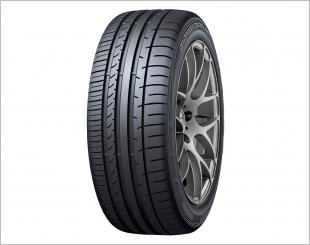 I always want to see review of tyres when they are used after a certain mileage, instead of an instance review; Say after 100 km. But this is the normal review that one will get. I am sharing my review of these sets of 225/55R18 installed on my Mit ASX 2.0 crossover. My previous was Conti CPC6 which ran for 55,000 km before considered a change. The first 1000 km was all good; Low noise, good grip; Both rainy and cornering. But the noise level began to sound louder and since till now at 5000 km, the noise level is like most Jap tyres.. Ok, the performance level still good though; Both grip during raining and cornering. I would still think the Conti CPC6 are still good; Both in term of noise and performance which lasted quite a long while to almost a year before the noise level became more audible. The price difference isn't that big given the better features of the Conti. So for now, have to endure with the noisy tyres.
More items from this seller
Email Enquiry
This enquiry will be sent directly to the seller.
*
indicates compulsory field.