Yokohama BluEarth-XT AE61 17" Tyre
$175 – $195
Posted on: 27 Sep 2023 | Updated on : 27 Sep 2023
Merchant information
(32 Reviews)
50 Bukit Batok Street 23 #02-01 Midview Building S(659578)
9am - 6.00pm (Mon - Fri) 9am - 3pm (Sat)
92428564 68968986
Ad information
- Performance in wet conditions
- Breathtaking quietness
- Handling and steering stability on-road
- Resistance to uneven wear, specially made for SUVs with high centers of gravity
Tyre Promotion @ CLH Tyres!
Check out our tyre offers and save up to $160 for your new set of tyres!
Additionally, purchase any four (4) pieces of passenger tyres in a single invoice (16" and above) and enjoy a FREE car servicing with Shell 5W40 / Cworks 5W40 Synthetic Engine Oil.
PM / call us for a quote today!
While stocks last. T&Cs apply.
Free Car Servicing:
4L Engine oil – Shell 5W40 / Cworks 5W40

Oil filter (OEM)

Comprehensive car check including but not limiting to:
- Belting / Lighting / Brake system
- Coolant, ATF, power steering fluid and brake fluid
- Air filter, aircon filter and spark plugs
- Battery condition
- Tyres and tyres' pressure
- Undercarriage
Extra Charges:
* Top up engine oil if requried for more than 4L: Shell 5W40/CWorks 5W40 + $20/L
* Continental OEM Oil Filter + $15/pc
Terms and Conditions:
Only valid for 16" and above tyres.
Servicing voucher is valid for 2 year from date of issue.
Vouchers are transferable to other vehicles BUT cannot be exchanged wholly or partly for cash.
Voucher is to be presented during payment.
Vouchers cannot be replaced if lost, defaced, damaged, stolen, expired and/or voided.
Defaced, damaged or expired vouchers will not be accepted.
In the unfortunate event of out of stock situation, the Company will provide an alternative option that is of similar product specifications and retailing value.
For more information, call us at 92443246 / 68968986 or drop by today!
Ad information
- Performance in wet conditions
- Breathtaking quietness
- Handling and steering stability on-road
- Resistance to uneven wear, specially made for SUVs with high centers of gravity
Merchant information
(32 Reviews)
50 Bukit Batok Street 23 #02-01Midview Building S(659578)

9am - 6.00pm (Mon - Fri) 9am - 3pm (Sat)
92428564 / 68968986
Posted on: 27 Sep 2023 | Updated on : 27 Sep 2023
Features & specs
Yokohama BluEarth-XT AE61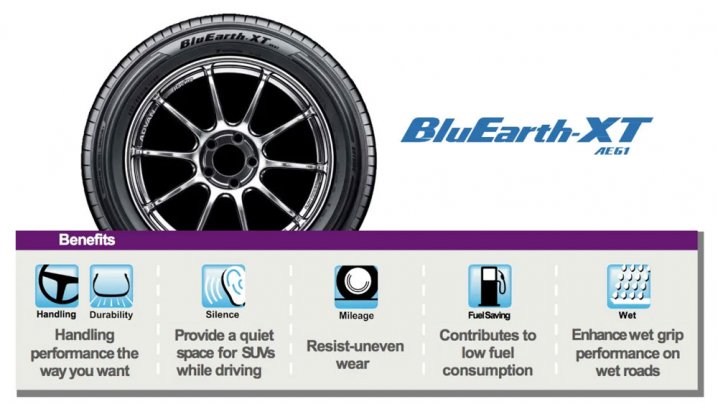 The BluEarth-XT AE61 has a sharp handling performance with excellent fuel efficiency at a high level. It is exceptional performance in both wet and dry weather conditions.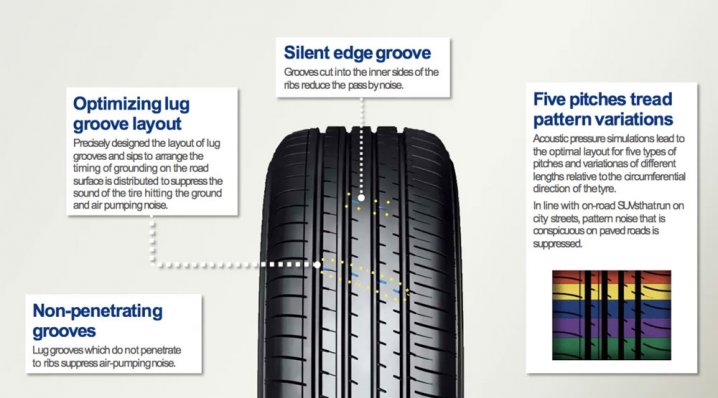 Features:

Steady Handling
High-rigidity shoulder delivering superior steering stability.

Ensuring straight-line stability at high speeds.

Ensuring shoulder stiffness by placing non-penetrating grooves and sipes when changing lanes.
Quiet Ride Performance 
Non-penetrating grooves are to ribs suppress air-pumping noise.

Optimising lug groove layout helps to suppress the sound of the tyre hitting ground and air pumping noise.

Reduce the pass-by noise by grooves cut at the inner sides of the ribs.

The five pitches tread pattern variations are to suppressed pattern noise on the paved road while driving on the city street.
Excellent Water-drainage Performance
The narrow grooves ensure wet grip performance in the circumferential direction of tyre.

The four main grooves deliver high resistance to aquaplaning and performance in wet conditions.
Consumer Reviews
N/A
There is no consumer review available. Be the first to
Rate it
!
More items from this seller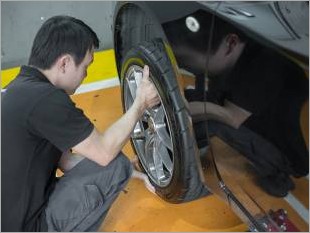 Tyre Balancing and Rotation
$25 – $50
Auto Transmission Fluid (ATF)
$85 – $120
Mobil 1 0W40 (4L) Vehicle Servicing
$92 – $138
Computerized Wheel Alignment Services
$35 – $100
Email Enquiry
This enquiry will be sent directly to the seller.
*
indicates compulsory field.