| | | | |
| --- | --- | --- | --- |
| Price | Width | Profile | Rim Size |
| $175 – $275 | 225 | 40 | 18" |
Posted on: 09 Jan 2022 | Updated on : 09 Jan 2022
Merchant information
(72 Reviews)
150C Paya Lebar Road S(409052)
( 3 more outlet )
9am - 3am (Mon - Sun)
84181000
Ad information
Price quoted are offer prices, while stocks last.
Tyre Brand & Model:
Michelin PS2 ZP * 88Y (3718) (FR)

Michelin PS3 ZP XL 92Y (1820) (ITY)

Michelin PS4 XL 92Y (4519) (SP)

Michelin Primacy 4 XL 92Y (1019) (SP)


Call/Whatsapp: 84181000



Ad information
Price quoted are offer prices, while stocks last.
Tyre Brand & Model:
Michelin PS2 ZP * 88Y (3718) (FR)

Michelin PS3 ZP XL 92Y (1820) (ITY)

Michelin PS4 XL 92Y (4519) (SP)

Michelin Primacy 4 XL 92Y (1019) (SP)


Call/Whatsapp: 84181000
Merchant information
(72 Reviews)
150C Paya Lebar Road S(409052)

39 Woodlands Close #01-01/02/03MEGA@Woodlands S(737856)

9am - 3am (Mon - Sun)
84181000
Posted on: 09 Jan 2022 | Updated on : 09 Jan 2022
Features & specs
Michelin Pilot Sport 3 tyres are designed for driving pleasure and security in both wet and dry conditions.
Outstanding Safety
3 meters shorter braking distance on wet roads (Tests conducted in 2009 by the independent TÜV SÜD. Compared with Michelin Pilot Sport PS2.)
More Driving Pleasure
Better cornering
Very precise steering recognised by car manufacturers (Fitment to AMG SL, CLS and S-Class.)
Better Longevity
10% more wear life and even more fuel saving (Based on internal test in 2009. Compared to Michelin Pilot Preceda PP2.)
Technology:
Better Roadholding
Thanks to Anti Surf System providing optimum grip on wet surfaces. The curved shoulder design of The Michelin Pilot Sport 3 enables it to cut into the water, delaying the onset of aquaplaning without reducing the total contact area with the road. With a more curved shoulder area, Michelin Pilot Sport 3 is more efficient at evacuating water, improving safety in all conditions.
Precise Steering
Thanks to Programmed Distortion Design using digital technology to provide driving precision. This design provides optimum road contact area and treads compound temperature for any force required from the tyre. The result comes from 50,000 hours of simulation and over 100,000 km of vehicle tests.
At low speeds, the tread pattern remains flexible and allows the rubber to distort enough to reach a good operating temperature. At high speeds, the tread pattern maintains its stiffness which prevents the rubber compound exceeding its optimum operating temperature.
Fuel Saving and Longevity
Thanks to an innovative and revolutionary Sport Power Compound. High performance and energy efficiency with "Sport Power Compound".
This revolutionary tread compound enables Michelin Pilot Sport 3 to combine excellent grip on wet surfaces with reduced rolling resistance. 
Michelin Pilot Sport 3 tyre offers 10% more longevity than its predecessor.
Such a performance break through is thanks to the experience gained from more than 10 consecutive Le Mans 24 Hour victories. With total long lasting performances and reduction in rolling resistance, Michelin is thinking about the environment even with its sport tyres.
The Sport Power Compound is made of 3 components:
Wet Grip Elastomer
Wet Grip Elastomer is a high dense polymer that is extremely flexible. It conforms to the slightest bump in the road and breaks the water film covering the road. Michelin Pilot Sport 3 owes its excellent grip on wet roads to this polymer.
Long Lasting Elastomer
Long Lasting Elastomer is a polymer characterised by a high resistance to wear. On each revolution of the wheel, the tread compound stretches and flexes allowing it to grip the road surface without tearing the bonds in the tread compound. Michelin Pilot Sport 3 owes its remarkable mileage potential to this polymer.
Silica
Silica is a material characterised by its low energy loss. At each turn of the wheel, it allows the rubber to efficiently transmit the power of the engine virtually without loss. Michelin Pilot Sport 3 owes its remarkable energy efficiency to this polymer.
Available Sizes
185/55R15 82V
195/50R15 82V
195/55R15 85V
205/45ZR16 87W
205/50ZR16 87W
205/55ZR16 91W
215/55ZR16 93W
225/50ZR16 92W
225/55ZR16 95W
205/45ZR17 84W
205/50ZR17 89W
215/45ZR17 91W
215/50ZR17 91W
215/55ZR17 94W
225/45ZR17 91W
225/50ZR17 98Y
235/45ZR17 97W
245/40ZR17 91Y
245/45ZR17 99Y
225/40ZR18 92W
225/45ZR18 95W
235/40ZR18 95W
245/40ZR18 97Y
255/35ZR18 94Y
265/35ZR18 97Y
Visit our website for more information: http://www.michelin.com.sg/
Consumer Reviews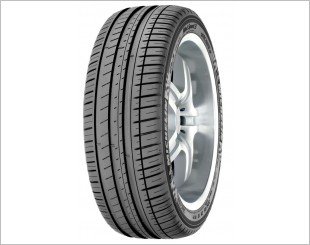 Comes with my new car and been using for about 1 year. Good dry performance when cornering with harder sidewalls. Same goes for wet performance, can't feel the car sliding off when going at higher speeds.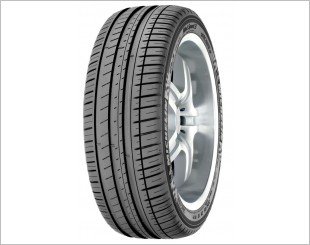 I have been using Michelin Pilot Sport3 tyres for 2 years, they are fantastic tyres! Good in the dry, awesome in the wet, decent thread wear, excellent value for money. At the time of trade in to PS4, I had done just over 20,000 kms on them and would have estimated at least another 30,000k left if the wear indicators were any guide. Quiet, durable and a great performance tyre. The Pilot Sport 4 has replaced these tyres but you can still buy the Pilot Sport 3 at certain tyre shops.
More items from this seller
Email Enquiry
This enquiry will be sent directly to the seller.
*
indicates compulsory field.