D1 Spec RS Big 4 Pistons Brake Kit System (Honda)
$1,550 – $1,850
Posted on: 28 May 2023 | Updated on : 28 May 2023
Merchant information
(75 Reviews)
53 Ubi Avenue 1 #01-01 Paya Ubi Industrial Park S(408934)
( 1 more outlet )
9.30am - 7.30pm (Mon - Sat)
68444281 68444282 98457540
Ad information
Caliper Material: Aluminum 6066-T6
Shape Procedure: 3D CNC Machining Two-Piece Forged
Forming Way: High-Pressure Forging, Precision CNC 3D Machining
Surface Treatment: Hard Anodizing, Anodizing, 4 Layer Nano Coating-High Temp Resistant
Piston Size: 40/36mm
Piston Materials: 7075 Cold Forged Aluminum Alloy
Correspond Size: 330/345mm Thickness 28mm
Rotor Materials: FC25 HB165~175
*Price quoted before GST
Honda/Accord/K11 '02-'08
Honda/Accord/K11® '02-'08
Honda/Accord/K9 2.0 '98-'02
Honda/Accord/K9 3.0 '98-'02
Honda/Accord/K9® '98-'02
Honda/Airwave '05+
Honda/City '07-'13
Honda/City '13+
Honda/Civic '12+
Honda/Civic FD2 Type-R '06-'11
Honda/Civic FN2 Type-R '05-'09
Honda/Civic K10 '01-'05
Honda/Civic K8 '96-'00
Honda/Civic SI '06-'11
Honda/Civic/K6 K8/3D '92-'96
Honda/Civic/Vezel '06-'11
Honda/CR-Z '10+
Honda/Crosstour '10+
Honda/Crosstour ® '10+
Honda/CRV '02-'06
Honda/CRV '07-'12
Honda/CRV '12+
Honda/CRV '96-'01
Honda/CRV® '02-'03
Honda/CRV® '03-'06
Honda/CRV® '07-'12
Honda/CRV® '12+
Honda/CRV® '96-'01
Honda/Elysion '04+
Honda/Elysion ® '04+
Honda/Fit '01-'08
Honda/Fit '08-'13
Honda/Fit '13+
Honda/New Accord '08-'13
Honda/New Accord '14+
Honda/Odyssey '03-'08
Honda/Odyssey '94-'99
Honda/Odyssey '99-'03
Honda/Odyssey(North America) '05-'09
Honda/Odyssey(North America) ® '05-'09
Honda/S2000 (AP1) '99-'03
Honda/S2000 (AP2) '04-'09
Honda/Stepwagon '06-'09
Honda/Stream '01-'07
Honda/Stream '07+
330mm
345mm
Call us now or visit our website for more information!
 
Website: http://www.fongkim.com.sg/
 
Facebook: https://www.facebook.com/fongkim.com.sg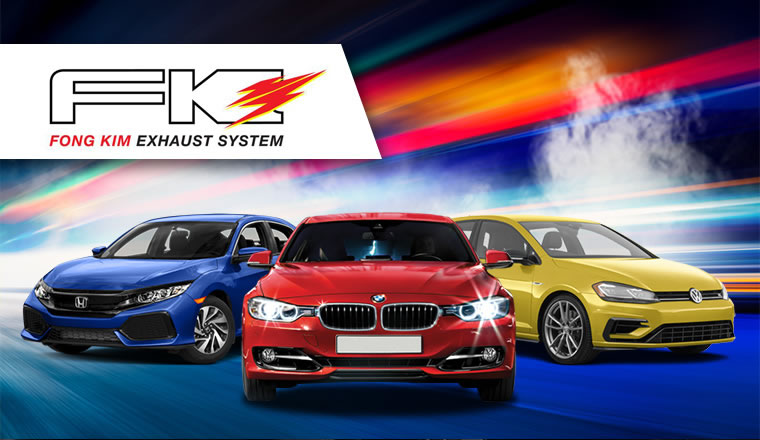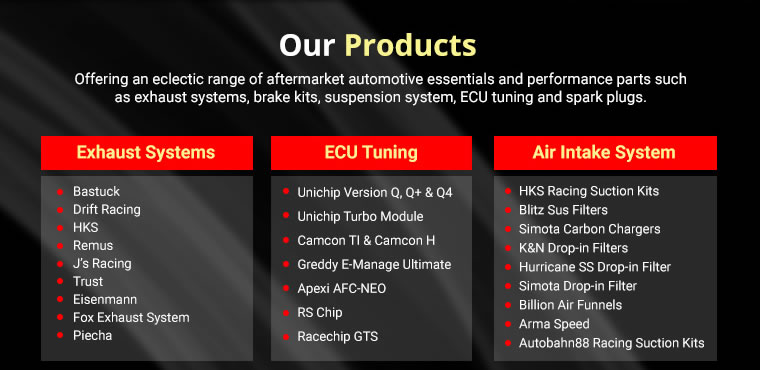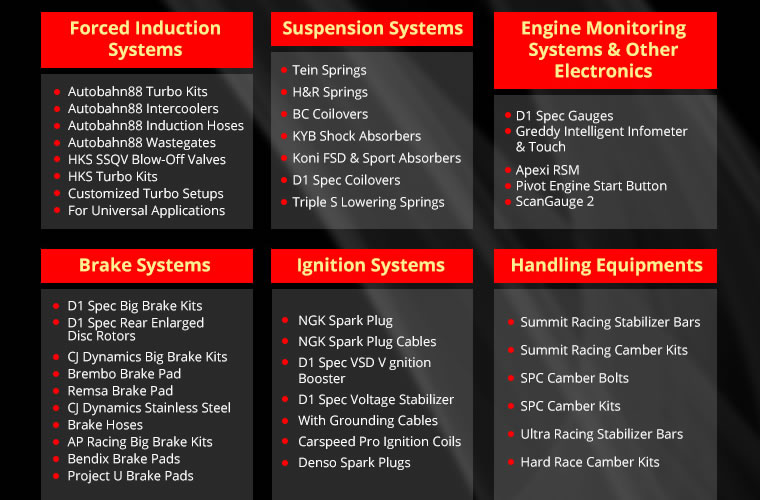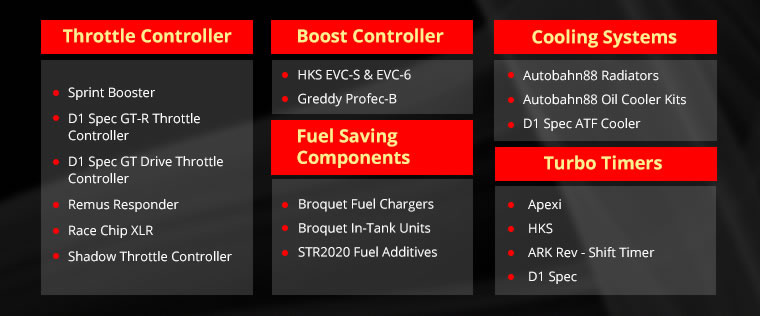 Ad information
Caliper Material: Aluminum 6066-T6
Shape Procedure: 3D CNC Machining Two-Piece Forged
Forming Way: High-Pressure Forging, Precision CNC 3D Machining
Surface Treatment: Hard Anodizing, Anodizing, 4 Layer Nano Coating-High Temp Resistant
Piston Size: 40/36mm
Piston Materials: 7075 Cold Forged Aluminum Alloy
Correspond Size: 330/345mm Thickness 28mm
Rotor Materials: FC25 HB165~175
*Price quoted before GST
Honda/Accord/K11 '02-'08
Honda/Accord/K11® '02-'08
Honda/Accord/K9 2.0 '98-'02
Honda/Accord/K9 3.0 '98-'02
Honda/Accord/K9® '98-'02
Honda/Airwave '05+
Honda/City '07-'13
Honda/City '13+
Honda/Civic '12+
Honda/Civic FD2 Type-R '06-'11
Honda/Civic FN2 Type-R '05-'09
Honda/Civic K10 '01-'05
Honda/Civic K8 '96-'00
Honda/Civic SI '06-'11
Honda/Civic/K6 K8/3D '92-'96
Honda/Civic/Vezel '06-'11
Honda/CR-Z '10+
Honda/Crosstour '10+
Honda/Crosstour ® '10+
Honda/CRV '02-'06
Honda/CRV '07-'12
Honda/CRV '12+
Honda/CRV '96-'01
Honda/CRV® '02-'03
Honda/CRV® '03-'06
Honda/CRV® '07-'12
Honda/CRV® '12+
Honda/CRV® '96-'01
Honda/Elysion '04+
Honda/Elysion ® '04+
Honda/Fit '01-'08
Honda/Fit '08-'13
Honda/Fit '13+
Honda/New Accord '08-'13
Honda/New Accord '14+
Honda/Odyssey '03-'08
Honda/Odyssey '94-'99
Honda/Odyssey '99-'03
Honda/Odyssey(North America) '05-'09
Honda/Odyssey(North America) ® '05-'09
Honda/S2000 (AP1) '99-'03
Honda/S2000 (AP2) '04-'09
Honda/Stepwagon '06-'09
Honda/Stream '01-'07
Honda/Stream '07+
330mm
345mm
Merchant information
(75 Reviews)
53 Ubi Avenue 1 #01-01Paya Ubi Industrial Park S(408934)

Blk 3015 Ubi Road 1 #01-200/210 S(408704)

9.30am - 7.30pm (Mon - Sat)
68444281 / 68444282 / 98457540
Posted on: 28 May 2023 | Updated on : 28 May 2023
Features & specs
D1 Spec Brake Kit consists of RS series Brake system Big 4 pot.
Correspond size : 330-355mm/thickness 28mm
Piston size : 40/36mm
Caliper material : Aluminum 6066-T6
Forming way : High pressure forging, precision CNC 3D machining 
Surface treatment : Hard anodizing, anodizing, 4 layer nano coating-high temp, resistant
Rotor Materials : FC30 HB165~175
Car Application : Universal applicable to 300 more models
Rim Size fitness : 16"~18"
Stop Power : Enhanced 35~50%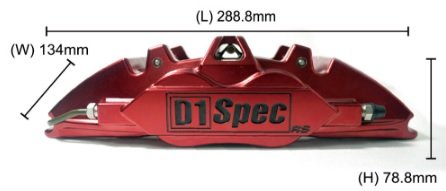 Consumer Reviews
N/A
There is no consumer review available. Be the first to
Rate it
!
More items from this seller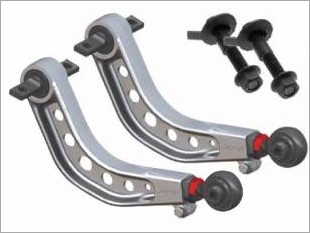 SPC Honda Civic Camber Kit And Bolts
$120 – $580
Email Enquiry
This enquiry will be sent directly to the seller.
*
indicates compulsory field.