Motul 8100 X-cess 5W40 4L Vehicle Servicing Package (For Supercars)
$288
Posted on: 11 Jan 2023 | Updated on : 11 Jan 2023
Merchant information
(32 Reviews)
68 Kaki Bukit Avenue 6 #01-02 ARK @ KB S(417896)
10am - 7pm (Mon - Fri) 10am - 3pm (Sat)
88766477 63855564
Ad information
Motul 8100 X-cess 5W40 For Supercars
​​​​​​​(Bentley / Lamborghini / Maserati / Porsche / Ferrari)
4L Engine Oil

Oil Filter

Service Labour

25 Point Maintenance Check

Check/Flush/Top-up all necessary fluids

add. 1L oil @$25
Ad information
Motul 8100 X-cess 5W40 For Supercars
​​​​​​​(Bentley / Lamborghini / Maserati / Porsche / Ferrari)
4L Engine Oil

Oil Filter

Service Labour

25 Point Maintenance Check

Check/Flush/Top-up all necessary fluids

add. 1L oil @$25
Merchant information
(32 Reviews)
68 Kaki Bukit Avenue 6 #01-02ARK @ KB S(417896)

10am - 7pm (Mon - Fri) 10am - 3pm (Sat)
88766477 / 63855564
Posted on: 11 Jan 2023 | Updated on : 11 Jan 2023
Features & specs
Formulation is perfect balance between outstanding lubrication (high HTHS) and fuel economy improvements inherent to viscosity grade. Exceptional lubricant allowing for extended and flexible drain intervals.

The ester base stock achieves low volatility, high efficiency and friction reduction while remaining resistant at high temperature encountered in many modern engines.

Application
High performance 100% synthetic lubricant specifically designed for powerful and recent cars fitted with large displacement engines, Gasoline, direct injection turbo Diesel, and catalytic converters
Multipurpose product featuring numerous car maker approvals, especially recommended for vehicles still under warranty.
Suitable for all type of fuels: leaded or unleaded Gasoline, Diesel and LPG

Performance Features
The ACEA B4 performance requires an outstanding detergent/dispersant power and a better viscosity increase resistance due to soot produced by Direct Injection Diesel engines (except VW unit injector engines that require a VW 505 01 product such as Motul Specific 505 01 502 00 505 00 5W40).


The BMW Long Life-01 specification imposes severe constraints to the lubricant particularly due to the Valvetronic system. It covers all BMW engines since 2001 and also all the previous BMW specifications such as BMW LL-98.


BMW LL-01 standard covers also all Gasoline engines running only outside European Union countries, Switzerland, Norway and Liechtenstein. Refer to BMW recommendations when in doubt.


GM-OPEL Diesel LL B-025 standard requires two main properties from the lubricant : high HTHS and very low volatility to drastically decrease oil consumption. Motul 8100 X-cess 5W40 is especially recommended for Opel Diesel engines such as the 2.0L and 2.2L DTI engines (extended drain interval : on-board computer).


The MB 229.5 standard is more stringent than 229.3 in terms of ageing and oil film resistance (extended drain interval : on-board computer), detergent/dispersant power (ACEA B4) and requests fuel economy performance : 1.7% fuel economy improvement versus a 15W-40 reference. The specification MB 229.5 applies to all Mercedes Gasoline engines, including AMG (in 5W-40 viscosity grade) except SLR, and to all Mercedes  Diesel without DPF engines.


The Porsche A40 standard requires extreme high shear resistance from the lubricant. This specification applies to all Porsche engines, except Cayenne V6 and Diesel versions (for these specific engines, use an approved Porsche C30 lubricant such as Motul 8100 X-clean+ 5W30).
Consumer Reviews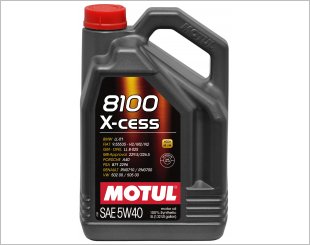 I was considering Motul 8100 X-cess 5W40 vs Castol Edge and Motul won me over with its pricing for a 5L packaging. I believe most modern Conti car engines will require a little more than 4L of engine oil and i think Motul took this into consideration when it launched this product.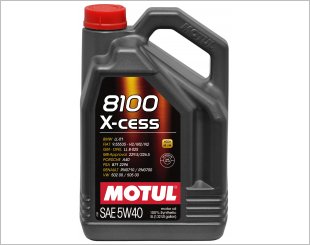 Needed a oil to use for a 9 year oil car. Car was already using the usual oil recommended from the agent. Since it would probably be the last oil change, wanted to try something different. Seem a huge improvement overall.
More items from this seller
Email Enquiry
This enquiry will be sent directly to the seller.
*
indicates compulsory field.