Bridgestone Potenza S001 245/45/R17 Tyre
| | | | |
| --- | --- | --- | --- |
| Price | Width | Profile | Rim Size |
| $85 | 245 | 45 | 17" |
Condition
Excellent [5/5]
Posted on: 13 Apr 2023 | Updated on : 11 May 2023
Merchant information
(145 Reviews)
3 Ang Mo Kio Street 62 #01-22 Link @ AMK S(569139)
( 2 more outlet )
10am - 7pm (Mon - Sun)
88601269
Ad information
Thick treads @ Mrrjestic Tyres! 
245/45/17 Bridgestone Potenza S001
80% tread
Only at $85 NET per pc 
Price includes:
✅ Installation 
✅ Balancing 
✅ 6 MONTH WARRANTY 
WhatsApp us at 88601269
Ad information
Thick treads @ Mrrjestic Tyres! 
245/45/17 Bridgestone Potenza S001
80% tread
Only at $85 NET per pc 
Price includes:
✅ Installation 
✅ Balancing 
✅ 6 MONTH WARRANTY 
WhatsApp us at 88601269
Merchant information
(145 Reviews)
3 Ang Mo Kio Street 62 #01-22Link @ AMK S(569139)

48 Toh Guan Road East #02-127Enterprise Hub S(608586)

10am - 7pm (Mon - Sun)
88601269
Posted on: 13 Apr 2023 | Updated on : 11 May 2023
Features & specs
The Potenza S001 is Bridgestone's ultra high performance pattern designed to meet the exacting standards of prestigious carmakers from around the world. Already found as standard equipment on several sports cars and sports sedans, the Potenza S001 features confident performance in both dry and wet conditions. An advanced asymmetric tread pattern features a solid circumferential rib and large outer shoulder blocks which contribute to dry performance. In addition, wide circumferential grooves help channel water away from the footprint area. Enjoy a whole new level of control with the Potenza S001.
1.    Multiple-Performance Block
The outside block, which takes most of the load when cornering, has been enlarged and reinforced to improve both wet and dry handling.
2.    60º Slanted Lug
Block sipes are positioned a 60º angle, with the same effect as the nose of an F1 racing car. Block rigidity has been optimised, improving both traction and braking performance.
3.    GUTT II Simulation Straight Grooves
With GUTT II Simulation the alignment, thickness and configuration of the straight grooves significantly reduce the risk of hydroplaning.
4.    Semi-Slick Center Rib
Slick-style center rib improves the handling response of the steering center.
5.    Block and Slick Combination
Lateral grooves improve traction and braking. The combined with slick areas, reduces wear on the inside edge and guards against becoming unbalanced with the outside edge.
Straight grooves positioned toward the inside edge, ensures water evacuation and improved wet performance, such as anti-hydroplaning.
The position of the enlarged block ensures rigidity, and improves dry performance, such as dry handling.
*Colours are used for illustration purpose only
The New Dimension of Perfectly Balanced Wet and Dry Performance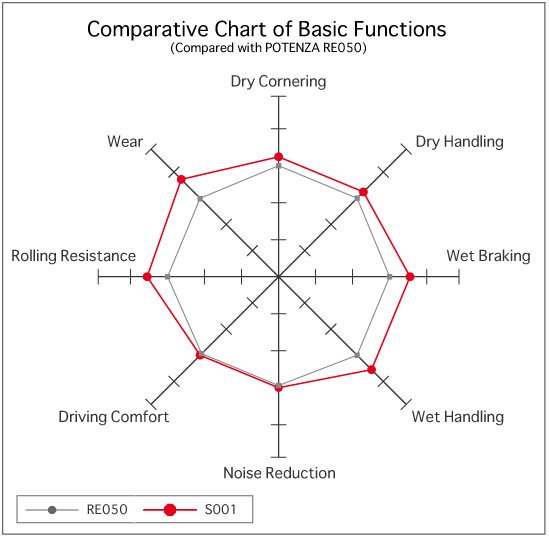 Inheriting the technology used in the Potenza RE050, the tyre chosen for high performance cars the world over, takes the driving experience to a new level of wet and dry performance.
Reducing the Potenza RE050's four main grooves down to three enables a larger block on the tyre's outside edge. This, combined with the new "Multi Performance Block" and "60Ëš Slant Lug", enables improved handling and braking performance in both wet and dry conditions.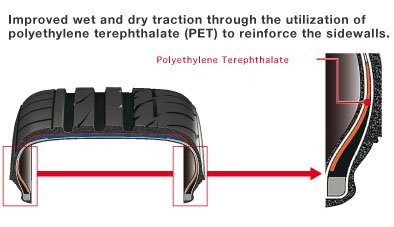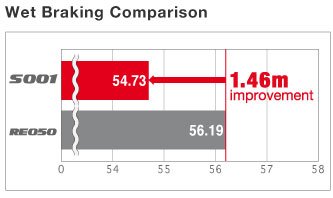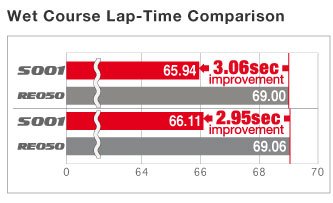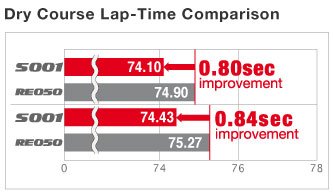 Available Sizes
205/40 R17 XL
205/50 R17 XL
205/55 R16 XL
215/45 R17 XL
215/45 R18 XL
215/55 R17
225/35 R19 XL
225/40 R18 XL
225/40 R19 XL
225/45 R17 XL
225/45 R18 XL
225/45 R19 XL
225/50 R17 XL
225/55 R16 XL
225/55 R17 XL
235/30 R20 XL
235/35 R19
235/35 R19 XL
235/35 ZR20 
235/40 R18 XL 
235/45 R17 XL
235/50 R17
235/50 R18 XL
245/30 R20 XL
245/35 R18 XL
245/35 R19 XL
245/35 R20 XL 
245/40 R17
245/40 R18 XL
245/40 R19 XL
245/40 R20
245/45 R17 XL
245/45 R18 XL
245/45 R19
255/30 R19 XL
255/30 R20 XL
255/35 R18 XL
255/35 R19 XL
255/35 R20 XL
255/40 R17 XL
255/40 R18 XL
255/40 R19 XL
255/45 R18 XL
265/30 R19 XL
265/35 R18 XL
265/35 R20
265/40 R18 XL
275/30 R19 XL
275/30 R20 XL
275/35 R18 XL
275/35 R19 XL
275/35 R20 XL
275/40 R18 XL
275/40 R19 XL
285/25 R20 XL
285/30 R19 XL
285/30 R20 XL
285/35 R18 XL
285/35 R19
295/30 R19 XL
295/35 ZR20
305/25 R20 XL
305/30 R19
305/30 R20
315/25 R19
195/55 F16 RFT
205/50 R17 RFT
205/55 F16 RFT
225/50 F16 RFT
225/45 F17 RFT
225/50 F17 RFT
245/40 F18 RFT
245/40 F18 RFT 
245/40 F19 RFT
245/45 F17 RFT
245/45 F18 RFT
255/30 F19 RFT
255/35 F18 RFT
255/35 F18 RFT
255/40 F17 RFT
275/35 F19 RFT
275/35 F19 RFT
275/40 F18 RFT
205/50 R17 OE RFT
255/40 R18 OE RFT
225/40 R19 OE RFT
225/45 R17 OE RFT
225/45 R18 OE RFT
225/50 R17 OE RFT
245/35 R18 OE RFT
245/40 R17 OE RFT
225/40 R18 OE RFT
255/35 R19 OE RFT
Note: Some sizes are available on indent basis only and are subject to availability.
Product Link
Consumer Reviews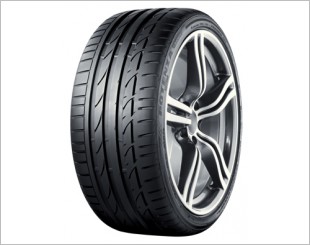 This is my 2nd set of S001s. Been using Bridgestone performance tires all these years. Love the firm grip and good performance on both wet and dry days. No compromise. - Nathanael Tan, Owner of Ford Mondeo SLP85--E
Reviewed by Mobile Reviewer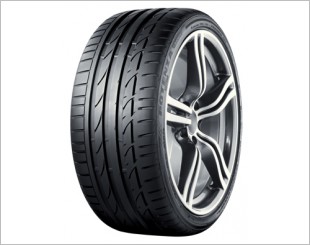 Good wet grip except that it is slightly noisier than the previous Turanza T005A. Deep side grooves provides for good handling & cornering. Wide groves prevents aqua plating - Sebastian Chow, Owner of Volkswagen Golf SLZ2--J
Reviewed by Mobile Reviewer
More items from this seller
Email Enquiry
This enquiry will be sent directly to the seller.
*
indicates compulsory field.