CarPro Cquartz UK 3.0 Ceramic Coating Treatment
$388 – $488
Posted on: 28 Jun 2022 | Updated on : 28 Jun 2022
Merchant information
(35 Reviews)
2 Yishun Industrial Street 1 #02-32 Northpoint Bizhub S(768159)
10am - 7pm (Tues to Sun)
88798981
Ad information
CarPro CQUARTZ UK 3.0 $388-488 
Durability: (24Months)
Sedan/Hatchback
SUV
MPV
✨EXTERIOR✨
✅Vehicle Foam wash 
✅Vehicle Detailed Wash 
✅ Clay Treatment 
✅ Detailed Chemical Rim Wash 
✅ Tire Shine 
✅ Paint Correction 
✅CarPro CQUARTZ UK 3.0 ceramic coating application 
✅CarPro FlybyForte (Side & Rear) 
✅FOC 2x Maintenance Wash 
✨INTERIOR✨
✅Leather Seats Cleaning & Conditioning
✅Dashboard Cleaning & Conditioning
✅Full interior Vacuum 
✅Interior Glass Cleaning 
✅Interior Sanitisation
Immense gloss
Durability for years
Increased resistance to water spotting
Increased resistance to all contaminants and traffic film
Resistance to light scratching
70% SiO2 Content
Make your booking now to avoid disappointment!
For faster response 👉 WhatsApp 88798981
Shout out to those car lovers! We understand that economic are real bad now, we are doing our part by providing a much economic pricing for our usual service!

20% off for ALL services! DO NOT MISS THIS DEAL! 
Ad information
CarPro CQUARTZ UK 3.0 $388-488 
Durability: (24Months)
Sedan/Hatchback
SUV
MPV
✨EXTERIOR✨
✅Vehicle Foam wash 
✅Vehicle Detailed Wash 
✅ Clay Treatment 
✅ Detailed Chemical Rim Wash 
✅ Tire Shine 
✅ Paint Correction 
✅CarPro CQUARTZ UK 3.0 ceramic coating application 
✅CarPro FlybyForte (Side & Rear) 
✅FOC 2x Maintenance Wash 
✨INTERIOR✨
✅Leather Seats Cleaning & Conditioning
✅Dashboard Cleaning & Conditioning
✅Full interior Vacuum 
✅Interior Glass Cleaning 
✅Interior Sanitisation
Immense gloss
Durability for years
Increased resistance to water spotting
Increased resistance to all contaminants and traffic film
Resistance to light scratching
70% SiO2 Content
Make your booking now to avoid disappointment!
For faster response 👉 WhatsApp 88798981
Merchant information
(35 Reviews)
2 Yishun Industrial Street 1 #02-32Northpoint Bizhub S(768159)

10am - 7pm (Tues to Sun)
88798981
Posted on: 28 Jun 2022 | Updated on : 28 Jun 2022
Features & specs
CQ.UK is our most refined consumer-grade coating. As the third iteration of the world-renowned nano-ceramic coat, it packs the highest performance figures ever, with increased resistance to salt buildup, chemical resistance of 3-14 pH and extreme temperature tolerance.
Features:
great chemical resistance of pH 3~14
easy to apply in a wide range of temperature
highest-performing consumer-grade coating
One of the key requirements in our R&D process was ease of use, so that CQ.UK could still be considered a consumer-grade product and would not require lab-like application conditions. After tireless months of extra development and testing, we are proud to say, for the first time ever, CQ.UK is easy to apply in a temperature range from 3 to 40 deg C!
At the same time, we kept the classic CQUARTZ UK wipe-on/wipe-off application, so it can be buffed immediately or left for a few minutes while still buffing off super clean and with ease. It does not leave a grabby, sticky surface, which makes it the best choice for professionals and enthusiastic detailers alike.
As always and as with all our products, we stand by our ethos of under-promising and over-delivering, so our real-world durability claim for CQ.UK 3.0 is 18-24 months.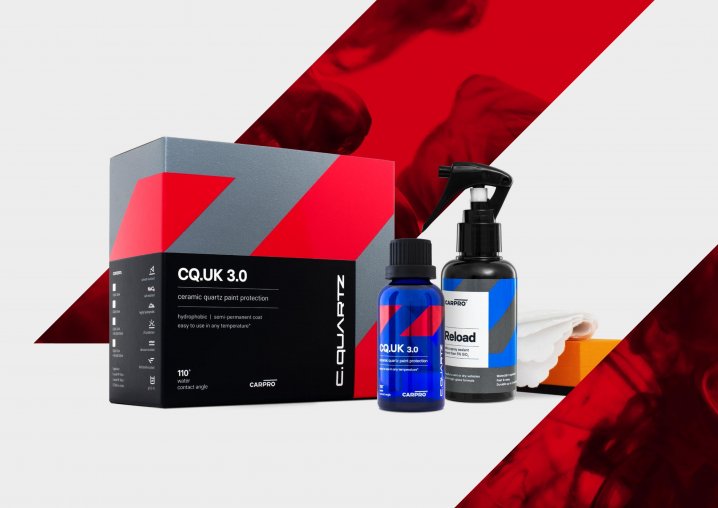 Available In:
Consumer Reviews
N/A
There is no consumer review available. Be the first to
Rate it
!
More items from this seller
IGL EZgraphene Ceramic Coating Treatment
$400 – $500
IGL Ecocoat Quartz+ Ceramic Coating Treatment
$560 – $800
Email Enquiry
This enquiry will be sent directly to the seller.
*
indicates compulsory field.