Vaitrix DigiPedal Mitsubishi Lancer 1.5 2009 Throttle Controller
$328 – $420
Posted on: 25 Aug 2023 | Updated on : 19 Sep 2023
Merchant information
(105 Reviews)
2 Kaki Bukit Avenue 2 #01-32 Kaki Bukit Autohub S(417921)
9am - 7pm (Mon - Sat) Sun & PHs by Appt only
92724879 67453266
Ad information
2009 MITSUBISHI LANCER 1.5 owner feedback to us that the car feels dragy and a bit lag. After doing some research about how VAITRIX DigiPedal throttle controller works, he decided to get one for his car too. Immediately felt the difference in responsiveness on the spot when stepping on the accelerator. Get yours today! PM for inquiries 
Call / Msg us 📞
@Anne https://wa.me/6581890680
@Lin https://wa.me/6592724879
VAITRIX. Power Unleashed!
https://www.vaitrix.sg/
Buy here: 
https://www.1969sba.com/vaitrix
#VAITRIX #DigiPedal #ThrottleController #Pickupresponse #FuelEfficiency #Mitsubishi #Lancer #EX #Lag
For more information, please visit www.1969sba.com.sg or email us @ s[email protected]

Blk 2 Kaki Bukit Avenue 2 #01-32 Kaki Bukit Autohub S(417921)

Remarks:
Above offer is exclusive for sgcarmart promotion.Please call or PM sms us for further enqueries. Promotion is not valid with other promotions, discounts, offers, privileges and vouchers.

We accept payment method in the form of CASH / NETS / VISA* / MASTER CARD*
*Major Credit card & instalment plan 6 / 12 / 24 months. * Terms & conditions apply.
============================================================


SBA - Your Trusted 1 Stop Auto Shop.

About Sung Beng Auto 
24hrs Hotline 81890680 / 92724879 / Accident / Emergency / Breakdown / Towing / Battery & Tyre Service.
With more than 40 years of experience in the automotive industry, Sung Beng Auto Group at EAST workshop provide a total complete one-stop professional automotive servicing & repairing workshop to all car owners , you can rest assured that your ride is in safe hands with the right prices.

Testimonial / Reviews

https://www.sgcarmart.com/directory/merchant_reviews.php?MID=11157

www.1969sba.com.sg/reviews/

==================================================================

Tyres & Rims (New/ Used /Trade-In/ Import / Export) Enquiry - 93838807

==================================================================

24 Hours Towing, Accident Assistance, Emergency Hotline: +65 81890680.

=================================================================

Contact us & Our Outlets are :

Free Ample Parking:
EAST Workshop,
Accident Claim, Spray Paint, Panel Beat, Repair & Servicing
Blk 2 Kaki Bukit Avenue 2 #01-32 Kaki Bukit Autohub S(417921)
Tel: 67453266. Open Daily From 9am (Monday-Saturday)
Alternate Sun/Public Holiday (By appointment)

===================================================================

Workshop Enquiry - Continental & Japanese Makes. Please call us for an Appointment & Quotation.

Engine Servicing & Repair, Air-con Services, Accident Repairs, Insurance Claims, Accident Reporting, Spray Painting, Panel Beating, Body kit, Wheel Alignment, Engine OBD Diagnostic Check, Performance Upgrade, Tuning, LTA Inspection, Insurance & Road Tax Renewal, Alarm, Accessories, Car Camera...

==================================================================


Car Rental, Used Car Dealer Buy, Sell, Trade-In, Service Scrap Car, Export, HP Loan, In-House Financing, Credit Card* Installment Plan.

==================================================================


Thank you
Ad information
2009 MITSUBISHI LANCER 1.5 owner feedback to us that the car feels dragy and a bit lag. After doing some research about how VAITRIX DigiPedal throttle controller works, he decided to get one for his car too. Immediately felt the difference in responsiveness on the spot when stepping on the accelerator. Get yours today! PM for inquiries 
Call / Msg us 📞
@Anne https://wa.me/6581890680
@Lin https://wa.me/6592724879
VAITRIX. Power Unleashed!
https://www.vaitrix.sg/
Buy here: 
https://www.1969sba.com/vaitrix
#VAITRIX #DigiPedal #ThrottleController #Pickupresponse #FuelEfficiency #Mitsubishi #Lancer #EX #Lag
Merchant information
(105 Reviews)
2 Kaki Bukit Avenue 2 #01-32Kaki Bukit Autohub S(417921)

9am - 7pm (Mon - Sat) Sun & PHs by Appt only
92724879 / 67453266
Posted on: 25 Aug 2023 | Updated on : 19 Sep 2023
Features & specs

Vaitrix DigiPedal Throttle Controller
The Vaitrix DigiPedal is the most responsive throttle controller in the market. It has the ability to increase and enhance the throttle response and pick-up power, and eliminate throttle lag.
It has 4 different modes and 3 unique features and functions. Users are able to tune the throttle sensitivity to suit their driving style.
The DigiPedal is Plug & Play that does not void agent / car warranty. This product features 12 months of warranty.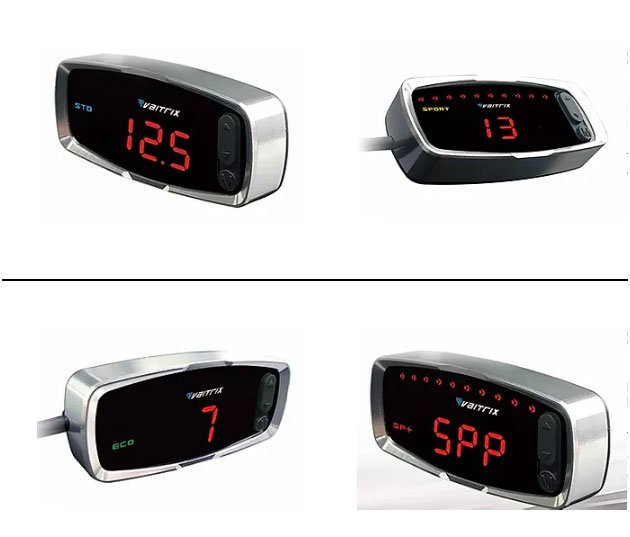 The 4 Different Mode:
Standard Mode

The STD mode features the voltage display. It retains stock throttle sensitivity.

 

Eco Mode

In ECO mode, it helps to improve fuel economy. There are 7 steps in this mode, 1 being the least economical, 7 being the most economical.

Throttle Level Display - Each red dot at the top of the display represents the 10% of throttle input depressed at the accelerator pedal.

 

Sport Mode

In SPORT mode, it increases the throttle sensitivity, giving more throttle response, pick-up performance, and less throttle lag. There are 13 steps in this mode, 1 being the least sporty, 13 being the most sporty.

Throttle Level Display - Each red dot at the top of the display represents the 1-% of throttle input depressed at the accelerator pedal.

 

Sport Plus Mode

In SP+ mode, it gives the user maximum throttle sensitivity with instant pick-up power and minimal throttle lag for 10 seconds. During these 10 seconds, it can be used for doing launch control and/or highway overtaking.

The 10 seconds countdown is represented by the red dot at the top of the display. In this mode, each red dot represents 1 second. After 10 seconds, the car will revert back to stock sensitivity.

The 3 unique features and functions:
The Low Voltage Warning

The low voltage warning sign represents that the voltage system is weak.

 

 

Anti-Theft Immobilizer

The anti-theft immobilizer is represented by a "lock" sign. When activated, the vehicle will seize to accelerate, preventing from hijackers and car thieves.

 

OBDII Connector

This is an OBDII connector that is an option for users who wish to plug in through the use of the OBDII ports.
Consumer Reviews
N/A
There is no consumer review available. Be the first to
Rate it
!
More items from this seller
Violence V-Drive Chery A1 / A160 / A168 / A3 / A5 Throttle Controller
$188 – $330
Email Enquiry
This enquiry will be sent directly to the seller.
*
indicates compulsory field.