IROAD PowerPack Pro6 External Car Camera Battery (6000mAh)
Posted on: 31 Oct 2023 | Updated on : 31 Oct 2023
Merchant information
(7 Reviews)
Blk 125 Bukit Merah Lane 1 #01-166 S(150125)
9am - 6pm (Mon-Sat) Closed on Sun & PHs
62735096
Ad information
IROAD POWERPACK PRO6 (6000mAh) DASHCAM EXTERNAL BATTERY
[ BATTERY TYPE]


LiFePO4(Lithium iron phosphate)

[ BATTERY CAPACITY]


12.8V I 6,000mAh I 76Wh

[CHARGING VOLTAGE]


LOW (Normal charging mode) 14.2V I 4A (Cigar jack type)


HIGH (Fast charging mode) 14.2V I 8A (Hardwiring type)
[CHARGING TIME]


LOW (Normal charging mode) : 90 mins (90% charge, 4A)


HIGH (Fast charging mode) : 45 mins (90% charge, 8A)
[POWER CONSUMPTION HOUR] Up to 24 hours (Based on 2.6W power consumption)
Call us for more information!
Specialists Audio Accessories Pte Ltd
Contact: 62735096
Blk 125 Bukit Merah Lane 1
#01-166
S(150125)
Ad information
IROAD POWERPACK PRO6 (6000mAh) DASHCAM EXTERNAL BATTERY
[ BATTERY TYPE]


LiFePO4(Lithium iron phosphate)

[ BATTERY CAPACITY]


12.8V I 6,000mAh I 76Wh

[CHARGING VOLTAGE]


LOW (Normal charging mode) 14.2V I 4A (Cigar jack type)


HIGH (Fast charging mode) 14.2V I 8A (Hardwiring type)
[CHARGING TIME]


LOW (Normal charging mode) : 90 mins (90% charge, 4A)


HIGH (Fast charging mode) : 45 mins (90% charge, 8A)
[POWER CONSUMPTION HOUR] Up to 24 hours (Based on 2.6W power consumption)
Merchant information
(7 Reviews)
Blk 125 Bukit Merah Lane 1 #01-166 S(150125)

9am - 6pm (Mon-Sat) Closed on Sun & PHs
62735096
Posted on: 31 Oct 2023 | Updated on : 31 Oct 2023
Features & specs

STAY PROTECTED, SUSTAINABLE POWER SUPPLY
RAPID CHARGING, THE ALL NEW BATTERY PACK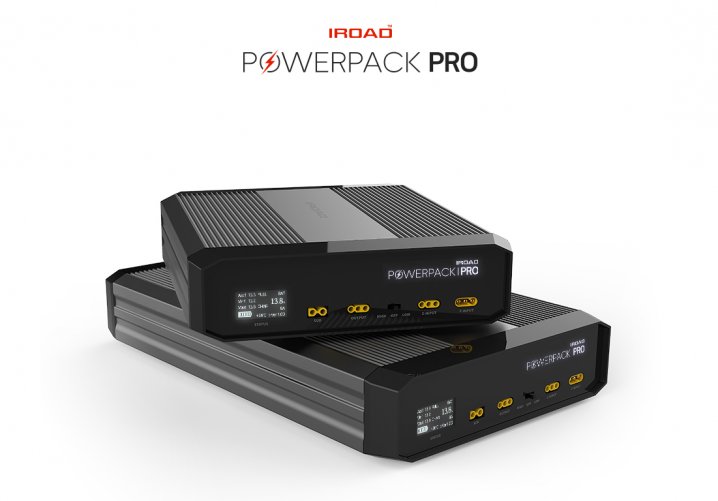 SECOND GENERATION INTELLIGENCE BMS
Providing more intelligent security with Battery Management System.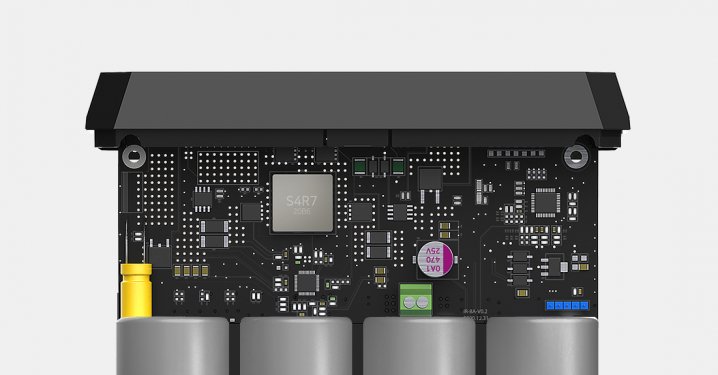 RAPID CHARGING
SUSTAINABLE EXTERNAL BATTERY
The IROAD PowerPack Pro, which is designed with LiFePO4 (Lithium Iron Phosphate),
applies a quick charging tech that affects no life span of the batter.
So, it can be used up to 56 hours with 90 mins charging only.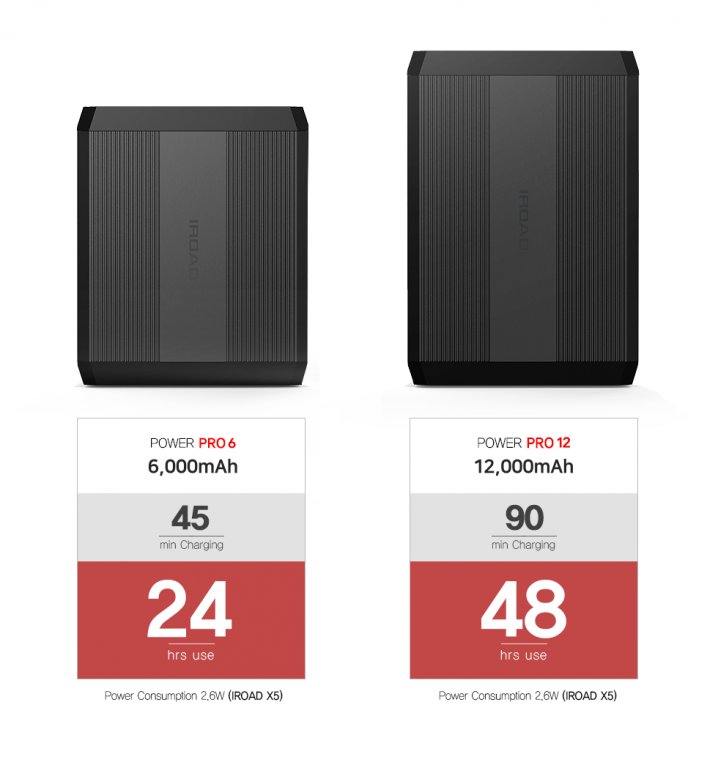 MULTIPLE SAFETY LOCK SYSTEM
DOUBLE PROTECTION SYSTEM FOR HIGH
TEMPERATURE, OVERCHARGE AND OVERVOLTAGE
SHORT-CIRCUIT PROTECTION / CELL BALANCING
It automatically cuts off the power for security matter after inspecting the battery's temperature.
It accurately controls the voltage and balance between cells safely with the circuits designed to prevent overcharge and overvoltage.

LiFePO4 (Lithium Iron Phosphate) battery, which has a 3 times longer lifespan than Lithium-ion and nickel-based
batteries, has excellent stability against fire and explosion, and can be charged more than 2000 times.
ABLE TO CHECK YOUR BATTERY STATE IN REAL-TIME.
Able to see the charging and battery state through OLED Display.
The operation status can be checked intuitively through the light-emitting LED.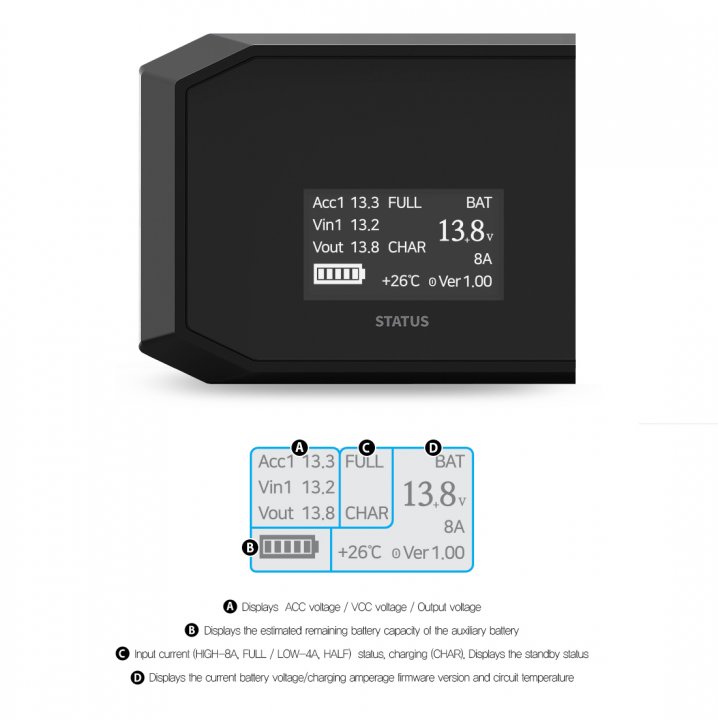 CHECK THE INSTALLATION ERRORS FOR THE SAFETY
If the cable is not connected properly, you are required to inspect your battery state and follow the guides below.

COMPRESSED ALUMINUM FULL-CASE & SIMPLE SLIM DESIGN
The heat dissipation system has been reinforced through the aluminum compression case, and upgraded durability
and sturdy with sanding-treated exterior material.
Slim designed IROAD PowerPack Pro is adaptable to be installed in any circumstance.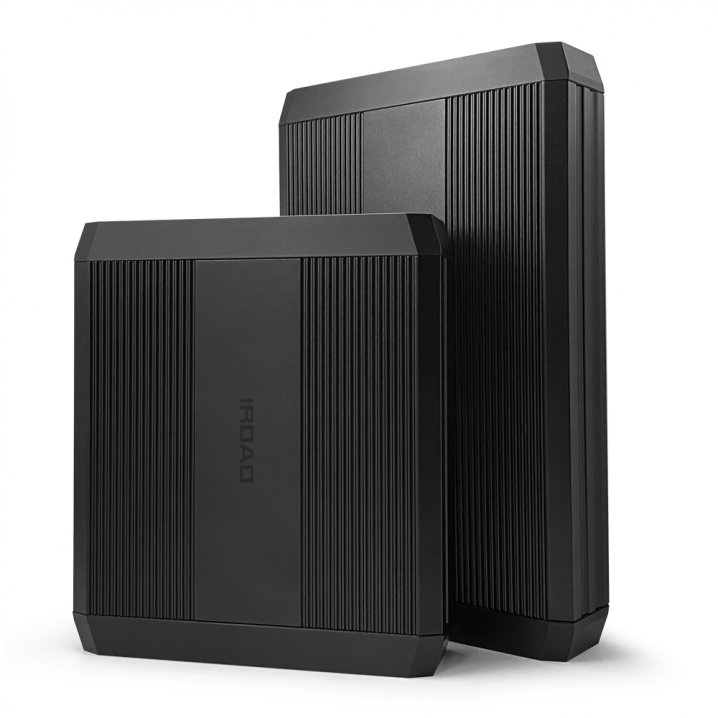 SPECIFICATIONS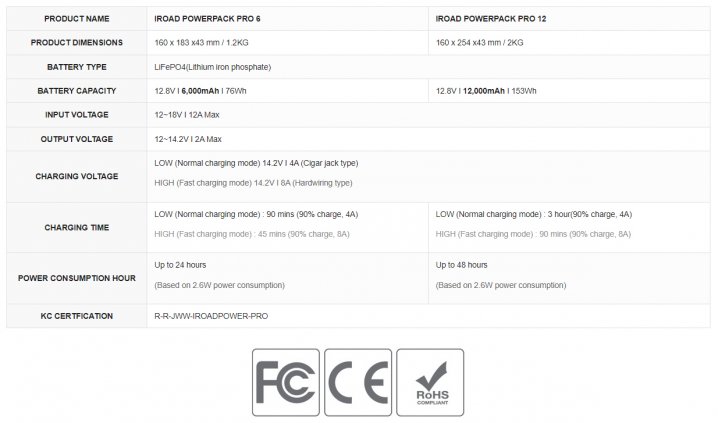 PACKAGE CONTENTS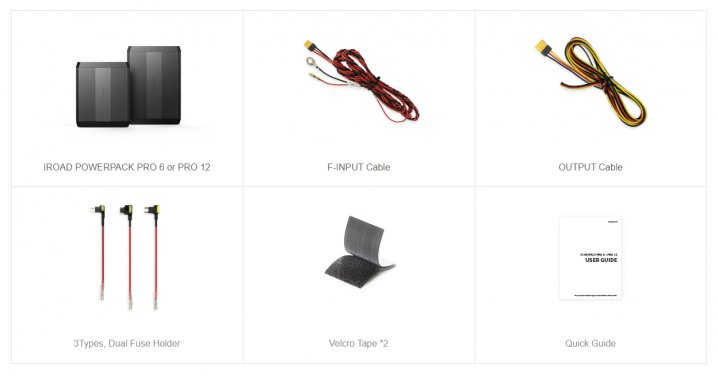 OPTIONAL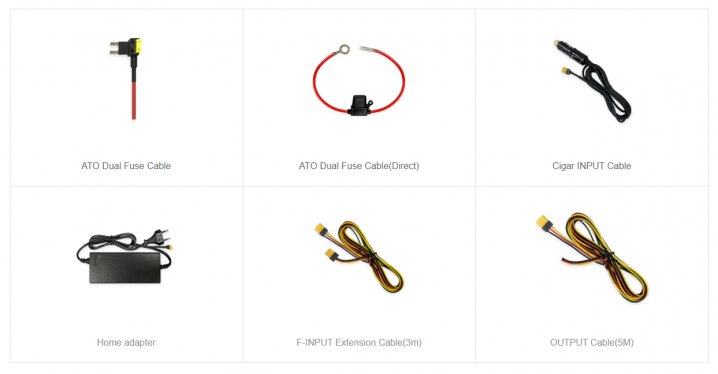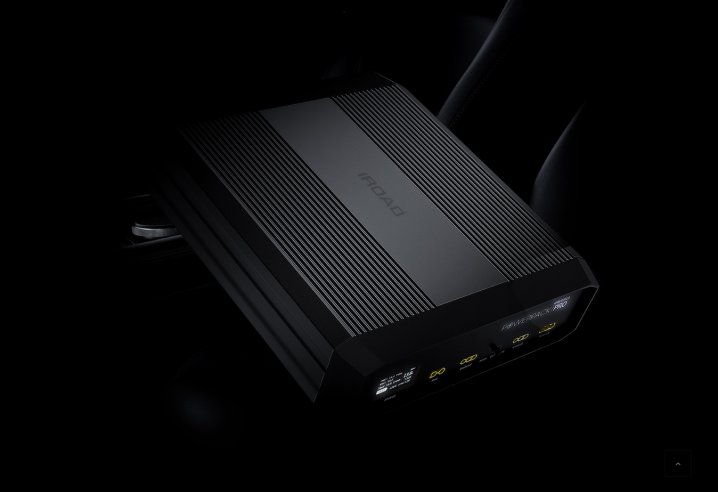 Consumer Reviews
N/A
There is no consumer review available. Be the first to
Rate it
!
Email Enquiry
This enquiry will be sent directly to the seller.
*
indicates compulsory field.