EPS EVO GTR 6.8 Turbo Edition Power Car Charger
$850
Posted on: 27 Aug 2022 | Updated on : 27 Aug 2022
Merchant information
(33 Reviews)
155 Kaki Bukit Avenue 1 #01-00 Shun Li Industrial Park S(416012)
10am - 10pm (Mon - Fri) 10am - 9pm (Sat)
68442814 92376217
Ad information
Long List of benefits!
Most drastic change is increase in CCA.
Will feel car is much smoother.
Do feel free to call and enquire!
Operating hours 3pm - 3am.
Call us now or visit our website for more details!
Website:
http://www.eclipseauto.com.sg/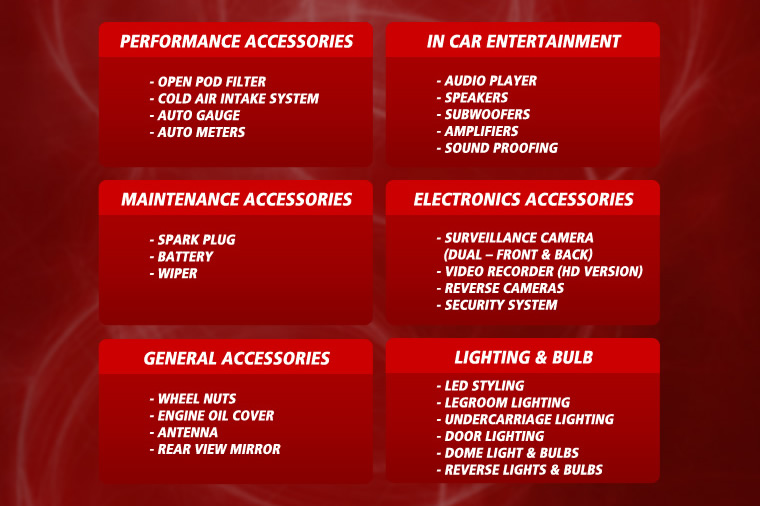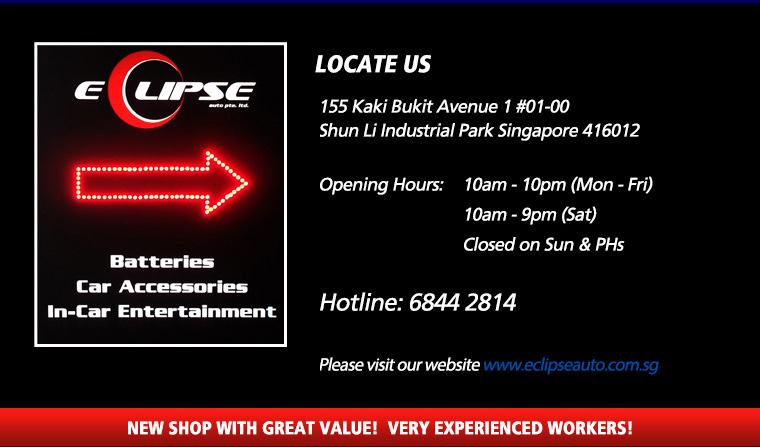 Ad information
Long List of benefits!
Most drastic change is increase in CCA.
Will feel car is much smoother.
Do feel free to call and enquire!
Operating hours 3pm - 3am.
Merchant information
(33 Reviews)
155 Kaki Bukit Avenue 1 #01-00 Shun Li Industrial Park S(416012)

10am - 10pm (Mon - Fri) 10am - 9pm (Sat)
68442814 / 92376217
Posted on: 27 Aug 2022 | Updated on : 27 Aug 2022
Features & specs
The function of Alternator in the car is to produce Electrical Power to run the engine and other Electrical Equipment and at the same time, charge the Battery in the car. The voltage range produce by an Alternator is 13.5V to 15V.
If you take a closer look at our car's Alternator with a digital meter or a voltage meter, the reading does not show any fixed Voltage. This fluctuation of voltage from the Alternator is called ripples. These ripples will cause the voltage signal of the sensors and
actuators to fluctuate as well, causing the sensors and actuators to receive irregular signals. Thus producing inaccurate signals to car's ECU and other electrical circuits and causes the performance of the car to be less than satisfactory. Sometimes, you may have
noticed that high fluctuation of voltage (from voltage meter/gauge) and performance/power loss when loads (such as air-conditioning, headlights, sound system, electrical/electronics components and parts and etc) are switched on.
The function of EPS Power Charger Evo series is to minimize this fluctuation of voltage, backup power from alternator (voltage supply) and improve performance, power and responsiveness. The effect of this will be crisper signal to and from sensors and actuators.
This will allow the ECU to more accurate with precision with little tolerance. Therefore, accurate signal will produce more efficient engine output.
Why do I need EPS Power Charger EVO series in my car?
EPS Power Charger EVO series is more than any simple and basic Voltage Stabiliser in the market. EPS Power Charger EVO series outperform any Voltage Stabilisers and other plug and play products in the market to improve responsiveness, power and performance not just on the car but also on the battery performance (Cold Cranking Ampere – CCA) instantly. EPS Power Charger Evo Series is not a Voltage Stabiliser but is a direct power charging system.
The following are some of the improvement you will see after using EPS Power Charger EVO series
Stabilises the power system, and excels the electrical discharge efficiency
Reduces the noise interference to the electrical system, thus extending the life of electrical components
Improve acceleration and responsiveness
Improves car ignition, and saves the fuel
Reduces engine trembling, and enhances engine response
Improves startup torque, and improves the stability at idle speed
Eliminates noise from the alternator, and resolve the car's internal electrical system's impedance resistance problems
Increase battery Cold Cranking Ampere (CCA) performance instantly with lower resistance in battery
Benefits & Features
Proven horsepower and torque enhancement as validated through the KIDO HP tester. Power improvement from 5% to up to 25% or up to 15 Horsepower/Torque
Fuel saving up to 25%
Prolong battery lifespan with increase CCA
All EPS Power Chargers EVO series are resistant to high temperature, and waterproof
Five SGS certifications for maximum safety protection
Reduce emission with better combustion in engine
EPS Power Charger EVO GTR 6.8 Series (up to 4000cc engine)
Basic Specification for EVO GTR 6.8: Capacitor rating - 720000μf
Responses time - < 0.9/1000s
(Electric Capacity meets Military Standards)
Specifications
Minimum Battery CCA improvement – 420 CCA (Within 1 YEAR Warranty)
40cm each of quality silicon positive/negative polarity wires
Capacitor temperature resistance : 125ËšC
On EPS 0 AWG Charging Cable

- For use with engine, complete with fire resistant coupler

- 1.4 metres in length

- Frequency filter component: 5Hz – 5KHz

- Latest 1 way direction electrical power flow

- R14-8 pure gold-plated terminal; cover with external fiberglass silica tubing (Compliant to UL specification of temperature resistance at 250ËšC)
Consumer Reviews
N/A
There is no consumer review available. Be the first to
Rate it
!
More items from this seller
Email Enquiry
This enquiry will be sent directly to the seller.
*
indicates compulsory field.