Pioneer AVH-Z9150BT 2-DIN 7" WVGA Touchscreen Multimedia Player
Condition
Excellent [5/5]
Posted on: 16 Nov 2023 | Updated on : 04 Dec 2023
Merchant information
(286 Reviews)
159 Sin Ming Road #01-09 Amtech Building S(575625)
9am - 6pm (Mon - Sat) 10am - 3pm (Sun) Closed on PHs
92269222 64555031
Ad information
7" Clear-Type Resistive Touch-screen with Wireless Apple CarPlay™, Android Auto Wireless
• Apple CarPlay™ (Wireless or Cable Connection)
• Android Auto (Wireless or Cable Connection)
• Dual Camera Inputs
• Dual Bluetooth For Music Streaming
We provide a range of services such as:
Car Audio Installation
Car Audio Customisation
Car Audio Tuning
Car Security System Installation
SoundProofing
Call us or visit our website to find out more!
Website:
http://www.autoimage.com.sg/
Facebook:
https://www.facebook.com/autoimage.sg/info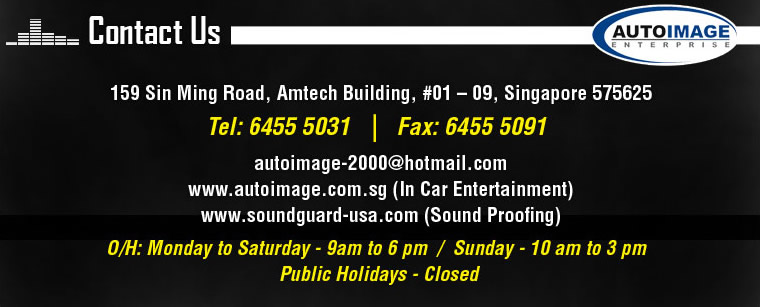 Ad information
7" Clear-Type Resistive Touch-screen with Wireless Apple CarPlay™, Android Auto Wireless
• Apple CarPlay™ (Wireless or Cable Connection)
• Android Auto (Wireless or Cable Connection)
• Dual Camera Inputs
• Dual Bluetooth For Music Streaming
Merchant information
(286 Reviews)
159 Sin Ming Road #01-09Amtech Building S(575625)

9am - 6pm (Mon - Sat) 10am - 3pm (Sun) Closed on PHs
92269222 / 64555031
Posted on: 16 Nov 2023 | Updated on : 04 Dec 2023
Email Enquiry
This enquiry will be sent directly to the seller.
*
indicates compulsory field.