BlackVue DR900X-2CH PLUS 4K UHD WiFi Seamless Pairing Car Camera
Posted on: 16 May 2023 | Updated on : 16 May 2023
Merchant information
(10 Reviews)
1 Corporation Drive #01-12/13/14 Revv West Enterprise Hub S(619775)
9.30am - 7pm (Mon - Fri) 9.30am - 3pm (Sat) Closed on Sun & PHs
87978787
Ad information
BLACKVUE DR900X-2CH PLUS - 4K Cloud Dashcam [LATEST]
Industry Leading - 18 Months Warranty (Online Registration)
Warranty by local distributor: Wow Gadgets.
We're proud to announce our new partnership with Blackvue Singapore! Bringing the best in-car dash cameras to you, now with an industry leading - 18 Months Warranty! Quality & Reliability Assured.
*Installation Charges Apply: Please kindly chat with us to provide your car model and find out more.*
Ad information
BLACKVUE DR900X-2CH PLUS - 4K Cloud Dashcam [LATEST]
Industry Leading - 18 Months Warranty (Online Registration)
Warranty by local distributor: Wow Gadgets.
We're proud to announce our new partnership with Blackvue Singapore! Bringing the best in-car dash cameras to you, now with an industry leading - 18 Months Warranty! Quality & Reliability Assured.
*Installation Charges Apply: Please kindly chat with us to provide your car model and find out more.*
Merchant information
(10 Reviews)
1 Corporation Drive #01-12/13/14Revv West Enterprise Hub S(619775)

9.30am - 7pm (Mon - Fri) 9.30am - 3pm (Sat) Closed on Sun & PHs
87978787
Posted on: 16 May 2023 | Updated on : 16 May 2023
Features & specs
DR900X PLUS Series - 4K CLOUD DASHCAM
4K UHD Dual-Channel Cloud Dashcam
The BlackVue DR900X Plus Series redefines expectations for dashcam video fidelity. The front camera's 8-megapixel CMOS sensor captures 4K Ultra High Definition video—four times as many pixels as Full HD.
Front camera with 4K Ultra High Definition (3840 x 2160 @30FPS)
Rear camera with Full HD (1920 x1080 @30FPS)
8M Pixels front image sensor (4 times more pixels than Full HD)
162º wide view angle (front) and 139º (rear)
Seamless Pairing
Dual-band WiFi (2.4GHz/ 5.0GHz)
Cloud service compatible
Adaptive Format Free
Scheduled Reboot
Support up to 256GB microSD card
Support Parking Mode with Impact and Motion Detections, Time Lapse and Region-based Motion Detections
Support optional LTE module for Cloud Connectivity
Support Native Parking Mode (hardwiring cable included)
​Improved Image Quality
The DR900X Plus Series front camera produces crisper 4K videos than its predecessors. The difference is actually quite noticeable when looking at side-by-side footage. You can clearly see finer details even from a further distance.
DR900X vs. DR900X PLUS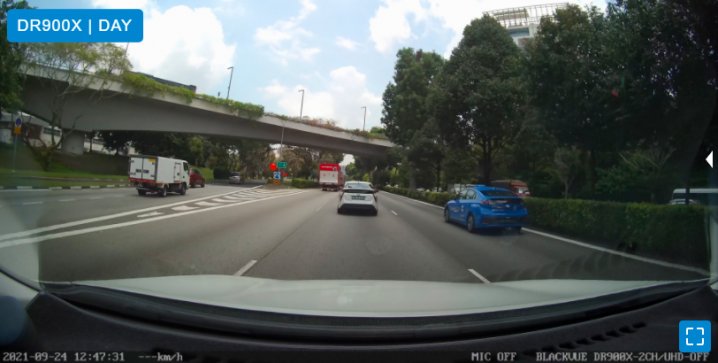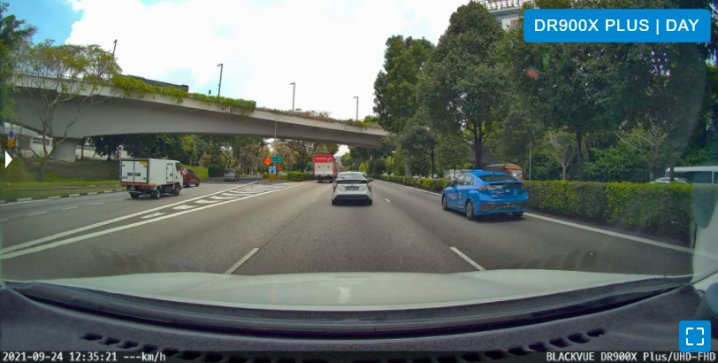 ​In a Class of its own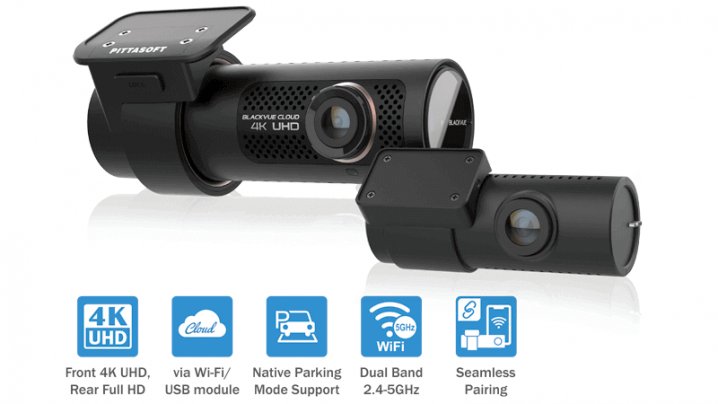 Front cam: 8 megapixels sensor / 4K Ultra High Definition (3840×2160 @30FPS) with ultra-wide 162ª view angle
Rear cam (available for DR900X-2CH PLUS): 2.1 megapixels STARVIS™ sensor / Full HD (1920×1080 @30FPS) with 139ª view angle. ​
Your BlackVue captures critical details while driving or in Parking Mode.
With BlackVue Cloud, you could monitor your car anytime anywhere. 
Discover the 4K difference

​ULTRA-CRISP VIDEOS, NOT JUST ON 4K MONITORS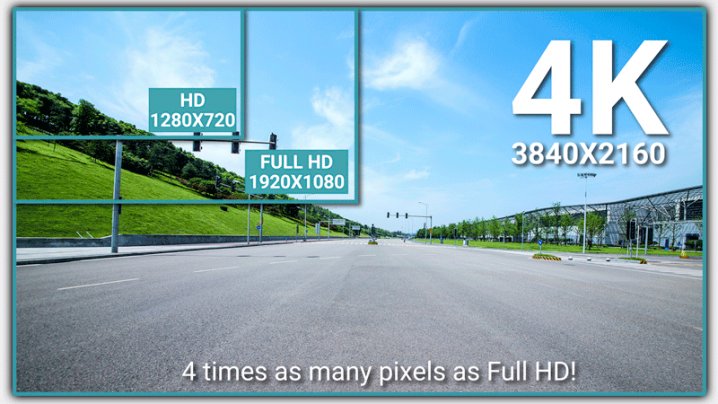 4K in a dashcam is not a gimmick. It is a game-changer. It is not about playing videos on a giant screen–although you could do that too. It's about providing video proof. A dashcam is only as good as its ability to capture crucial details–usually license plate numbers. The 8-megapixel 4K UHD sensor does just that by capturing 4 times as many pixels as in Full HD. And with its fast shutter speed, details are frozen in place. Just pause and zoom in.
Seamless Pairing

Effortless setup
​Simply connect to your dashcam without leaving the BlackVue App. With Seamless Pairing, setting up your dashcam is a breeze. Just power the dashcam, then easily connect from the BlackVue app and follow the simple instructions.
Whether you want to browse your dashcam's files and settings or connect your dashcam to the Cloud, Seamless Pairing makes everything easy and intuitive.​
Fast WiFi, GPS and Optional LTE
Wi-Fi: download videos to your phone at blazing speed. Wi-Fi also lets your BlackVue connect to BlackVue Cloud via any home or mobile Wi-Fi hotspot (router).
GPS: visualize the location of your vehicle on the map during video playback and overlay speed on videos (can be hidden in settings). 
LTE: connect the optional LTE connectivity module* via the USB port for the best Cloud experience and use your BlackVue as a Wi-Fi hotspot for up to five devices.
(*) SIM card not included
BlackVue Over the Cloud

Connect to your BlackVue anytime, from anywhere in the world with free Cloud Service.
Enjoy remote Live View and Event Push Notifications to your phone.
Back up important videos to the Cloud remotely.
GPS Tracking 
Play and download videos from your dashcam's memory or the Cloud from anywhere.​​
Enjoy Two-way Voice Communication with the driver from the app through the BlackVue's integrated speaker and mic.
More about Free Cloud Service
LTE Connectivity Module (Optional)
The CM100LTE provides easy 4G LTE connectivity to enable BlackVue Cloud features. All you need is a valid Nano SIM card. The CM100LTE is powered and connects via the USB port of your dashcam.
When connected to the CM100LTE, BlackVue DR900X PLUS Series can serve as a mobile hotspot providing wireless Internet access to up to five devices (smartphone, tablet, etc.).
Note:
DR900X PLUS series is also compatible with Car WiFi Kit or other external WiFi Hotspot for cloud connectivity.
Optimised File Management

IMPROVED SECURITY AND RELIABILITY
Event Files Overwrite Protection:
Dashcams record in a loop, overwriting older files when the memory is full. BlackVue DR900X PLUS can prevent Event files (triggered manually or by impacts) overwriting. Up to fifty (50) files can be protected this way. You can choose to allow new Event files to overwrite past Event files, thus keeping the latest fifty.
Adaptive Format-Free File Management
This BlackVue-developed file system improves recording stability and requires less microSD card formatting.
SD Card Failure Alert: your BlackVue detects as soon as the microSD card fails and warns you with a "Please check SD card" voice alert.
​High Capacity Memory Storage up to 256GB
Scheduled Reboots (see Parking Mode section below)​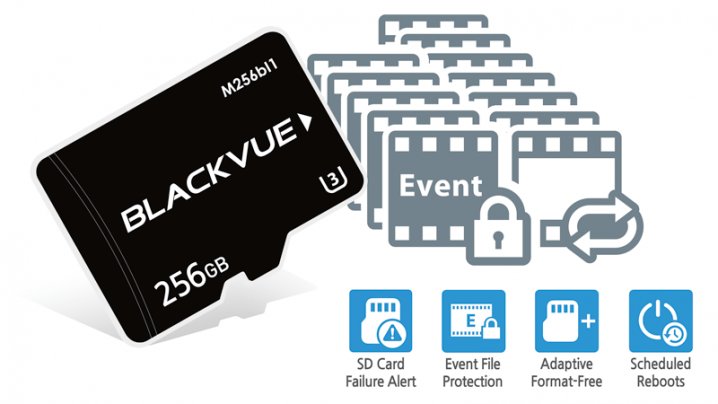 Built-in Impact and Motion Detection
MARK IMPORTANT FILES AND ENABLE PARKING MODE
While driving, your BlackVue detects impacts and sudden changes in speed.
​While parked, it also detects movements*.
​
Videos files are marked accordingly so that you can easily find the relevant ones in the BlackVue Viewer for Windows and Mac OS or the BlackVue App for Android and iOS.
3 different recording modes (Normal/ Event/ Parking)
G-sensors (impact sensors) with individual 3-axis settings.
(*) For Parking Mode recording, an external battery pack (Cellink Battery) is recommended.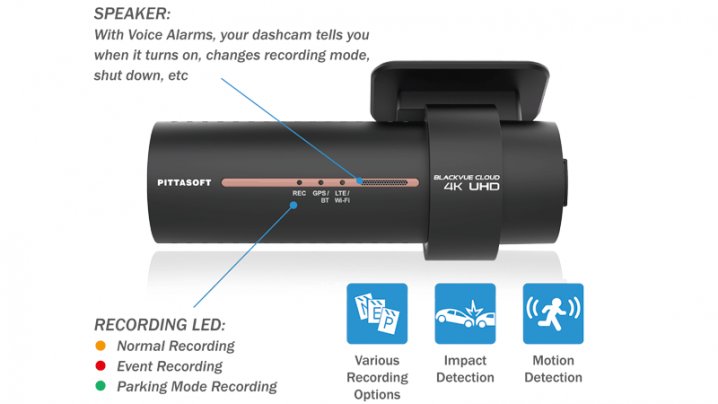 Sleek Interface
EASIER OPERATION
Programmable proximity sensor
Toggle audio recording ON and OFF by simply waving your hand in front of it. The sensor can also be configured to trigger Manual Event videos in the settings.
Wi-Fi button
Turn Wi-Fi ON/OFF with the push of a button. All actions are confirmed by a voice prompt.
Secure microSD card access
Unplug the DC in power connector and pop the cover open to reveal the microSD card slot.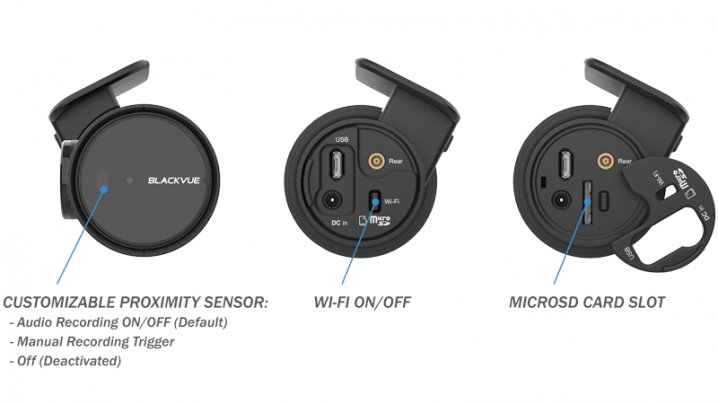 Intuitive App & Viewer Software
EASILY MANAGE THE VIDEO FILES
Easily change your BlackVue configuration settings and browse your videos on your mobile or computer.
​
With the BlackVue App, connect to your BlackVue to access files and check real-time Live View for easy setup of your dashcam.
With the SD Card Viewer, connect your dashcam's microSD card to your computer to view and backup footage in bulk, as well as export clips, remove sound, etc.
The Web Viewer lets you manage your Cloud-connected dashcams from any web browser at blackvuecloud.com.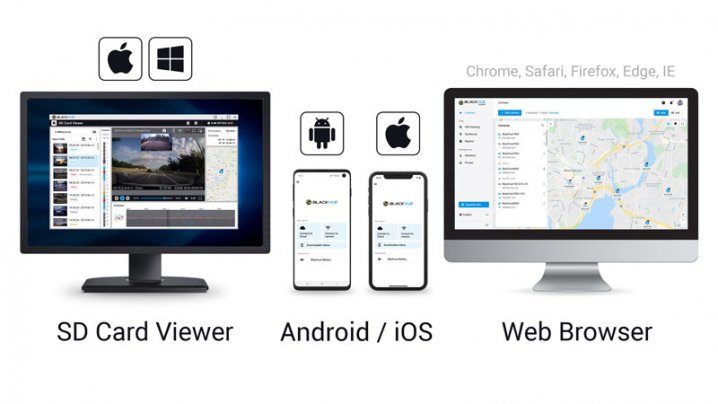 High Quality Coaxial Cable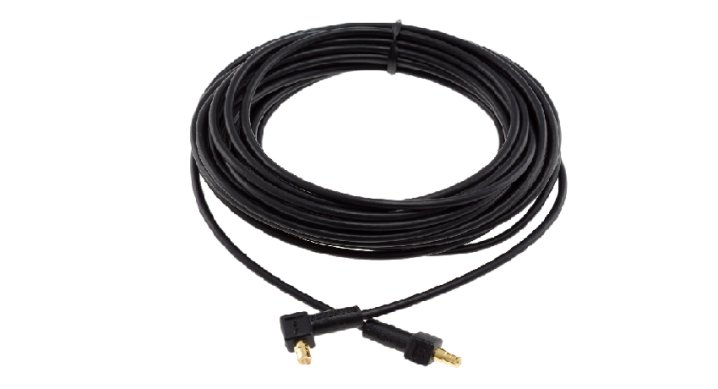 Connects front and rear camera
Safer and faster data transmission comparing with USB cable
Minimise noise for better image quality
Default cable length of 6 meters is sufficient for most cars, vans, SUVs and MPVs. Optional cable length of 10 or 15 meters is available upon request if needed. ​
High Temperature Cut-off
​HIGHER HEAT ENDURANCE​
Endures higher operation temperature than earlier models
Automatically cuts off the operation when temperature reaches 80 degree Celsius.
​Protects the product from the harm of over temperature.
Native Parking Mode
Hardwiring cable included
DR900X PLUS Series can be hardwired to your vehicle's fuse panel for Parking Mode, without requiring optional accessories. The dashcam will switch to Parking Mode automatically when vehicle ignition is turned off. Voltage cutoff and timer can be set in the BlackVue App.
Parking Mode accessories support
DR900X PLUS Series is also compatible with all BlackVue Parking Mode Kits and Batteries.
Disclaimer: Vehicle battery life and performance maybe affected which lead to premature failure especially with frequent short driving. Not compatible with some continental vehicles which may triggers dashboard error. Not recommended for most new vehicles under warranty due to agent restrictions.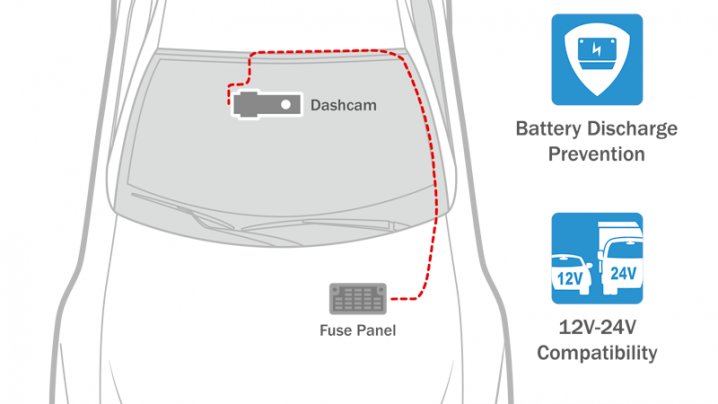 Intelligent Parking Mode

​Peace of mind with extra security when you are away from your car
​
​With Parking Mode Kits or Batteries, you can rest easy, knowing that your car is being monitored while you are away.
BlackVue automatically switches to Parking Mode to monitor your parked vehicle. ​
​Thanks to video buffer, the few seconds leading to triggering events are also recorded.

DR900X PLUS series supports two Parking Mode options: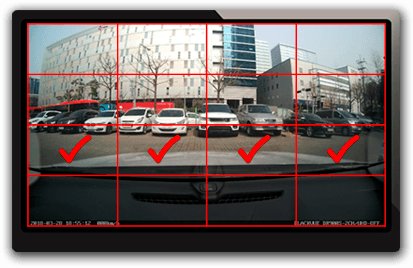 Motion & Impact Detection Parking Mode detects both:
​​Motions recorded by the image sensor (marked "P" in the file list).
Impacts detected by the accelerometer/G-sensor (marked "E" in the file list).
Choose detection regions to reduce the risk of triggering unwanted motion recordings due to trees swaying in the wind, far-away moving objects, etc.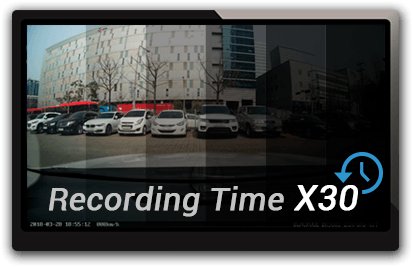 Continuously records at 1FPS (one frame per second). Videos are played back at 30FPS.
1-minute Time lapse Parking Mode video = 30 minutes real time coverage.
Cover a period of more than 27 hours on a 16GB microSD card front and rear at the highest (Extreme) quality setting.
When an impact is detected, the dashcam creates a buffered Event video.
Note: In Time Lapse mode, only the impact Event videos include buffering. In Motion & Impact Detection mode, both motion and impact videos include buffering.
Learn more about Time Lapse and Motion & Impact Detection here >.
Parking Mode Event Voice Notifications:
​Upon exiting Parking Mode, your BlackVue tells you if Events were recorded when you were away from your car, so you can check right away the Event videos on the BlackVue App. ​Watch video.
Push Notification:​
​If your dashcam is connected to the Cloud Service, you will receive instant push notification to your smartphone if there's an impact detected when you're away from your car.
Super stealthy:​
Completely turn off all LED indicators in Parking Mode. Only the recording LED indicator facing the interior of the vehicle will blink when motion or impact is detected.

Scheduled Reboot:​
Schedule a daily automatic reboot (optional—by default at night) to minimize potential errors. Reboots happen only if the dashcam is in Parking Mode and not writing data to the microSD card. This means no Normal driving, Event, or Parking Mode recording can be interrupted by a scheduled reboot.
Techinical Specifications:
Model Name: DR900X-2CH PLUS
Type: 2 Channels (front and rear camera)
Highlights: 4K UHD (Front) + Full HD (Rear), 2.4-5GHz Wi-Fi, Cloud, External LTE Module (Optional)
Product Dimensions:

Front:  W 118.5 mm  x H 36 mm / 106 g

Rear: W  67.4 mm  x H 25 mm / 25 g

Rear Camera Connection: Coaxial cable
Memory support: MicroSD card up to 256GB
Recording Mode

• Normal,

• Event (Impact Detection / Speed Limit / Manual),

• Parking Mode (Impact + Region-based Motion Detection, Time Lapse + Events)

Parking Mode: Yes (with 3-wire hardwiring cable included)
Parking Mode Event Voice Notifications: Yes
Imaging Sensor:

Front: CMOS Sensor (Approx. 8MP)

Rear: Sony STARVIS™ CMOS Sensor (Approx. 2.1MP)

Viewing Angle:

Front: Diagonal 162°, Horizontal 136°, Vertical 77°

Rear: Diagonal 139°, Horizontal 116°, Vertical 61°

Resolution Frame Rate:

Front:  4K UHD (3840 x 2140) @30fps

Rear:  Full HD (1920×1080) @30fps

* Frame rate may vary during Wi-Fi streaming.

Video Codec: H.264 (AVC)
Image Quality and Bitrate Front/Rear:

Highest (Extreme): 25+10 Mbps

Highest: 12+10 Mbps

High: 10+8 Mbps

Normal: 8+6 Mbps

Format Free: Yes (Adaptive)
Event File Overwrite Protection: Yes (up to 50)
SD Card Failure Alert: Yes
Scheduled Reboot: Yes
Video File Extension: MP4
WiFi: Built-in (802.11 a.b.g.n.ac)
Cloud Compatible: Yes
GPS: Built-in (Dual Band: GPS, GLONASS)
Microphone: Buit-in
Speaker: Built-in
Impact Sensor: 3-Axis Acceleration Sensor
LED Indicators:

Front: Recording LED, GPS LED, BT/Wi-Fi/LTE LED, Front security LED, Proximity Sensing Indicator LED

Rear: Rear Security LED

Button:

Button: Wi-Fi ON/OFF (Tap)

Proximity sensor: Mic ON/OFF / Trigger Manual Recording / OFF (configurable)

Operation Temperature: -20℃ – 70℃
Storage Temperature: -20℃ – 80℃
High Temp Cut Off: Approx. 75℃
Backup Battery: Built-in supercapacitor
Input Power: DC 12V – 24V
Power Consumption Hour:

​4.4W (Parking Mode when GPS Off and WiFi On)

3.9 W (Parking Mode when GPS and Wi-Fi are Off)

* Actual power consumption may vary depending on use conditions and environment.

Certifications:

Front: FCC, CE, RoHS, Telec, WEEE, IC

Rear: FCC, CE, RoHS, WEEE

Software: BlackVue Viewer

* Windows XP or higher and Mac Yosemite OS X (10.10) or higher

Application: BlackVue Application (Android 4.4.2 or higher, iOS 9.0 or higher)
LTE: External via Connectivity Module CM100LTE (optional)
Consumer Reviews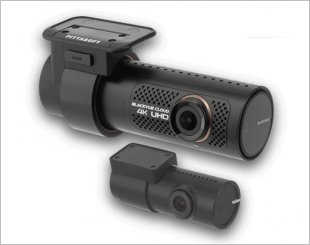 Good quality and features for all rounds to keep your car in good shape. I would recommend this system to all car lover's who want to cherish it. - Jimmy Soh Fook Yau, Owner of Hyundai Avante SMQ72--R
Reviewed by Mobile Reviewer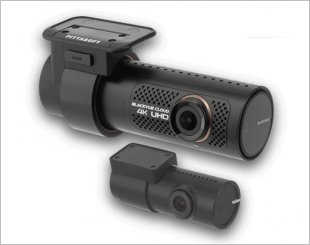 Not the cheapest dashcam on the market but this is truly an exceptional one. The 4K video captured is the best one I've seen and there are some very useful features I only discovered after being carefully briefed by the authorised retailer/installer. Together with the optional Connectivity module CM100GLTE, you will be notified through the phone app remotely when the camera detected an impact and your video files automatically uploaded online. You can also monitor your front and back car cameras views remotely Live!!! This feature is so fun I literally checking it almost hourly when my car is parked. Not out of worry but just to enjoy. I might eventually get bored of this but hey, why not enjoy it while it lasts? :-) - Sutjahjo Ngaserin, Owner of Mercedes-Benz C200 SJJ39--H
Reviewed by Mobile Reviewer
More items from this seller
Email Enquiry
This enquiry will be sent directly to the seller.
*
indicates compulsory field.