Aircon Servicing Refreshment Package
$108
Posted on: 19 Aug 2019 | Updated on : 19 Aug 2019 | 16 views
Merchant information
(74 Reviews)
Blk 1 Sin Ming Industrial Estate Sector C #01-111/113/115/117 S(575636)
( 1 more outlet )
9am - 11pm (Mon - Sat) 10am - 4pm (Sun) Closed on PHs
65598944 / 67592393 / 91013232
Ad information
Visit My Website
Air-Con Refreshment Package Including
> Checking of Air-con filter
> Checking of Blower Motor
> Change Air-Con Gas
> Change Compressor Oil
> Refresh Coiling Coil
> Vacuum
Benefits of Proper A/C Maintenance
- Lower Fuel Consumption
- Prevents premature breakdown, as well as wear-n-tear of compressor
- Prevents deposits of sludge that can damage the compressor
- Improves efficiency and effectiveness of compressor
- Leads to cooler temperature
- Prevents rust and corrosion that protects the system
Our services start from Monday to Saturday 9am to 11pm / Sunday 10am to 4pm / Not open on PH:
Night servicing from 6pm to 11pm -

specially cater for people working in day time

Tyres (including night)
Spray painting
Aircon service
Wheel alignment
Accident claim and repair
Panel beating
Car servicing maintenance
Car polishing
Minor & major repair
24hrs towing / battery assistance
Vehicle Pre-inspection
Bodykits & parts
Insurance renewal
Call us at 9101 3232 now or visit our website to find out more!
Visit our Facebook for updates and postings!!! (Key in BH Auto Services Pte Ltd)
Website:
http://www.bhauto.com.sg/index.html

Ad information
Visit My Website
Air-Con Refreshment Package Including
> Checking of Air-con filter
> Checking of Blower Motor
> Change Air-Con Gas
> Change Compressor Oil
> Refresh Coiling Coil
> Vacuum
Benefits of Proper A/C Maintenance
- Lower Fuel Consumption
- Prevents premature breakdown, as well as wear-n-tear of compressor
- Prevents deposits of sludge that can damage the compressor
- Improves efficiency and effectiveness of compressor
- Leads to cooler temperature
- Prevents rust and corrosion that protects the system
Merchant information
(74 Reviews)
Blk 1 Sin Ming Industrial Estate Sector C #01-111/113/115/117 S(575636)

Blk 5033 Ang Mo Kio Industrial Park 2 #01-275 S(569536)

9am - 11pm (Mon - Sat) 10am - 4pm (Sun) Closed on PHs
65598944 / 67592393 / 91013232
Similar Items
Aircon Servicing
$30 - $1,000
Rear Aircon Blower
$280
Aircon Servicing And Repair
$30 - $1,500
More items from this seller
Spray Painting And Body Parts Repair
$50 – $200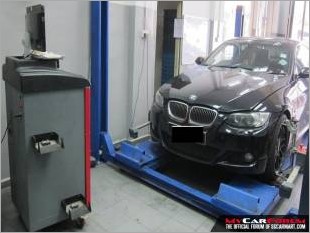 Wheel Alignment
$40 – $60
Aircon Cooling Coil Replacement
$300 – $800
Commercial Vehicle Servicing
$88 – $128
24 Hrs Roadside Assistance
$40 – $120
Email Enquiry
This enquiry will be sent directly to the seller.
*
indicates compulsory field.