Yokohama BluEarth AE01 Tyre
| | | | |
| --- | --- | --- | --- |
| Price | Width | Profile | Rim Size |
| $100 – $120 | 185 | 65 | 14" |
Posted on: 21 May 2020 | Updated on : 21 May 2020 | 7 views
Merchant information
(74 Reviews)
Blk 1 Sin Ming Industrial Estate Sector C #01-111/113/115/117 S(575636)
( 1 more outlet )
9am - 11pm (Mon - Sat) 10am - 4pm (Sun) Closed on PHs
65598944 67592393 91013232
Ad information
Size
185/65R14
185/65R15
195/65R15
Price : $100 onwards
Price Inclusive of 7% GST, Wheel Balancing and installation
Please Call 6559 8944 for any enquiries.
Our services start from Monday to Saturday 9am to 11pm / Sunday 10am to 4pm / Not open on PH:
Night servicing from 6pm to 11pm -

specially cater for people working in day time

Tyres (including night)
Spray painting
Aircon service
Wheel alignment
Accident claim and repair
Panel beating
Car servicing maintenance
Car polishing
Minor & major repair
24hrs towing / battery assistance
Vehicle Pre-inspection
Bodykits & parts
Insurance renewal
Call us at 9101 3232 now or visit our website to find out more!
Visit our Facebook for updates and postings!!! (Key in BH Auto Services Pte Ltd)
Website:
http://www.bhauto.com.sg/index.html

Ad information
Size
185/65R14
185/65R15
195/65R15
Price : $100 onwards
Price Inclusive of 7% GST, Wheel Balancing and installation
Please Call 6559 8944 for any enquiries.
Merchant information
(74 Reviews)
Blk 1 Sin Ming Industrial Estate Sector C #01-111/113/115/117 S(575636)

Blk 5033 Ang Mo Kio Industrial Park 2 #01-275 S(569536)

9am - 11pm (Mon - Sat) 10am - 4pm (Sun) Closed on PHs
65598944 / 67592393 / 91013232
Posted on: 21 May 2020 | Updated on : 21 May 2020 | 7 views
Features & specs
A car tyre for everyday motorists who want save money on fuel. The BluEarth is an Eco tyre which uses low rolling resistance tyre technology to take drivers up to 8% further on a tank of fuel for highway driving and up to 10% further on a tank for urban driving.
The orange oil technology in Yokohama's high tech Nano Blend rubber compound adds grip at a micro level. As a result, Yokohama's fuel efficient eco tyres have the grip Yokohama is famous for.
Features
Orange Oil Tyre Technology
For long mileage and wet grip.
Low Rolling Resistance Tyre
Go 8-10% further on fuel.
Light Weight Construction
7.7% lighter on average than the A.drive it replaces.
Five Pitch Variation Tread Design
Low tyre and cabin noise.
Low Tyre Price
Priced from just $79.
Suits Small And Medium Cars
Sizes from 13 to 16 inch.
Eco Friendly
Uses less fuel produces less exhaust emissions.
Consumer Reviews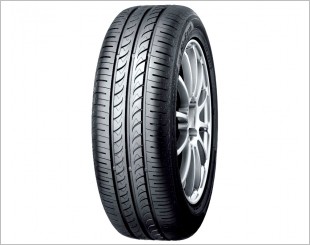 Before i try on this tyre(size 195/55R15) , i was using the Continental Premium Contact 5 (size 205/55R16). AE01 cost $80 CPC5 Cost $130 The Different in term of: Comfort - About the same Control - AE01 better , This amazed me Braking - CPC5 slightly better but not much, probably widely Wet traction - about same Dry traction - AE01 Seem better noise - CPC5 slightly better, but after a while , you cannot differential them in term of noise level, seem Same LOL Value - AE01 win
More items from this seller
Commercial Vehicle Servicing
$88 – $128
Spray Painting And Body Parts Repair
$50 – $200
Aircon Cooling Coil Replacement
$300 – $800
24 Hrs Roadside Assistance
$40 – $120
Similar Items
Bridgestone Turanza T005 15" Tyre
$115 - $135
Bridgestone Techno Tyre
$60 - $105
Michelin Primacy 4 15" Tyre
$120 - $250
Michelin Primacy 4 ST 15" Tyres
$120 - $135
Michelin Energy XM2+ 15" Tyre
$100 - $160
Email Enquiry
This enquiry will be sent directly to the seller.
*
indicates compulsory field.