Pirelli Scorpion Verde A/S Runflat 235/60/R18 Tyre
| | | | |
| --- | --- | --- | --- |
| Price | Width | Profile | Rim Size |
| $240 | 235 | 60 | 18" |
Posted on: 25 Sep 2022 | Updated on : 25 Sep 2022
Merchant information
(92 Reviews)
Blk 3015 Ubi Road 1 #01-262 S(408704)
( 1 more outlet )
9am - 7pm (Mon - Sat) 9am - 4pm (Sun)
81269760 96246263 96603227 97531328
Ad information
Pirelli Scorpion Verde A/S Runflat 18" Tyre
Size: 235/60/18
Origin: Europe
Inclusive of Installation
Nitrogen Insertion
4 Wheel Balancing
Stainless Steel Valve Change
Call us @ 96246263 for the best quote!
Kim Hoe & Co Pte Ltd
Ubi Road 1 Blk, 3015
#01-260/262/266
Singapore 408704
Ad information
Pirelli Scorpion Verde A/S Runflat 18" Tyre
Size: 235/60/18
Origin: Europe
Inclusive of Installation
Nitrogen Insertion
4 Wheel Balancing
Stainless Steel Valve Change
Call us @ 96246263 for the best quote!
Kim Hoe & Co Pte Ltd
Ubi Road 1 Blk, 3015
#01-260/262/266
Singapore 408704
Merchant information
(92 Reviews)
Posted on: 25 Sep 2022 | Updated on : 25 Sep 2022
Features & specs
The Scorpion Verde (Italian for green) All-Season is Pirelli's eco-friendly Crossover/SUV Touring All-Season tire developed for the drivers of crossovers, sport utility vehicles and prestigious pickups. The Ecoimpact icons on the sidewall of the Scorpion Verde All-Season highlight its environmental compatibility where it reduces rolling resistance and tire weight, compared to Pirelli's previous CUV/SUV tire lines, to increase fuel economy and lower the vehicle's CO2 emissions. The Scorpion Verde All-Season is designed to combine dry and wet road handling, comfort and year-round capabilities, including all-season traction in light snow.
The Scorpion Verde All-Season molds a silica tread compound into an asymmetric tread design that features an optimized rubber-to-void ratio and uniform contact patch to blend dry road traction and performance with uniform wear. Four wide circumferential grooves displace water to resist hydroplaning and enhance wet traction while longitudinal siping for lateral stability on loose surfaces and high-density lateral siping enhance wet and wintertime traction.
The SCORPION VERDE™ has been created to take full advantage of Pirelli's latest materials, structures and tread patterns in order to guarantee savings, respect for the environment, comfort and safety on all road surfaces.
Energy™ Efficient
Reduces fuel consumption and CO2 emissions.
Clean Air
Made from eco-compatible materials that minimise environmental impact, both at the production stage and throughout the life of the tyre.
High Mileage
Longer lasting tyre that maintains high levels of performance and safety.
Low Noise
Already complies with the 2012 EU Regulation on the reduction of noise, resulting in improved driving comfort.
Key Homologations:
Volkswagen
SCORPION VERDE™ is the Green Performance tyre developed specifically for Crossovers and SUVs. Being the first high performance SUV tyre with a complete green philosophy, Scorpion Verde™ also guarantees safety, comfort, silence and fuel saving.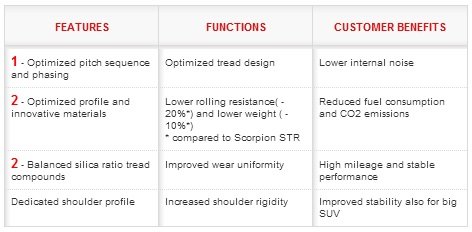 Consumer Reviews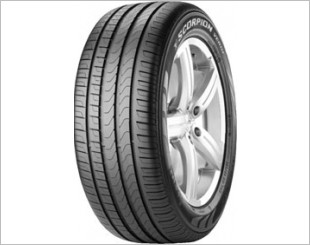 Had these tyres for a year since I took over the car. A relatively quiet SUV tyre, However, that's where the praise stop. Won't buy these again or recommend it to anyone.
More items from this seller
Glossy Black Replica Rays G25 18" Rims
$888
2-Tone Concave 18" Rims
$788
Original Inforged 2-Tone Design 18" Rims
$828
Glossy Black Double 5-Spokes Replica AMG 18" Rims
$888
Email Enquiry
This enquiry will be sent directly to the seller.
*
indicates compulsory field.