Toyota Super Long Life Coolant Fluid
Posted on: 27 Feb 2023 | Updated on : 27 Feb 2023
Merchant information
(30 Reviews)
66 Tannery Lane #01-05B Sindo Building S(347805)
9am - 6pm (Mon - Fri) 9am - 1pm (Sat) Closed on Sun & PHs
68423393
Ad information
1 Gallon, known as "Yellow Cap", pink fluid.
$23.54 (with 7% GST)
Cash and carry.
For any enquiries, call us or drop us an email.
Transglober Auto Pte Ltd
Contact: 6842-3393
E-mail:
[email protected]
66 Tannery Lane #01-05B
Sindo Building Singapore 347805
Ad information
1 Gallon, known as "Yellow Cap", pink fluid.
$23.54 (with 7% GST)
Cash and carry.
Merchant information
(30 Reviews)
66 Tannery Lane #01-05BSindo Building S(347805)

9am - 6pm (Mon - Fri) 9am - 1pm (Sat) Closed on Sun & PHs
68423393
Posted on: 27 Feb 2023 | Updated on : 27 Feb 2023
Features & specs
Genuine TOYOTA Pre-mixed Anti-rust Anti-freeza/Super Long life Coolant is a new generation ethylene glycol-based premium engine coolant, offering excellent corrosion protection formulated specifically for all TOYOTA engines (freeze-ups to -37C) and meets all TOYOTA warranty requirements. For vehicles filled with Super Long Life Coolant at the plant, it is highly recommended that Super Long Life Coolant be used for maintenance.
Features
Enviromental friendly
Coolant in pink colour
Available for Toyota and Lexus models
Toyota Models
Toyota Mark X
Toyota Rav4
Toyota Vellfire 
Toyota Liteace 
Toyota Wish 
Toyota Estima 
Toyota Corolla Altis 
Toyota Corolla Axio
Toyota Vios
Toyota Camry
Toyota Ractis
Toyota Rush
Toyota Voxy
Toyota Harrier
Toyota Prius Hybrid 
Toyota Passo
Toyota Fortuner
Toyota Altezza
Toyota MRS 
Toyota Picnic
Toyota 86
Toyota Allex
Toyota Allion
Toyota Alphard
Toyota Auris
Toyota bB
Toyota Belta
Toyota Celica
Toyota Coaster
Toyota Corona
Toyota Crown
Lexus Models
Lexus CT200H
Lexus ES250
Lexus ES300F
Lexus GS250
Lexus GS300
Lexus GS350
Lexus GS450h
Lexus IS200
Lexus IS250
Lexus IS250C
Lexus LS400
Lexus LS430
Lexus LS460
Lexus LS460L
Lexus LS600hL
Lexus RX270
Lexus RX300
Lexus RX350
Lexus RX400H
Lexus RX450h
Consumer Reviews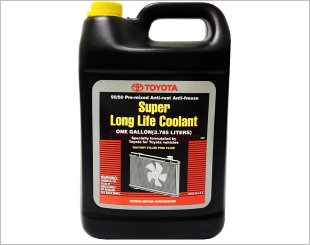 Cheap and good... Thats all I can say. Im driving a vios and I use it because its what the manufacturer called for,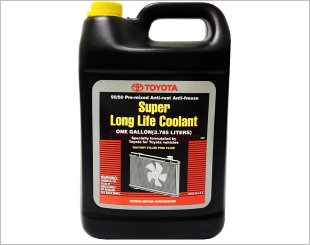 I want to share this as I don'T want anyone to repeat my silly mistake. I used to always think that the radiator just every time top up water can already till one fine day the radiator decided to rust, leak and smoke on my way home. Sent it to workshop that only i learn that is because i did not use the coolant liquid which help to prevent rust and keep the radiator in good health. Cost a bomb myself for the repair. Since then i was recommended to this coolant fluid and up till now been using this with no worries. Time to time send for flushing service the coolant still give a nice healthy colour when out in the bucket. Definitely will continue after that painful lesson i had.
More items from this seller
Alternator
$300 – $1,400
Toyota & Lexus Car Genuine Brake Pad
$50 – $120
Lexus Engine Oil
$32
Toyota Genuine Air Filter
$15 – $35
Toyota Genuine Spark Plug
$5 – $25
Email Enquiry
This enquiry will be sent directly to the seller.
*
indicates compulsory field.