Smartlock SL-990 Push Start System (With Touch Sensor Handle)
$698
Posted on: 21 Oct 2019 | Updated on : 21 Oct 2019 | 11 views
Merchant information
(3 Reviews)
33 Ubi Avenue 3 #01-03 Vertex S(408868)
9.30am - 6pm (Mon - Fri) 9.30am - 2pm (Sat) Closed on Sun & PHs
62965060
Ad information
Smartlock, SL-990, Push Start with touch sensor handle. Selling at $698, with installation.
Call us or visit our website to find out more!
Website:
http://www.vision-sg.com/

Ad information
Smartlock, SL-990, Push Start with touch sensor handle. Selling at $698, with installation.
Merchant information
(3 Reviews)
33 Ubi Avenue 3 #01-03 Vertex S(408868)

9.30am - 6pm (Mon - Fri) 9.30am - 2pm (Sat) Closed on Sun & PHs
62965060
Features & specs
Smartlock SL-990 is a Smartlock Push Start which comes with a touch sensor handle.
Features
Intelligent keyless entry with push start (with handle)
OEM handles with touch function (OEM handle available)
Add on Push Start function (OEM Push button available)
T-harness & OEM socket available
Remote start
Trunk open
OEM T-harness wire / socket available (optional)
Easy to install
RFID emergency bypass
Consumer Reviews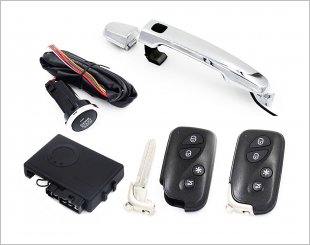 Got this system as I am pretty much a lazy person. With this system now, so long I have my remote around with me, I do not need to take it out of my pocket yet I can unlock my car with the touch function on my car door handle. Push start feature is available so same thing, key will stay in my pocket. What i like is the trunk open feature, there are time where by i only want to open my trunk to get something, i do not need to unlock my car to get the lever or use the key to open the truck especially when my hand are full and i want to get the stuff into the truck as soon as possible. I believe for those that goes marketing often with know what i mean. Another feature that i like will be the remote engine start, especially when car is parked under the hot sun. I do not need to go into the hot like oven car anymore with this feature. Just simply start 10 mins before i am leaving for my car will do.
More items from this seller
Vision Multimedia Headrest DVD Monitor
$499
Mirror Covers
$168 – $238
Reversing Camera
$359
Roof Mount Monitor (With DVD Player)
$360
Smartlock SL-990 Push Start System (With Touch Sensor Handle) Related Topics
Topic Title
Replies
Last Action
Email Enquiry
This enquiry will be sent directly to the seller.
*
indicates compulsory field.