Tanabe Concept G Blue Muffler
$950
Posted on: 14 Oct 2019 | Updated on : 14 Oct 2019 | 23 views
Merchant information
(28 Reviews)
Blk 3007 Ubi Road 1 #01-426 S(408701)
9am - 6pm (Mon - Fri) 9am - 3.30pm (Sat) Closed on Sun & PHs
67454700 / 96350350
Ad information
HI,
MIT COLT VERSION R
Tanabe LTA Approved Exhaust.
interested please contact JEEP CHEE
Jeep Chee is one of the most popular names when you think of exhaust modification, upgrading of car suspensions, sports modifications.
We are the sole distributor for many brands such as Tanabe, Supersprint, Motul, Apexi, Idemitsu etc.
Jeep Chee also provides:
upgrading of suspension
installation of sport seats
sales of aftermarket sports modification
specialize in Mandrel Bending
many models of different exhausts available
Call us now or visit our web page to find out more!
Website:
http://www.jeepchee.com.sg/
Facebook:
https://www.facebook.com/jeepchee
Ad information
HI,
MIT COLT VERSION R
Tanabe LTA Approved Exhaust.
interested please contact JEEP CHEE
Merchant information
(28 Reviews)
Blk 3007 Ubi Road 1 #01-426 S(408701)

9am - 6pm (Mon - Fri) 9am - 3.30pm (Sat) Closed on Sun & PHs
67454700 / 96350350
Features & specs
We took turbocharged exhaust tuning one step further in the development of the complete turbo back exhaust, the Concept G Blue.
This complete system includes a full SUS304 stainless downpipe and cat delete pipe that has thicker construction to withstand the heat of extreme exhaust gas temperatures. The catback portion of this system features lightweight SUS304 piping with a specialized full Inconel tip.
This system maximizes flow efficiency for the largest power gains and will greatly benefit vehicles running higher amounts of boost. This system is capable of handling the flow needs of extremely modified vehicles.
Features
Meant for turbocharged cars with extensive modifications
Maximum power gains can be achieved
Full Inconel tip
Removable silencer included to reduce noise levels
Consumer Reviews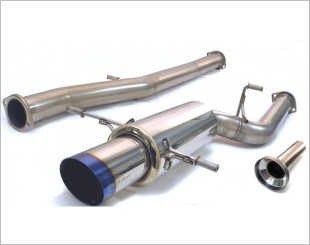 I've had this Tanabe Concept G Blue for my Subaru WRX about a month ago. They are fully constructed with stainless steel, brushes colour rather than polished. The welds and the hangers are all beefy and strudy. Blue titanium on the exhaust tip as well as the etched tanabe logo on the side of the tip is very well indicated. The sound is fantastic. The boxer rumble can be heard very clearly and also the removable silencer is included. This allows me to have some peace some time. The piping is very much of a straight-through design with minimal bends. The performance is definitely noticeable. It's really a good product with exceptional quality.
More items from this seller
Advance Racing Coilover
$1,050 – $1,350
Advance Racing 32 Step Damper Shock Absorber
$650 – $800
Tanabe Concept G Blue Muffler Related Topics
Topic Title
Replies
Last Action
Email Enquiry
This enquiry will be sent directly to the seller.
*
indicates compulsory field.