Kia Cerato Forte Supersprint Exhaust System
$1,300
Posted on: 06 Mar 2023 | Updated on : 06 Mar 2023
Merchant information
(40 Reviews)
Blk 3007 Ubi Road 1 #01-426 S(408701)
9am - 6pm (Mon - Fri) 9am - 3.30pm (Sat) Closed on Sun & PHs
67454700 96350350
Ad information
Supersprint Exhaust Systems for Kia Cerato Forte!
Soundclip: 
👌🏻LTA approved with Certificates and Documents
👌🏻Bassy exhaust note

👌🏻Low end power gain
*Price includes installation and GST*
Contact us for more details!!
Ad information
Supersprint Exhaust Systems for Kia Cerato Forte!
Soundclip: 
👌🏻LTA approved with Certificates and Documents
👌🏻Bassy exhaust note

👌🏻Low end power gain
*Price includes installation and GST*
Contact us for more details!!
Merchant information
(40 Reviews)
Blk 3007 Ubi Road 1 #01-426 S(408701)

9am - 6pm (Mon - Fri) 9am - 3.30pm (Sat) Closed on Sun & PHs
67454700 / 96350350
Posted on: 06 Mar 2023 | Updated on : 06 Mar 2023
Features & specs
Requirements of stock low volume street engines are much different from high revving, high horsepower race engines. Road race applications are also much different from off road applications. Supersprint treats each situation individually to produce the best possible part for the intended use.
Custom road racing applications require hand made, thin wall stainless steel tubing to produce the highest and most useful power from the lightest exhaust system. For demanding off road use Supersprint utilizes heavy gauge steel for resistance against rock and gravel impact. Whether for street or race use, Supersprint researches, designs, tests, and builds exhaust systems for real world power and long lasting, quality construction.
Unlike the countless competitors Supersprint has seen come and go, since 1955, Supersprint does it's homework on the dyno, the street and the track. Our extensive knowledge has been earned on thousands of cars around the world.
This knowledge provides Supersprint with the uncanny ability to extract power from engines when other exhaust manufacturers can only produce higher noise levels. Supersprint products are developed around scientific knowledge not assumptions.
Other manufacturers of exhaust systems are happy with larger diameter tubing, restrictive silencer design, increased noise levels and chrome tips to lure customers. But our commitment to performance and quality prevents such an approach. Instead we at Supersprint design and build around each engine's performance characteristics. Exhaust flow rates and velocity are dramatically increased by Supersprint designs while still retaining factory OEM diameter tubes. We know it is actually easier to loose horsepower through misuse of larger diameter tubing and badly designed silencers.
Each component from header to tailpipe is accurately tuned and suited to each particular engine by Supersprint engineers.
A critical balance between lower back pressure level and flow rate must be ensured for optimum performance. When Supersprint develops a system for a new car, hand built prototypes are made and extensively dyno tested, rebuilt and re-tested.
Combinations of tubes and perforated cores with outside diameter ranging from 32mm (with 2mm. 3mm, and 5mm increments in size) up to 76mm are utilized for best results. Nothing is assumed. Only modifications that create proven performance in mid-range torque, and top end power increases, qualify for final production. There is no make-do engineering at Supersprint.
The quality of a Supersprint exhaust system also includes meeting sound emissions restrictions. All Supersprint street legal systems meet the stringent requirements of TUV testing for quality, design, construction and sound emissions.
Supersprint recommends the use of complete exhaust systems (header, center & rear muffler) to achieve the highest performance gains.
Consumer Reviews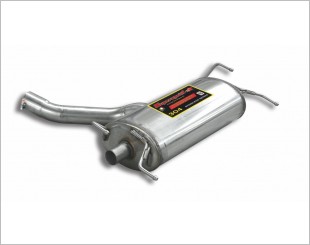 Changed to the stainless steel exhaust muffler and immediately you can hear the difference in exhaust noise. Sound is now deeper and more bassy. But not too loud that will annoy your neighbours. You can still have a normal conversation in your car without soundproofing. Muffler styling is slanted and soild, not like those coke can types. Power at low rev's below 2000rpm will suffer, but it is expected as I only changed the muffler. And once you hit 3000-3500rpm, it really opens up. Price was competitive.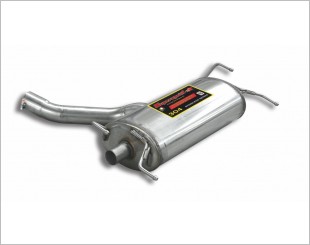 Took this up not long ago. Like what it have change to and it is really awesome. Power gain is good increase mid through high revs though the down side is that reduced pulling power below 1500 RPM, especially if hauling a full passenger load up a hill. But other than that it is rocking my world. Currently thinking of doing ECU remap to optimise the performance. Hope all goes well in the end.
More items from this seller
Honda Fit & Jazz GK3 / GK5 Tanabe Sustec Pro CR40 Coilover Suspension
$1,650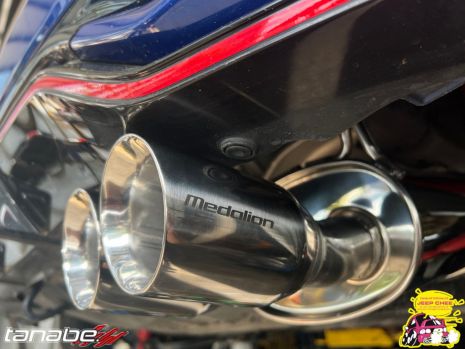 Honda Fit / Jazz Tanabe Medalion Touring Exhaust System
$1,350
Honda Fit / Jazz GE6 Tanabe Sustec Pro CR Suspension
$1,350
Email Enquiry
This enquiry will be sent directly to the seller.
*
indicates compulsory field.