IROAD AEV Wi-Fi HD In-Car Camera
Posted on: 21 Dec 2019 | Updated on : 21 Dec 2019 | 57 views
Merchant information
(39 Reviews)
50 Serangoon North Avenue 4 #01-27 First Centre S(555856)
11am - 9pm (Mon - Sun & PHs)
98447828
Ad information
OFFERING IROAD AEV WIFI HD In-Car Camera
(Comes with 1 year OFFICIAL Agent warranty!)
FREE Class10 MicroSD Card!
FREE WiFi Dongle for wireless access view from your smart phone!
For any enquiries, you may still contact us at 9844 7828 via WhatsApp (Preferred) / SMS or Call!

Ad information
OFFERING IROAD AEV WIFI HD In-Car Camera
(Comes with 1 year OFFICIAL Agent warranty!)
FREE Class10 MicroSD Card!
FREE WiFi Dongle for wireless access view from your smart phone!
Merchant information
(39 Reviews)
50 Serangoon North Avenue 4 #01-27First Centre S(555856)

11am - 9pm (Mon - Sun & PHs)
98447828
Features & specs
The IROAD AEV Wi-Fi records excellent video quality of 1280x720p HD with 2.0 megapixel video recorder.
Features
Optional USB WiFi dongle
Excellent video quality 1280x720p HD / 2.0 megapixel
Automatic SD Card recover
WiFi playback on smart devices - Saving and backup recording
Automatic parking mode & motion detect
Shock recording
24 hours recording
Voice recording & guidance
Dedicated viewer External GPS (option)
Security LED
130 degrees wide angle
WiFi Connection
Saving and backup recordings on smart devices via WiFi
Configuration setting and upgrading firmware via WiFi 
Automatic SD Card recover
WiFi allows users to check theor video recordings immediately by remote and recordings are transferred to their smart deviceUser can enjoy real-time streaming video and even more enjoyable with strong connection if while in short distance from the product
Supports downloading recordings and set user's various preferences without removing the SD card
Helps adjust the angle of recording correctly during installation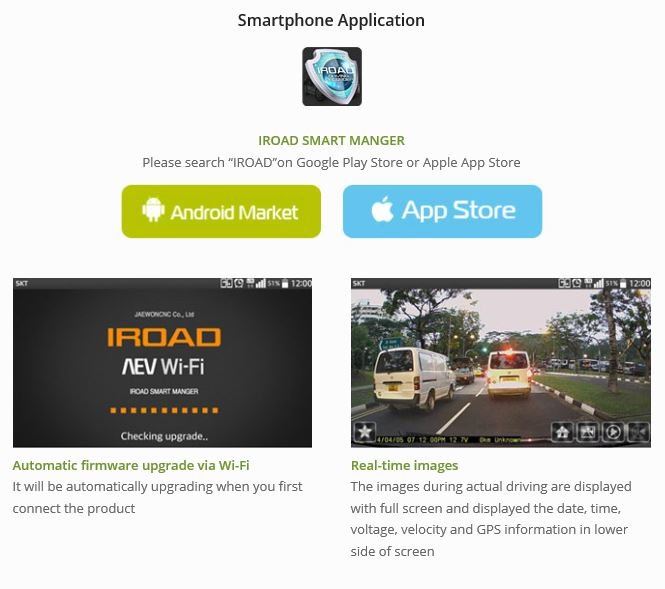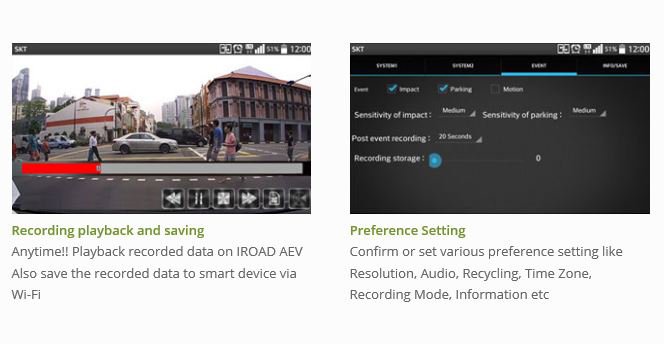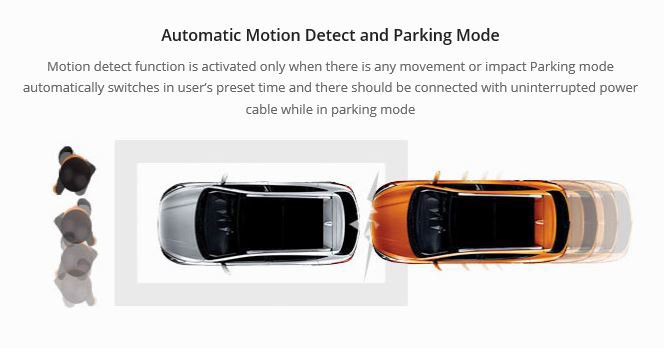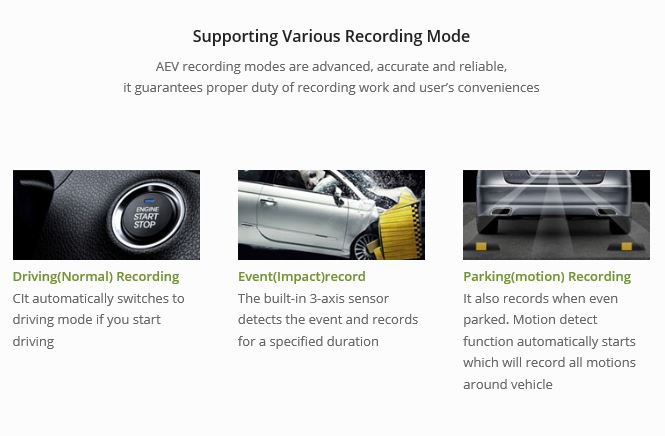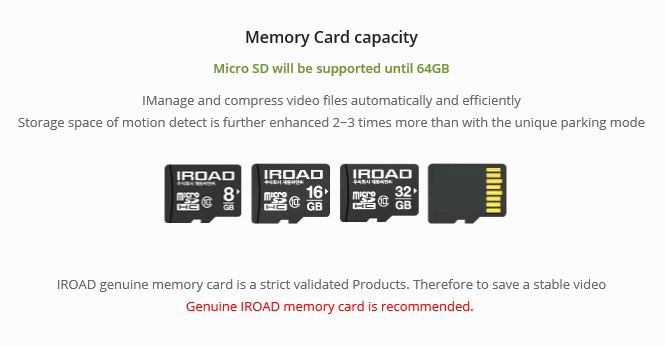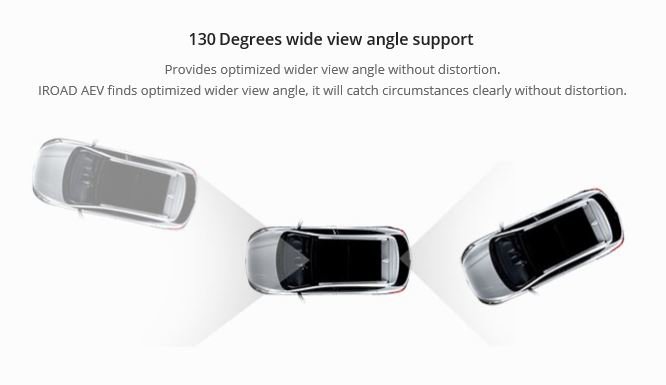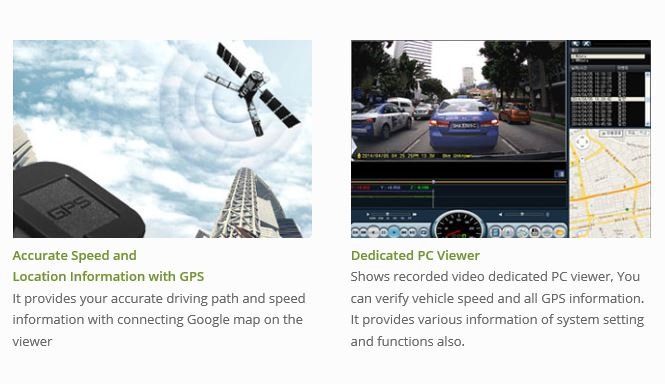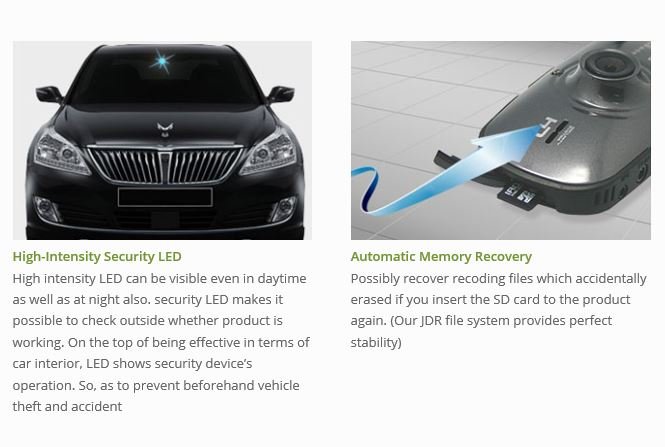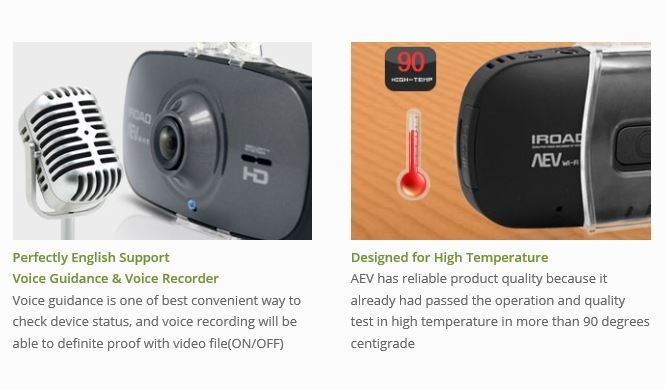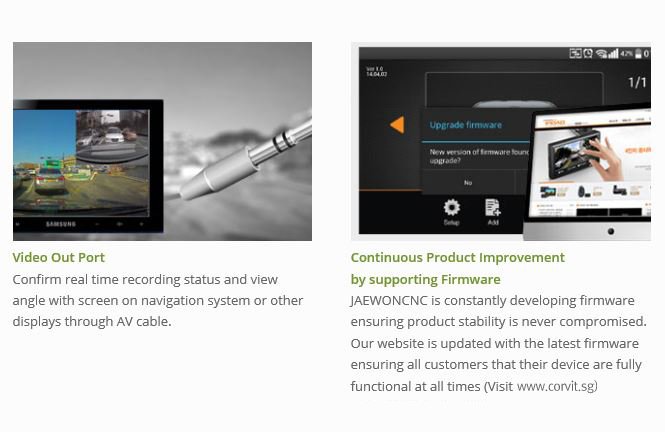 IROAD AEV Wi-Fi
IROAD AEV Wi-Fi 2
Specifications
Camera/Resolution: HD CMOS Sensor (2.0M) / 1280x720p (HD) / 800x450
Frame/View Angle: Max 30fps / 130°±5%
Illumination/ Vide/ Audio format: More than 0.5 LUX/ H.264/ ADPCM
WiFi: External WiFi Dongle
G-sensor: 3 axis acceleration (3D, x y x)
Memory Card: Micro SD/ SDHC 4GB - 64GB
Saving/LED: Over Writing/ High Intensity LED
System Time/ GPS: Built-in RTC (Automatically sync by GPS) / External GPS type
Mode: Normal/Event, Manual/ Parking/ Motion Detect
Voice/ Audio: High quality MIC (ON/ OFF/ MUTE) / Built-in speaker, Voice guidance
Voltage/ Temp/ Temp (storage): 12-24V / -20°C-80°C / -20°C-90°C
Playback/ FW update: Smartphone (WiFi)/ Dedicated viewer/ Support firmware update (WiFi)
Weight (Main body): 58g (Except MicroSD and transparent cradle)
Size (Main body): 91(W) x 47(D)x 33.3(H) mm
Warranty for IROAD AEV Wi-Fi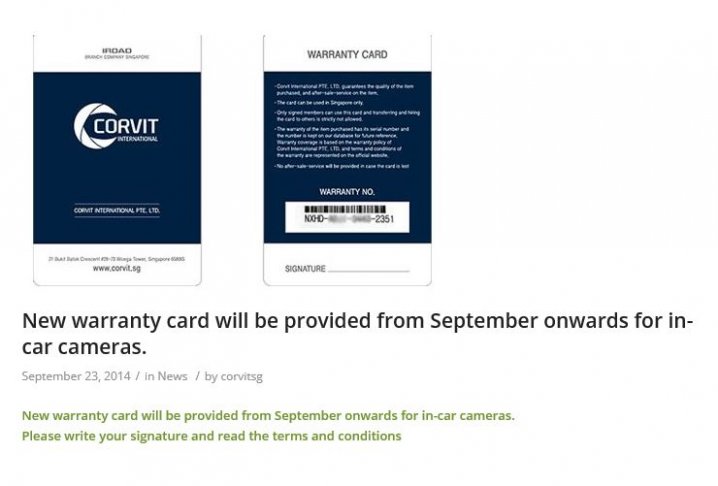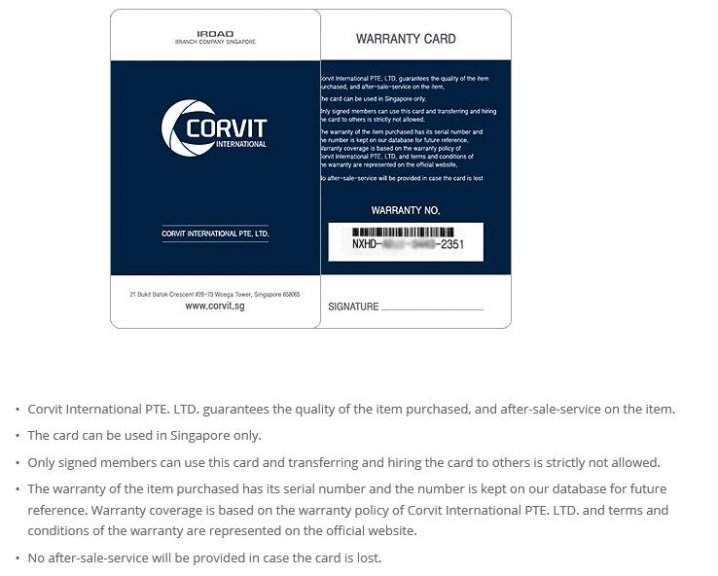 For more information, check out our website!
Official website : http://corvit.sg/wordpress/?page_id=3335
Consumer Reviews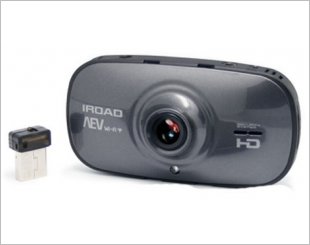 Basic protection against reckless motorists, insurance scammers, wayward pedestrians/ pokemon players / cyclists / electric scooters etc etc. Make sure it comes with the WiFi dongle. Pro tip: Plug out the WiFi dongle for normal operations and plug it in only when you want to retrieve/ view footage etc. No need to always have a WiFi hotspot near your head while you're driving!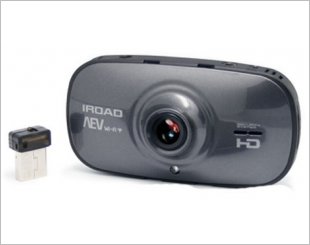 I bought the AEV to replace my "unknown brand" DVR which came as free gift. The previous DVR internal components melted and ceased to operate as I have to park outdoors at work. No such problem with the AEV. Make sure that dealer gives you the wifi dongle which enables you to view your camera positioning due to the lack of an LCD panel.
More items from this seller
Email Enquiry
This enquiry will be sent directly to the seller.
*
indicates compulsory field.