Tanabe Medalion Touring Suzuki Swift Muffler
$950
Posted on: 30 Jul 2021 | Updated on : 30 Jul 2021
Merchant information
(40 Reviews)
Blk 3007 Ubi Road 1 #01-426 S(408701)
9am - 6pm (Mon - Fri) 9am - 3.30pm (Sat) Closed on Sun & PHs
67454700 96350350
Ad information
HI all.
WTS tanabe exhaust,
lta legal ,
304 stainless steel .
rear muffler only,
100% Japanese make.
eric
Jeep Chee is one of the most popular names when you think of exhaust modification, upgrading of car suspensions, sports modifications.
We are the sole distributor for many brands such as Tanabe, Supersprint, Motul, Apexi, Idemitsu etc. 
Jeep Chee also provides:
upgrading of suspension
installation of sport seats
sales of aftermarket sports modification
specialize in Mandrel Bending
many models of different exhausts available
Call us now or visit our web page to find out more!
Website: 
http://www.jeepchee.com.sg/
Facebook: 
https://www.facebook.com/jeepchee
Ad information
HI all.
WTS tanabe exhaust,
lta legal ,
304 stainless steel .
rear muffler only,
100% Japanese make.
eric
Merchant information
(40 Reviews)
Blk 3007 Ubi Road 1 #01-426 S(408701)

9am - 6pm (Mon - Fri) 9am - 3.30pm (Sat) Closed on Sun & PHs
67454700 / 96350350
Posted on: 30 Jul 2021 | Updated on : 30 Jul 2021
Features & specs
A refined level of performance and driveability is available in the Tanabe Medalion Touring. The elegant, well defined appearance of Medalion Touring is mature, and matches the artistry of a tastefully built, highly tuned machine. Using the all new 'continuous strand' Advantex packing material technology, Tanabe Medalion Touring acheives extremely high levels of exhaust system efficiency, while maintaining a street driveable, extremely low frequency and deep tone that is well under 93db for discreet sports driving.
Features
Exhaust system that sounds good but is not intrusively loud
Highly efficient
Discreet design does not attract unwanted attention from authorities 
Consumer Reviews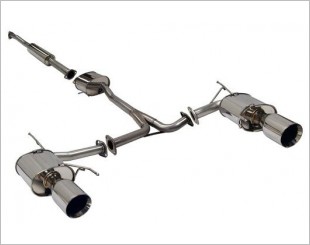 Installation was a breeze! It looks really great and fitment is perfect on my STI Sedan. The tone of the Medalion Touring Exhaust System put an ear-to-ear grin on my face as soon as I started it! I was like "WOW, finally I have the subie rumble!". The exhaust is perfect on the noise scale, loud enough but not wake-up the neighbourhood status. Deep base at idle, loud in low gears. The Medalion Touring is very unique in that it doesn't use conventional fiberglass packing in the muffler. The material has different properties from regular fiberglass, therefore, it is touted as both quiet and high performance. I would like to recommend to people who want their car to look aesthetically better and have a bit of exhaust sound!
More items from this seller
Advance Racing 32 Step Damper Shock Absorber
$650 – $800
Supersprint BMW 6 Series Exhaust System
$3,900
Advance Racing Coilover for Japanese Cars
$1,050 – $1,350
Tanabe Medalion Touring Suzuki Swift Muffler Related Topics
Topic Title
Replies
Last Action
Email Enquiry
This enquiry will be sent directly to the seller.
*
indicates compulsory field.