My last experience with a Toyota was in the likes of a Celica SS1 from 2001-2003. Thus far, I had pleasant experiences with Toyota and relished owning one again. The draw to powerful marques came on for a high testorone male in me and at that time, the Toyota Caldina GT4 was born. A quick check with Ricardo motors then came up with an incredulous price tag of S$150K+. Lest not forget, COE was high then. Therefore, the idea of owning one was quickly relegated and the GT4 soon became a dream rather than a reality.
I moved on quickly and owned a Subaru Legacy RSK Turbo B4 Manual and an EVO 8 GSR there after. With the times, my situation changed. Got married, have a kid, the EVO 8 just cannot meet my needs anymore. By needs, I am refering to space. With a large pram, car seats and what nots, the EVO was insufficient for my needs. With the low COE, I decided to once again approach two PIs to quote me on the face lifted GT4 once again. Finally, I decided to purchase it from Garage R. It being the one and only Turbo variant to be brought into SG, it underwent VIA Japan's testing before embarking on a journey to SG. Upon arrival, I looked at the dark pimp daddy rear windows and thought it will not clear LTA's inspection. Much to my surprise, it cleared and my glasses are 'legit'! That left me wondering why the PIs had to change the glass on the NA versions.
Anyway, if you are a family man, who only need space for 1-2 Kid and space for barang barang, if you opt out of the mundane 7 seaters, this car may be your choice.
The car is a Wagon styled vehicle, which meant it does not have high body height ala traditional MPVs. However, length wise, it is as long as a Wish, having parked beside it on several occasions and did a comparo. The legroom for both driver and passenger is good. I can vouch for it as I am at least 1.8m tall. Headroom is not fantastic but it is ok. The car came standard with Recaros for both front passenger and driver. Alas, it isnt the kinda bucket Recaros one would find in the Euro R or EVOs. Remember... it is a family oriented car afterall!
Specification of the engine is as follow:
It is 4WD
Engine Capacity: 1998 cc 3S-GTE
Transmission: 4 Speed Auto/Steptronic with Super ECT
Max Speed 191kW(260ps)/6200rpm
Max Torque 324N.m(33.0kg.m)/4400rpm
Electronic Brake Assist EBD
Traction Control
Colors : Super White (040)/Silver Metallic (1F7)/Black MICA (209)/Super Red (3P0)/Blue MICA Metallic (8Q1)/White Pearl Crystal Shine (070)
The engine is peppy and it really goes when you flow the accelerator living up to my expectation in terms of power. The transmission has pretty good Final Drive given that
kmh, the tachometer shows only 2.5-3K RPM! One Caldina owner even displayed a pic of him hitting 180 kmh and tacho was only 4K RPM (see picture).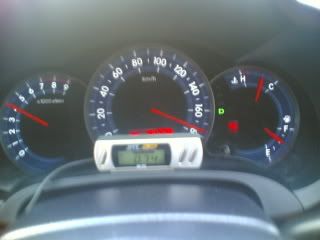 Given that I am still running in the engine, I did not really boost up. Have been told that the CT20B Turbo the car is running is large and has a max boost of 1.3 bar.
The car came with standard GT4 trims. It has a full bodykit, stabilzer bars and front strut bar. It also came in 17 inches alloys.
The choice of PI for me is obvious given that I am into modification of my ride. I would purchase stuff from GR and let them fix it and yet still preserve my warranty. The workshop has done many GT4s from Malaysia and parts is not a problem but some may see it as a downside.
Also, with such power, do not expect frugal and typical Toyota fuel consumption. Currently, I am running 10 km/ltr. To me, that i sgood enough having driven cars that are about 5-7 km/ltr :)
If you are more than 2m tall or have grandparents, maid and kids in toll, you are better off with a 7 seater vehicle. Else, this 5 seater wagon will fit you perfectly.
Last but not least, the over zealous ROV officers have given me hell for my past rides and a family oriented fast wagon is so much a magnet for them. What a relieve!
All in all, a great car for a family man with a need for speed.