FarEastFlora.com Pte Ltd
Make Someone Smile Today with FarEastFlora.com™, Singapore, Hong Kong and Malaysia's leading online florist!
As a pioneer in recognizing the Internet's commercial potential, we started our internet store in 2000 in Singapore and now offer over 1000 choices in flowers, gifts, plants and hampers. On top of that, FarEastFlora.com™ also specializes in floral decoration for weddings, events, customized corporate gifting and more.
Being part of InterFlora, a worldwide florist association, we can also cater for customer's needs by sending flowers and gifts to more than 140 countries. In our continuous effort to ensure that our customers receive only the best flowers, we have close collaboration with growers and major flower exporters around the world to ensure that we receive fresh and high quality flowers like roses, gerberas, tulips, sunflowers, carnations and other nature's. This helps to ensure that your gifts arrive fresh, beautiful and perfect!
Aspiring to bring smiles all around, our team of more than 60 smile-makers in Singapore, 20 smile-makers in Hong Kong and 15 smile-makers in Malaysia are dedicated to bringing you the highest level of service. Continuously innovating, our team strives to bring fresh and creative gift ideas like Flower Memo® andBox of Blooms®. On top of that, brand partners like Crabtree & Evelyn, Marriott Singapore, Sins and many others have collaborated with us on different occasions to bring you interesting product offerings.
We want to be a part of your every special moment, which is why we have flowers & gifts for all occasions: Birthday, Anniversaries, Love & Romance, Get Well ,Congratulations and the list goes on! Not forgetting our special promotions rolled out for all holidays:Valentine's Day, Chinese New Year, Christmas, Mother's Day, Father's Day, Bosses' Day, Secretary' Day and more.
In October 2006, to serve the Asia Pacific region, our team ventured into Hong Kong with www.FarEastFlora.com.hk. Always going the extra mile, we opened our first concept retail store in Hong Kong in July 2009 at Flower Market.
With our sights set on expansion, other than our online e-commerce website www.FarEastFlora.com, we are proud to announce our first retail outlet in homeland Singapore! Our newest outlet at City Square Mall, Singapore's first eco-green mall, that opened in November 2009. Come by and visit us at B1-16!
With the immense success in Singapore and Hong Kong, we continue our pace to Malaysia in 2010. www.FarEastFlora.com.my is launched in March 2011. The Malaysia one-stop floriculture centre is located in Bangsar, the up-scale location located in Kuala lumpur. With the same concept in Hong Kong, we provide the only walk-in fresh flower cold room of approximately 3,000 sq.ft in Malaysia.
In our constant strive to enable easy and hassle-free ordering of flowers and gifts on-the-go, our first mobile app SG Florist was launched in August 2011 so that our customers can experience convenience at their finger tips. Other than incorporating both Singapore and Hong Kong's product offerings in one app, SG Florist also allows for a seamless buying experience by fully integrating payment with credit cards and PayPal all within the app.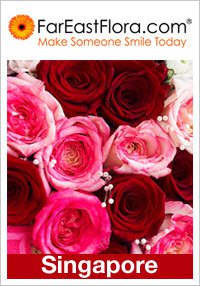 We are proud to be the winner of ZDNet Asia's SMB of the Year 2006 and the Singapore Service Class Award. We are the creator of Flower Memo®, a patent-pending innovation that displays color images on flowers, and Box of Blooms®; which won the Singapore Packaging Star Award 2005 and AsiaStar Award 2005. You are our motivation in our quest for more meaningful yet unique gifting ideas.
FarEastFlora.com Pte Ltd
565 Thomson Rd Singapore 298184
Phone: +65  6251 2323
Website: www.FarEastFlora.com
Our customer service team is eager to be of service! Just call us or order online! With our hassle-free return guarantee, you can now shop with confidence!
Edited by Edmemail, 20 August 2015 - 04:10 PM.