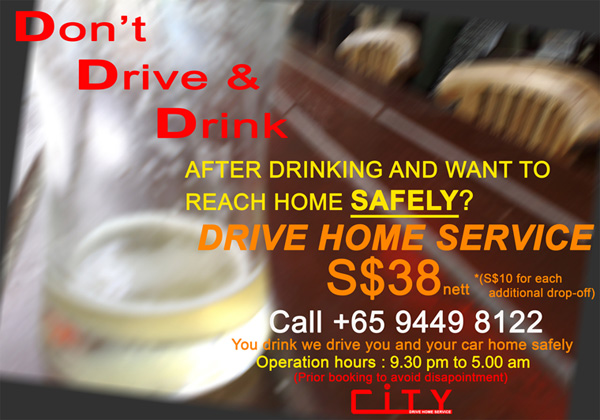 City Drive Home Service is a service available in all parts of Singapore designed to get you and your car home safely. If you are unable to drive or have consumed too much alcohol, give us a call, and we will send our driver to you at your preferred location and timing.
Our mission is to provide you with the highest standard of service. Reputation, credibility and professionalism are our key assets, which is why we receive continued support from our valued customers.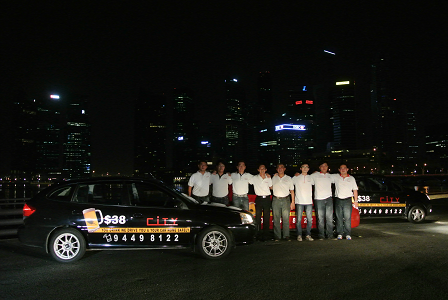 We treasure your compliments and suggestions, and treat your feedback positively as areas for improvement.
With our tie-ups with various reputable pubs, karaoke lounges and nightclubs, do not be surprised if you chance upon our posters or name cards in some of these premises.
This also goes to show how strong and committed we are as a company, to provide a full-fledged service at super-low value.
Our drivers are all above 27 years of age and have many years of experience with different types of Class 3 vehicles.
Our drivers will greet you upon arrival as we hold client communications to a high standard.
You will feel very appreciative of our attentiveness as we provide comfort to our clients.
Our drivers will be held responsible for any traffic offences while in charge of your vehicle.
How We Work

1. Call City Drive Home Service to book our service with your location and timing, subject to availability.
2. Our driver calls you 10-15mins before the pre-agreed time to confirm your booking and location.
3. Our driver meets you where your car is parked at.
4. You are chauffeured home in your own car safely.
5. Our driver collects the service fee from you and leaves to attend to another client.
6. The next day you wake up with the convenience of your car safely at home, without the hassle of collecting it from wherever you left it.
7. It's cheap and better valued!
For bookings and enquiries, please call +65 8181 1728
Edited by Edmemail, 26 August 2015 - 04:38 PM.